Friendly driver rivalry 'pushing Ferrari forwards'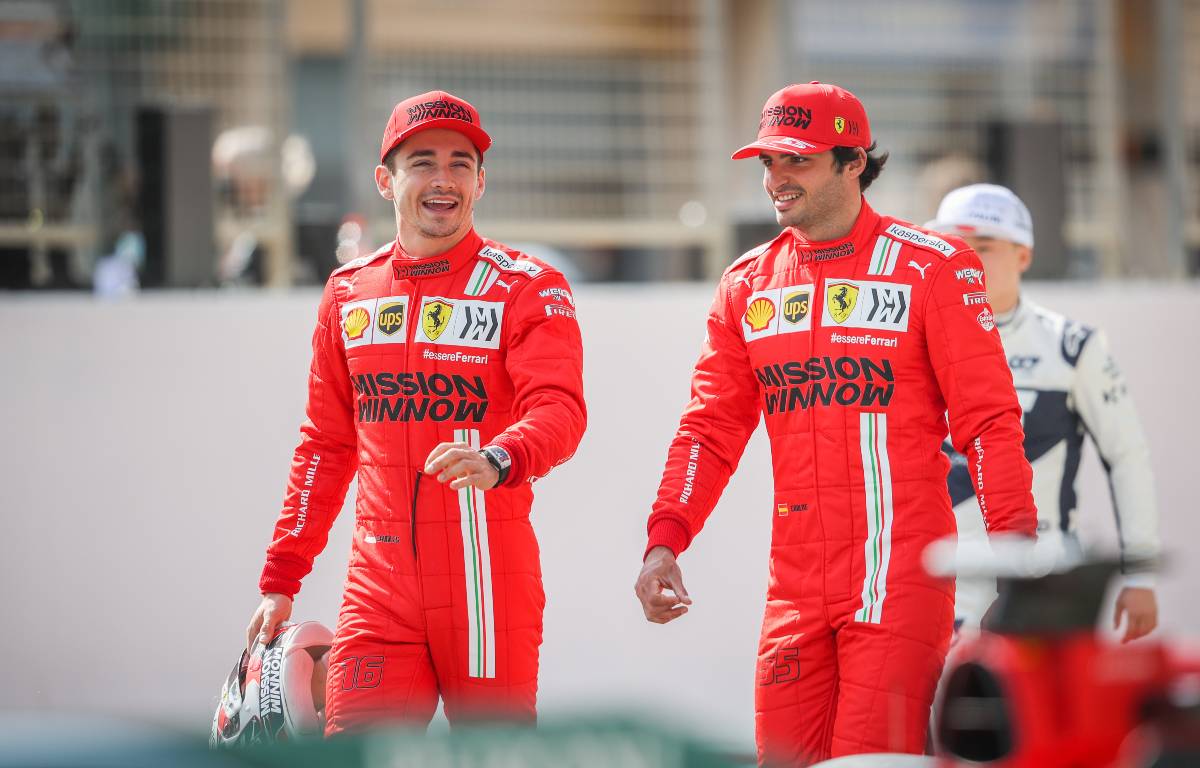 Charles Leclerc believes his friendly relationship with team-mate Carlos Sainz is helping to push everyone at Ferrari forward.
Sainz has ensured he does not miss his 'bromance' buddy at McLaren, Lando Norris, too much by enjoying some downtime away from F1 with his new colleague Leclerc.
At the halfway mark of his first season with the Scuderia, the Spaniard has to be pleased with how things have gone – he has already achieved a pair of top-three finishes and finds himself three points ahead of Leclerc in the Drivers' Championship standings.
With 83 and 80 respectively, the duo have put Ferrari level with McLaren in third position in the Constructors' list, which represents a big improvement so far on last year's P6 placing.
According to Leclerc, the bond he and Sainz have formed is helping the Italian giants move back towards where they want to be – which is competing for race wins and titles.
Of their relationship, Leclerc, quoted by GP Fans, said: "It is going very well. We are very competitive and when we put the helmets on, we absolutely want to beat one another.
"But on the other hand, we know how to work together whenever we are outside the car and this is great to see. It is great for us because it pushes us forward and pushes the team forward."
Torquing Point - Ferrari and Mclaren battle for P3
Finley Crebolder and Charlotte Lines from Planet F1's Torquing Point podcast discuss the neck and neck race for P3 in the Constructors Championship between Ferrari and McLaren, with both teams going into the summer break with 163 points.
Of course, the competitive element remains when Leclerc and Sainz spend time together away from the circuit or factory.
"The dynamic is very good and outside of the car, we have a lot of interests we share which is golf, paddle, chess, which is now quite a big thing," said the Monegasque driver.
"We are as competitive as we are on track with those things, so I am enjoying it."
Leclerc also spoke of the dynamic in a podcast interview recently, comparing the relationship to the one he shared with Sainz's predecessor at Ferrari, Sebastian Vettel.
"With Carlos, I can see he is so p*ssed off if I beat him at anything," said the 23-year-old. "It can be the stupidest thing and he would be so angry. Same for me.
"Seb had more experience, so he was a bit less competitive with everything. If I wanted to win something, he would basically let me win this thing and I would be happy and he wouldn't care.
"With Seb it was a little bit of a different relationship. I saw him a little bit like an older brother."