Ferrari engine '68 hp' up on Mercedes in 2019
Mercedes boss Toto Wolff has revealed that Ferrari had an "68 horsepower" advantage over them at some races in 2019.
Although the Silver Arrows started 2019 with the strongest race car, it was Ferrari who arguably took over that distinction once Formula 1 emerged from the summer break.
The SF90 took victory on the high-power Spa and Monza circuits, though that performance would vanish later in the season after the FIA released technical directives relating to engine performance.
To this day the details of the private settlement between Ferrari and the FIA surrounding the engine have never been revealed.
And while it was clear that the engine in the SF90 was a step up on Mercedes' at its peak, the difference Wolff describes is quite an eye-opener.
"I do not know where the others see their weaknesses or their strengths. I can only judge us," he told Auto Motor und Sport.
"We were so challenged by Ferrari on the engine side last year that we went in new directions to find performance.
"The cooperation between Brixworth and Brackley was also very strong. The two departments really pulled together and clearly weighted Aero against Power.
"On the other hand, the ratio of downforce to air resistance is properly balanced in the current car. We have a lot of grip in almost all corners, but we still see smaller weak spots in slow corners.
"In some races last year, we saw more than 50 kilowatts of power difference (68 hp).
"For us, the task arose: How much power can we actually extract?
"And you can only find them in the internal combustion engine. All other areas are limited. We turned over every stone we could find. Not a few horsepower, but more."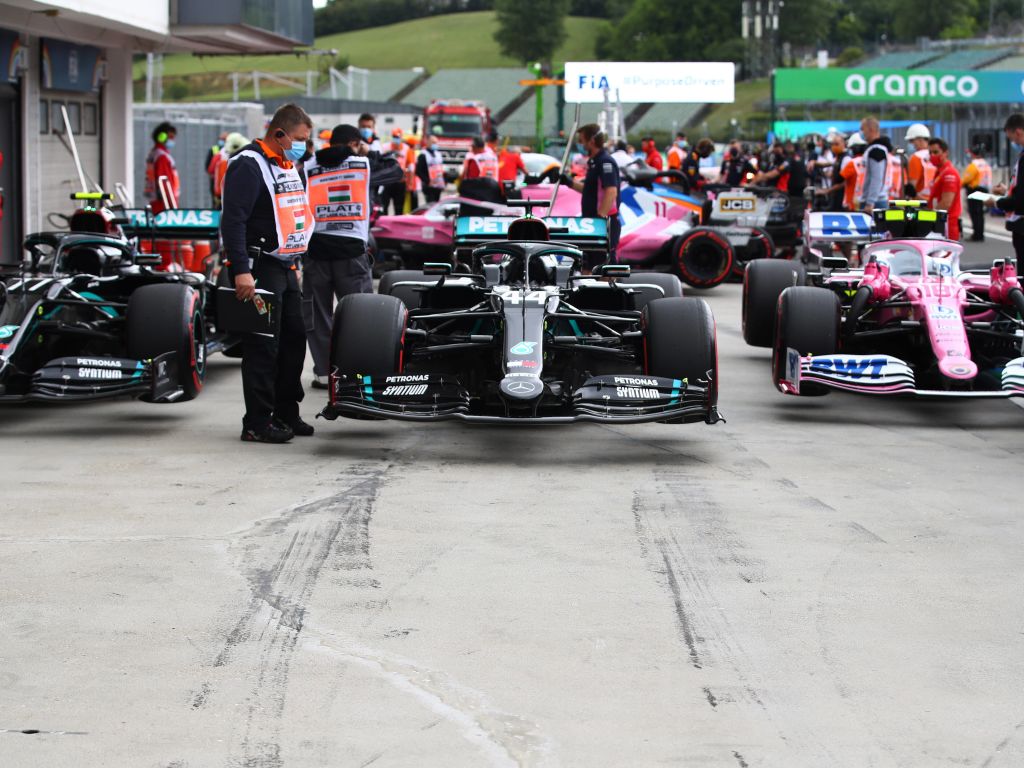 Mercedes are currently involved in a controversy which also includes Racing Point and Renault.
Racing Point's RP20 is very similar to the Mercedes W10 of last year, and Renault have lodged two protests against Racing Point relating to their brake ducts, their argument being that they received designs from Mercedes which is forbidden.
Racing Point have consistently pleaded their innocence, and Wolff believes the team should be seen as a model for the future by other teams thanks to their "ingenious reverse engineering".
"This is ingenious reverse engineering, I would say. You have to find a good balance here," he explained.
"On the one hand, you have to allow the small teams to be competitive. We do this by providing Racing Point with a wind tunnel and hardware such as the engine, gearbox and suspensions.
"On the other hand, we must respect the fact that not all the big teams have or can have such cooperation. For us, this is a real business model. We make good money with Racing Point. So this is a win-win situation.
"But there are also teams like Renault or McLaren that do not or do not yet have such an alliance. This gives them the impression that they might fall behind because Racing Point has taken this unconventional way of copying another car.
"Instead of the engineers wanting to reinvent the car themselves, they recreated a Mercedes. This is the problem of many small teams, including those who have access to larger teams. They always want to do everything themselves."
Follow us on Twitter @Planet_F1 and like our Facebook page.