Leaked photo emerges of the Ferrari F1-75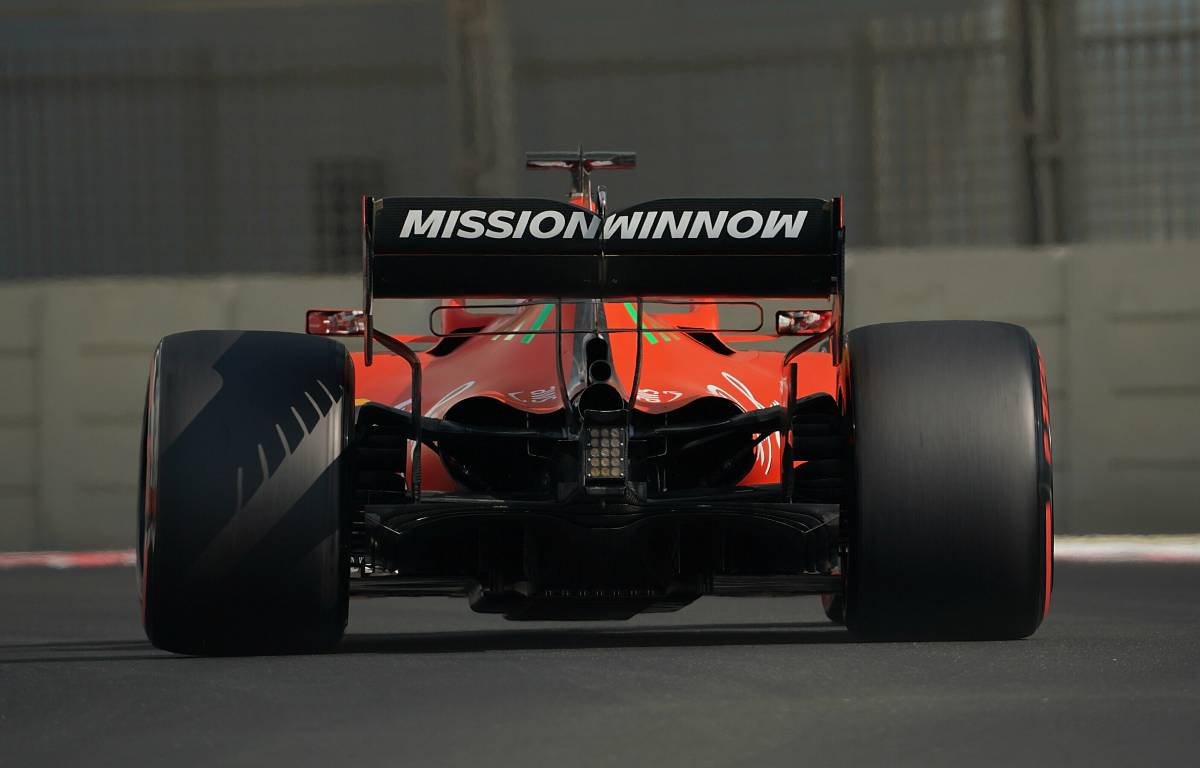 A day before Ferrari are due to launch the F1-75, a leaked image has appeared of, at the very least, the car's livery.
Leaks have been commonplace during launch season this year and it appears Ferrari are the latest to be on the receiving end of that, with the image having found its way onto social media.
Another car leaked. This is actually really beautiful. Welcome, F1-75 🇮🇹 https://t.co/LwC0Ak1GrM pic.twitter.com/E0YW9IXN4s

— Sergio Rodríguez 🏎⚽️ (@sergiorf97) February 16, 2022
As predicted in some quarters following the recent roll-out of team merchandise worn by drivers Charles Leclerc and Carlos Sainz, the F1-75's livery appears to feature quite a lot of black.
On a more official level, the Scuderia have released a video of their own which shows Leclerc and Sainz – dressed in that red and black team gear – giving their reaction to the sight of the F1-75, which inevitably remains out of camera shot.
😱🤩… It can only mean one thing 👀#essereFerrari 🔴 @Charles_Leclerc @Carlossainz55 pic.twitter.com/gTOdIBwJTB

— Scuderia Ferrari (@ScuderiaFerrari) February 16, 2022
The drivers are greeted by Ferrari racing director Laurent Mekies and are seen examining the car at close quarters, speaking in Italian with Leclerc exclaiming: "Mamma mia!"
Ferrari's launch is due to take place at 1pm GMT on Thursday, six days before the F1-75 will, along with its nine rival cars for the 2022 season, have its first serious running in the 'pre-season track session' – an unofficial test – at the Circuit de Barcelona-Catalunya. That session takes place over three days, February 23-25.
Sainz recently gave his verdict on his experiences of driving the F1-75 on the simulator.
"Different from the machines seen in recent years. Innovative to the maximum," said the Spaniard when asked to describe the new generation of cars.
"Until last year we drove the best cars in F1 history, well balanced but spiteful. If you lost control for an instant, you would crash.
"This Ferrari seems even more reactive to me. The suspensions are stiffer, we will have to get used to managing it.
"If it's easy to drive, everything emerges faster, the lap times come almost by themselves. Then you have to compare the data with those of others.
"I don't think the first test in Barcelona is enough, but in Bahrain we will have some certain information.
"Full of energy and positivity. I think last year's experience did us all good. In the corridors in Maranello I meet smiling, toned and confident people.
"I don't see stress, I see the desire to do well."
The F1-75 has been so named in recognition of it being 75 years since company founder Enzo Ferrari fired up the engine of his first race car, the 125 S.
The exact date of that anniversary will be March 12, the final day of pre-season testing.
Sainz has title dream with Ferrari
Carlos Sainz says his highest ambition is to win a World Championship with Ferrari.