Binotto: Negotiations weren't Ferrari vs F1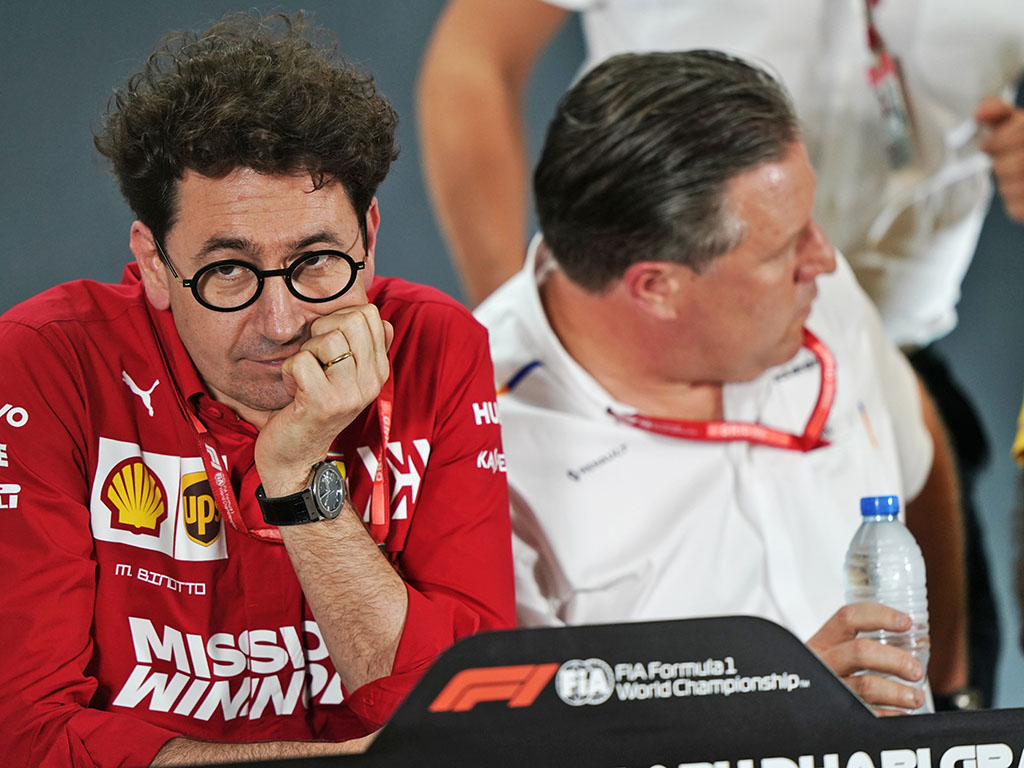 Ferrari team principal Mattia Binotto said the team worked with Formula 1 on the regulation changes, saying it wasn't right to block them.
Teams had been locked in talks with F1 officials for weeks over changes to safeguard the future of the sport.
In the end a reduction to the budget cap was agreed for 2021, from $175m to $145m per season with further reductions in the following years, as well as restrictions on time available in the wind tunnel for development and a sliding scale based on where teams finish in the Constructors'.
The budget cap took the longest to agree, and although Ferrari repeatedly stated that the limit being pushed for was too low, they didn't use their veto.
This came not long after the team agreed for the new regulations to be pushed back from 2021 to 2022, even though their current chassis showed signs of being off the pace of rivals Mercedes and Red Bull during pre-season.
There was a time when Ferrari weren't afraid to use their veto or threaten to walk away from F1 if they didn't get their way, but Binotto stressed that using the veto wouldn't have been appropriate during these negotiations, and that the team worked with F1, rather than against.
"At first I believe that there [should be] discussion on the approach, having an open discussion, a collaborative approach," he exclusively told Racefans.net.
"Using the veto sometimes is not the right way of approaching the exercise.
"Having discussions, trying to find the right compromise is the way to move on at first. I think that's the way we work [now].
There were plans for the budget cap to be reduced as low as $120m per season, but Ferrari did fight against that.
"The budget cap reducing to 120 (million), this decision should have been made in a week's time, [but] it took more than a week because Ferrari insisted on the fact that we need to really go deeper on the numbers, to analyse [them], to basically proactively support the discussion towards the conclusion we [reached]," Binotto explained.
"So, I think [the foregoing] is the first approach we should always have [it].
"And the veto is only something at the end [of the process] if you are completely against what's happening.
"The second point, as I said before, it's a matter of sense of responsibility, that the good of F1 is the good of Ferrari and the good of Ferrari is the good of F1, vice-versa. So I think it's not a battle. We are not on opposite positions. We need to collaborate on the right solution."
The budget cap means that staff cuts are inevitable, although Ferrari are looking at other projects in order to redeploy their workers.
Either way, while Binotto isn't totally happy with the new limit that was agreed, he says the outcome was better than what was proposed at the start of the talks.
"Let's [go] step by step, it was a financial regulation which was agreed last year, the $175 million budget cap, which was already a huge, difficult and challenging exercise for the first three top teams, and particularly Ferrari," he said.
"But that was an agreement from last year for which we were prepared.
"It's not simply a decision based on a number. The first implication for us was our work, our employees in term of employment. We feel strongly that's our social responsibility as Ferrari, and our first objective was to protect our employees.
"$145m with some exclusions, that has been a good compromise. So, it was not an emotional final conclusion, it was a conclusion which suited the teams and certainly ourselves because we took time [to discuss it].
"I cannot say that I'm fully happy with the solution because now the exercise is certainly very difficult but I'm happy considering where the discussion started."
Binotto does believe though that the new cap of $145m is a good reflection of the direction F1 wants to take with the new regulations.
"Let's start from the $145m, let's see what it looks like, let's see if we can really afford it, and then eventually you realise what would be the next numbers," he said.
"I think the decision of $145m today reflects what will be the technical regulations of the future and their effect as well. For me the number is not only a reduction, but a reflection of what regulations are in place."
And while Binotto accepts that "smaller teams will always call for a lower number", he also stressed that F1 must still be the "platform of innovation, a competition of technology."
He added: "It cannot become a type of F2 of the future or Formula E even. The fact is, F1 is F1, and the fact that manufacturer teams are pushing technology beyond the limits is important."
On that note, Binotto is keen to retain as much freedom as possible to innovate under the cap.
"I think you can always have regulations that can be free, to do whatever car you wish. Six wheels [think Tyrrell's P34] within a budget cap, because you just give freedom," he explained.
"But I think that having a budget cap is a way to control expenses and another way of helping the teams to converge, to a certain level, the performance.
"[F1] is a great show, so if you leave too much freedom on the technical or sporting [side] you may find that you do not have sufficient competition between the teams.
"So I think regulations are there to make a great show and the regulations become our challenge to find the best solution."
Teams will use the same chassis in 2020 and 2021 as another cost-cutting measure, while various components have also been frozen.
And while that may go against F1's spirit of competition, Binotto feels the current situation means it's necessary.
"Is it anti-Formula 1?" he asked rhetorically.
"I think freezing components and freezing chassis next year is somehow 'anti-competition', but I think the decision which has been taken is a responsibility towards the sport because we are facing certainly a very difficult situation with the Covid.
"This is where I think we need to react as a community, F1 community. I think what has been decided, even postponing the 2021 [regulations] to 2022 has been through a sense of responsibility to face what is currently a difficult economic situation. So the one you mention has to be interpreted in that respect."
Follow us on Twitter @Planet_F1 and like our Facebook page.