Ferrari suffering 'huge consequences' when SF-23 in rare sweet spot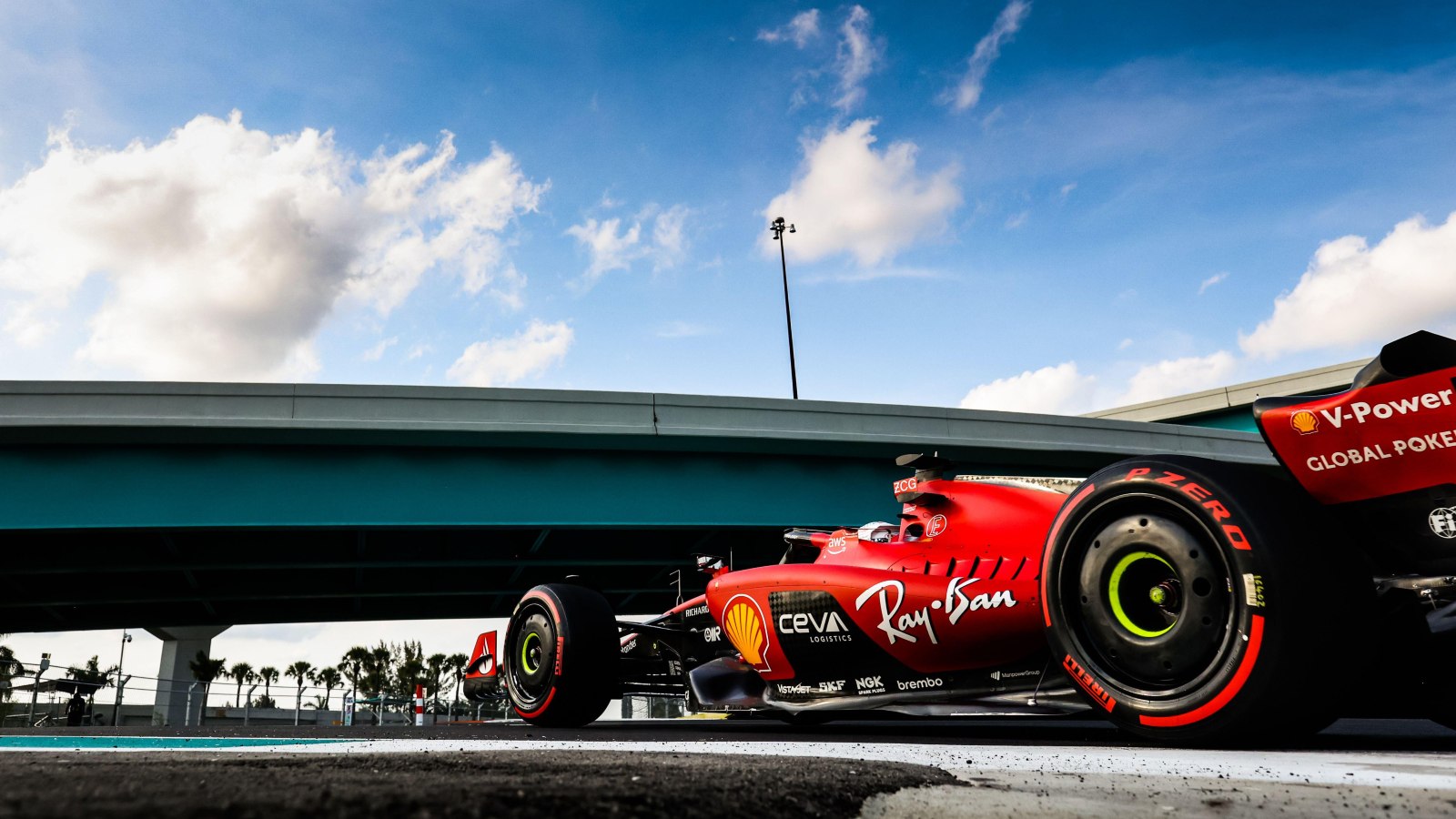 Charles Leclerc says the Ferrari SF-23 has such a narrow operating window that falling out of it in the race is making it unpredictable and is damaging for confidence.
Leclerc's crash late in Miami qualifying meant he started the race from P7, and progress was hard to come by.
A ding dong battle with Haas' Kevin Magnussen characterised the first half of Leclerc's race, Lap 38 the point where he finally got that move done on the Danish driver.
He would later be the one on the receiving end of the overtake though, as Mercedes' Lewis Hamilton made the move at Turn 11 on Lap 55 of 57, Leclerc ultimately finishing the race in P7, 53 seconds behind Miami GP winner Max Verstappen who started P9.
It was another case then of race days falling apart for the Scuderia, tyre management remaining a huge Achilles' heel, and Leclerc says it is high time that Ferrari as a collective find some answers.
"We have been struggling all day," Leclerc told Sky Sports F1. "Very similar picture to the beginning of the year, we are competitive in qualifying, once we come to race day we are struggling like crazy.
"The window of our car is so narrow and whenever you get a little bit out, it has huge consequences on the balance and it's from one corner to the other, and even in one corner, sometimes you can have huge understeer, which goes to huge oversteer, and this is obviously not ideal to have confidence in the car.
"Plus, I had a lot of bottoming today for some reason, which I don't have the explanation yet. Just the consistency is what we are lacking at the moment and we'll try and work for that.
"We need to find something now, we are struggling in the race since a little bit of time now, so we need to come up with solutions.
"Mercedes are quick, Aston Martin are really quick in the race, the Alpine didn't look too bad in the race. I cannot add anything more than we have a lot of work to do and we need to find something."
PlanetF1.com recommends
Race: Max Verstappen takes victory in battle of the Red Bulls in Miami GP
Christian Horner admits surprise at Red Bull's dominance: Where are the others?
Leclerc's team-mate Carlos Sainz, who started P3 and finished P5 behind both Red Bulls, Aston Martin's Fernando Alonso and Mercedes' George Russell, said Ferrari right now are in a "learning process" as they try to find some answers to this inconsistency.
"I think we are in the middle of a learning process," Sainz declared.
"And this weekend will help us a lot to understand why, again, we can fight for pole yesterday, do a very good stint on medium [tyres] and push Fernando on the medium and suddenly put a hard on, do three or four laps pushing the tyre to try an undercut, and then this means that the next thing you're going to finish 20 seconds behind a car that is…We were actually quicker on the medium.
"So we clearly need to understand why, and it's at the moment very puzzling and very difficult to understand these things. It's a very inconsistent car, it's very picky. You're driving properly on the limit, on a knife edge like we've seen all weekend and this means that in the race, we're paying the price."
And this inconsistency, Sainz admits, is crippling when it comes to strategy options against their rivals.
"You have very little flexibility because you push one lap, you degrade, you go for an undercut, the race is too long," said Sainz.
"And it just means we cannot play around too much with our competitors in terms of strategy and on level of pushing to overtake them, undercut them, and this leaves us with a lot of unknowns going into a race and a lot of things to learn, because it's clearly not where we want to be and we will make sure we take steps in the right direction.
"We will keep trying things, that's everything I can say."
Ferrari remain P4 in the Constructors' standings after the Miami GP, but another Red Bull one-two means they are already 146 points clear of Ferrari in the table.