Ferrari implode episode…580?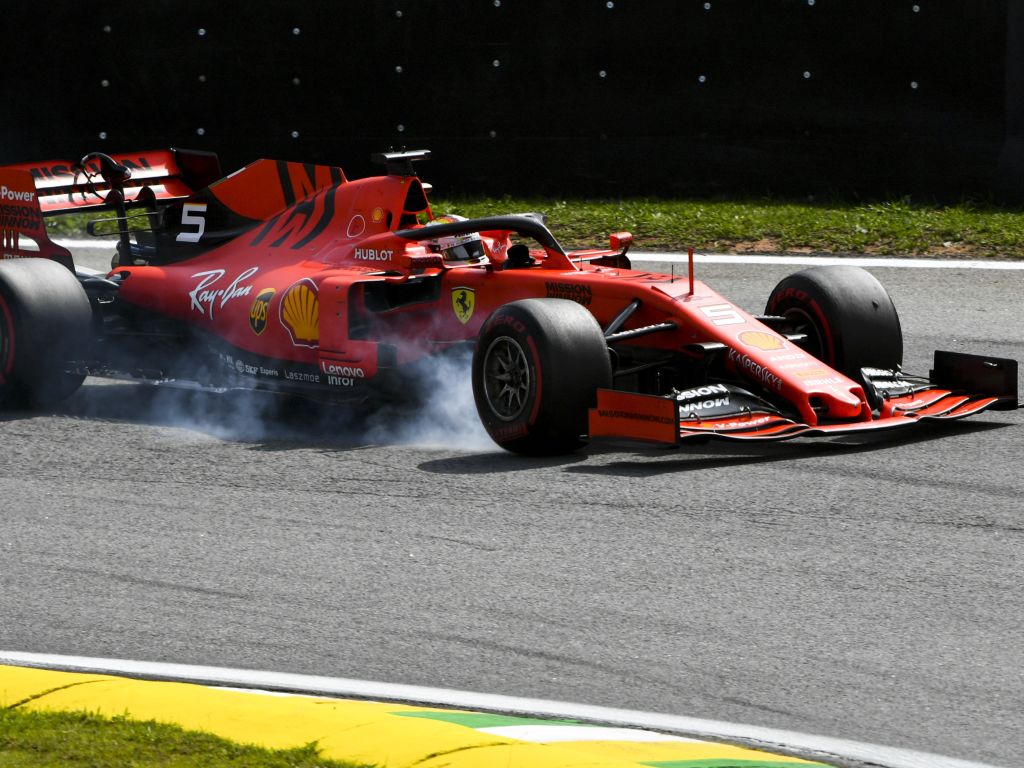 Ferrari once again were left to hang their heads in shame as Sebastian Vettel and Charles Leclerc eliminated each other from the Brazilian GP.
Here's how a crazy race day unfolded around Interlagos…
Daniel Ricciardo was heading into this one minus a cap.
Boys will be boys. RIP Daniel Ricciardo's cap. #F1pic.twitter.com/eZWUcb1w5e

— Planet F1 (@Planet_F1) November 17, 2019
But the real star of the pre-race show was Bruno Senna who took us back in time. An emotional tribute to his uncle, the late great Ayrton Senna.
Ready for the #BrazilianGP? Here's an iconic image from this morning to get you in the mood #SennaTribute pic.twitter.com/gdEUyy9XEZ

— Pirelli Motorsport (@pirellisport) November 17, 2019
Max Verstappen kept the lead off the line while Lewis Hamilton pulled a lovely move on Sebastian Vettel around the outside of Turn 2. Though that squabble gave Verstappen some early breathing space.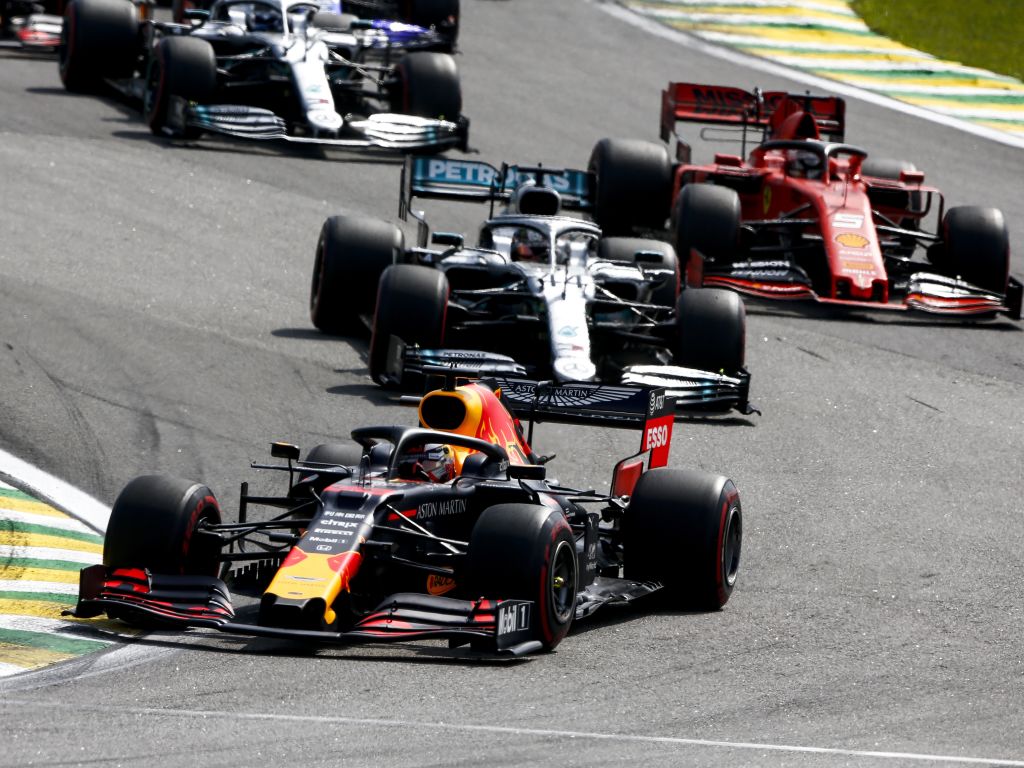 Charles Leclerc after starting P14 was making progress nicely through the order, but the same couldn't be said for Ricciardo who sent Kevin Magnussen into a spin.
The Renault man would need a new front wing and earned a five-second time penalty, while Magnussen righted his Haas and carried on in P18.
LAP 8/71

Ricciardo goes for a move on Magnussen, but spins the Haas round 😱#BrazilGP 🇧🇷 #F1 pic.twitter.com/YnlRIkaT3F

— Formula 1 (@F1) November 17, 2019
Hamilton was the first of the front runners to pit on Lap 20 as Mercedes looked to undercut leader Verstappen. A new set of softs went on as he committed to the two-stopper.
Red Bull responded on the next lap and fitted a new set of softs to Verstappen's car. It seemed the job was done, that was until Williams released Robert Kubica into Verstappen's path, handing the lead to Hamilton.
LAP 22/71

Verstappen pits a lap later, and almost collides with Kubica in the pit lane! He emerges behind Hamilton…#BrazilGP 🇧🇷 #F1 pic.twitter.com/sxQtIVxO8G

— Formula 1 (@F1) November 17, 2019
But as it turned out, that incident didn't really matter to Verstappen.
LAP 23/71

Verstappen bites back! He cuts back past Hamilton at Turn 1#BrazilGP 🇧🇷 #F1 pic.twitter.com/MryhrIu451

— Formula 1 (@F1) November 17, 2019
The duo closed in on new race leader Valtteri Bottas, but he swiftly dived into the pits and fitted the hard tyres to go to the end. Leclerc, who had been running P4, did the same.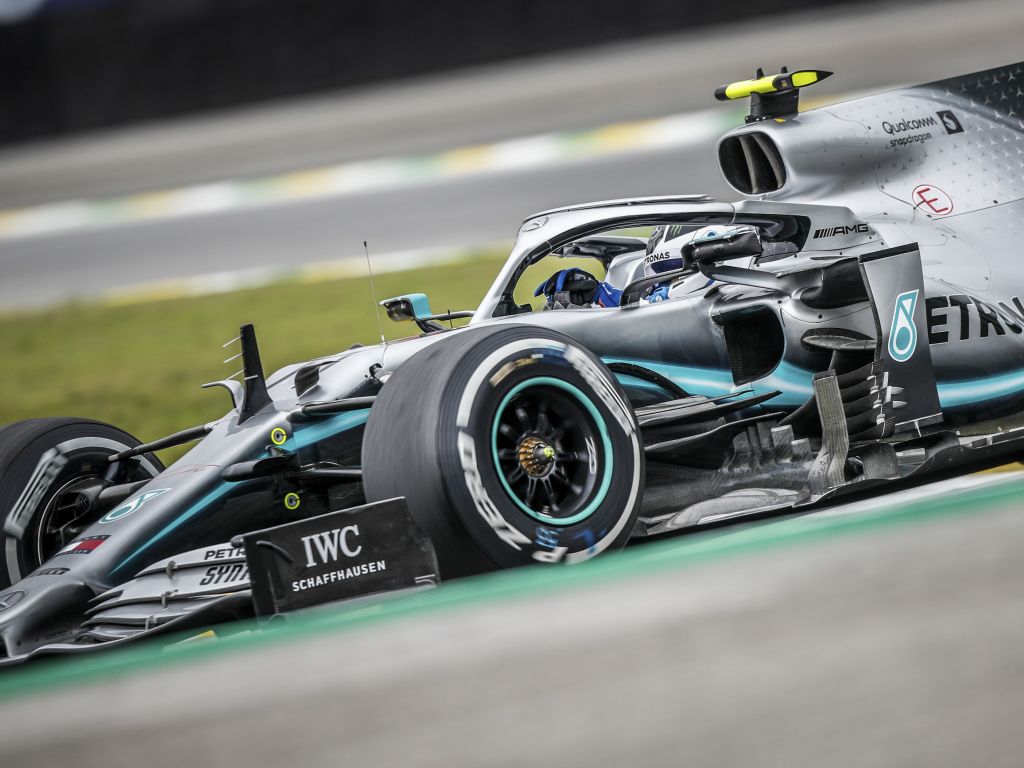 Williams arguably got off lightly with a five-second time penalty for Kubica.
5 second time penalty for #RK88 after an unsafe release…not sure if that was seen on TV or not…#BrazilGP 🇧🇷 pic.twitter.com/GnaxWGAgcO

— ROKiT WILLIAMS RACING (@WilliamsRacing) November 17, 2019
Bottas gave up on the one-stopper after 11 laps, pitting for the medium tyres to defend against a possible undercut from Alex Albon.
Bottas on a "Whatever, who cares" strategy then.

— Pablo Elizalde (@EliGP) November 17, 2019
Lap 44 and in came Hamilton to fit the mediums. The Mercedes man had his say on the state of the soft tyres he ditched, but the super reliable graphics didn't agree.
Hamilton: These tyres are ****

AWS: Ermm… 90%

— WTF1 (@wtf1official) November 17, 2019
Red Bull responded and kept Verstappen ahead of his main challenger.
Verstappen retains the lead, but he's only 1.3s ahead of Hamilton now.#F1 | #BrazilGP 🇧🇷

— Motorsport Week (@MotorsportWeek) November 17, 2019
Mercedes are known to struggle at high-altitude tracks and Bottas' pursuit of Leclerc proved too much for that V6. The Finn tried his best to pull off at a safe place, but the Safety Car was deployed.
Valtteri's on fire, his V6 is terrified

na na na na na na na na#BrazilGP pic.twitter.com/8rcX6mlSBj

— iGP Manager (@iGPManager) November 17, 2019
In came Verstappen to fit the soft tyres, Hamilton stayed out. Red Bull had given up track position and now needed their star man to deliver.
SAFETY CAR PIT STOPS

Verstappen
Leclerc
Norris
Stroll
Magnussen
Hulkenberg#BrazilGP 🇧🇷 #F1 pic.twitter.com/u9G8DTWort

— Formula 1 (@F1) November 17, 2019
Hamilton used every hold-up trick in his book, but Verstappen read it perfectly to re-take the lead through the Senna S.
Meanwhile Albon behind took P3 from Vettel.
We're racing again…

MAX GETS LEWIS, ALEX GET'S THE FERRARI'S! Cmon boys! 💪#PoweredByHonda pic.twitter.com/AQ2zdSNOJ9

— Honda Racing F1 (@HondaRacingF1) November 17, 2019
Albon was defending valiantly from the Ferraris, but the Scuderia found a way to take themselves out of the fight.
The moment the race turned on its head 🤯#BrazilGP 🇧🇷 #F1 pic.twitter.com/Y77NrJMJ0g

— Formula 1 (@F1) November 17, 2019
But then Mercedes almost took the award for fools of the weekend when they pitted Hamilton under the resulting SC. With 4 laps to go, Hamilton was now off the podium and Pierre Gasly was P3!
If this doesn't restart, it's going to be a Honda 1-2-3 with Albon and Gasly getting their first podiums on the same day #F1 #BrazilianGP

— Chris Medland (@ChrisMedlandF1) November 17, 2019
The action would re-start on Lap 70 – Hamilton made quick work of Gasly and set off after Albon. But then, disaster!
Oh man, that's gutting. Lewis hits Albon and he's spun out of contention. Gasly is second! Hamilton has damage, Sainz third…

— Nate Saunders (@natesaundersF1) November 17, 2019
A Brazilian GP to rival the drama of 2008 – Verstappen took the win ahead of his former team-mate Gasly. The best finish for Toro Rosso since Italy 2008.
Hamilton completed the podium. But he admitted the Albon crash was his fault and the investigation was underway.
LAP 71/71

Gasly and Hamilton drag race to the line, but it's the Toro Rosso that holds on to P2 😱#BrazilGP 🇧🇷 #F1 pic.twitter.com/ZRgMCh0cvs

— Formula 1 (@F1) November 17, 2019
Follow us on Twitter @Planet_F1 and like our Facebook page.