Ferrari issue clear Lewis Hamilton stance as Mercedes talks rumble on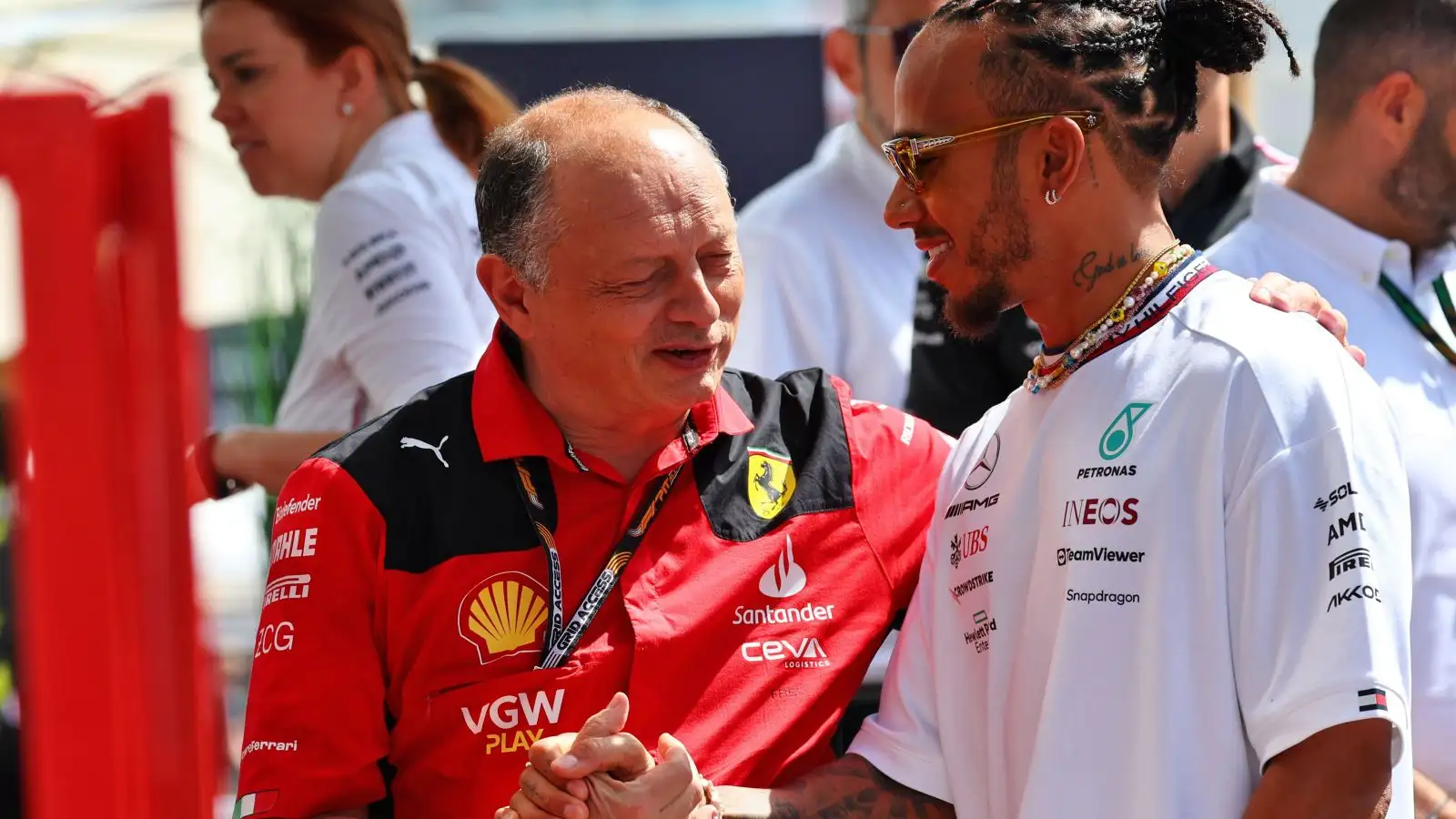 Fred Vasseur has denied Ferrari have any interest in Lewis Hamilton as the Mercedes driver goes into the final months of his deal.
In four months' time, Hamilton will be a free agent as what was once thought of as an easy extension rumbles on past the summer break.
Formula 1 returned from its summer shutdown this week with Hamilton yet to put pen to paper on a new deal but Vasseur said the driver is of no interest to Ferrari.
Fred Vasseur denies Ferrari interest in Lewis Hamilton
The Hamilton to Ferrari links surfaced earlier this year with reports that chairman John Elkann had cut a deal with the seven-time World Champion, but the story was later dismissed by both sides.
But as Hamilton's future continues to remain unclear, there is increasing speculation as to where he may end up in 2024.
Mercedes CEO and team principal Toto Wolff has suggested the finer points are being discussed and his Ferrari counterpart Vasseur stated they were not looking to poach him away from Brackley.
"Well, I think it is the same situation with Lewis that it has been for the last 10 years," Vasseur told select media including PlanetF1.com ahead of the Dutch Grand Prix. "They are in discussion and I don't know whether there is an issue or not.
"Honestly, I'm not focused at all on this. I'm focused on the development of the team and the discussion is between Lewis and Toto and not myself."
PlanetF1.com recommends
Revealed: The biggest title-winning margins in F1 history
F1 driver contracts: What is the current contract status of every driver on the 2023 grid?
As for his contracted drivers, Ferrari are set to work on the extension of both drivers with Charles Leclerc reported to have agreed a new deal while Vasseur said they will discuss an extension with Carlos Sainz soon.
"With Carlos, we are fully aligned," Vasseur said. "We have had a number of times the same question and we always give the same reply: that we have time to discuss, that we still have 18 months of contract in front of us.
"We both want to start the next season with a clear situation and [to do] that we have to take action and a decision before the end of this season.
"We have still four or five months in front of us to decide. But we are fully aligned on this point with Carlos and his management and we will have the discussion soon."
Read next: Ferrari tease new rival staff signing as they battle recruitment frustrations