Ferrari boss denies Lewis Hamilton approach: 'We are not sending an offer'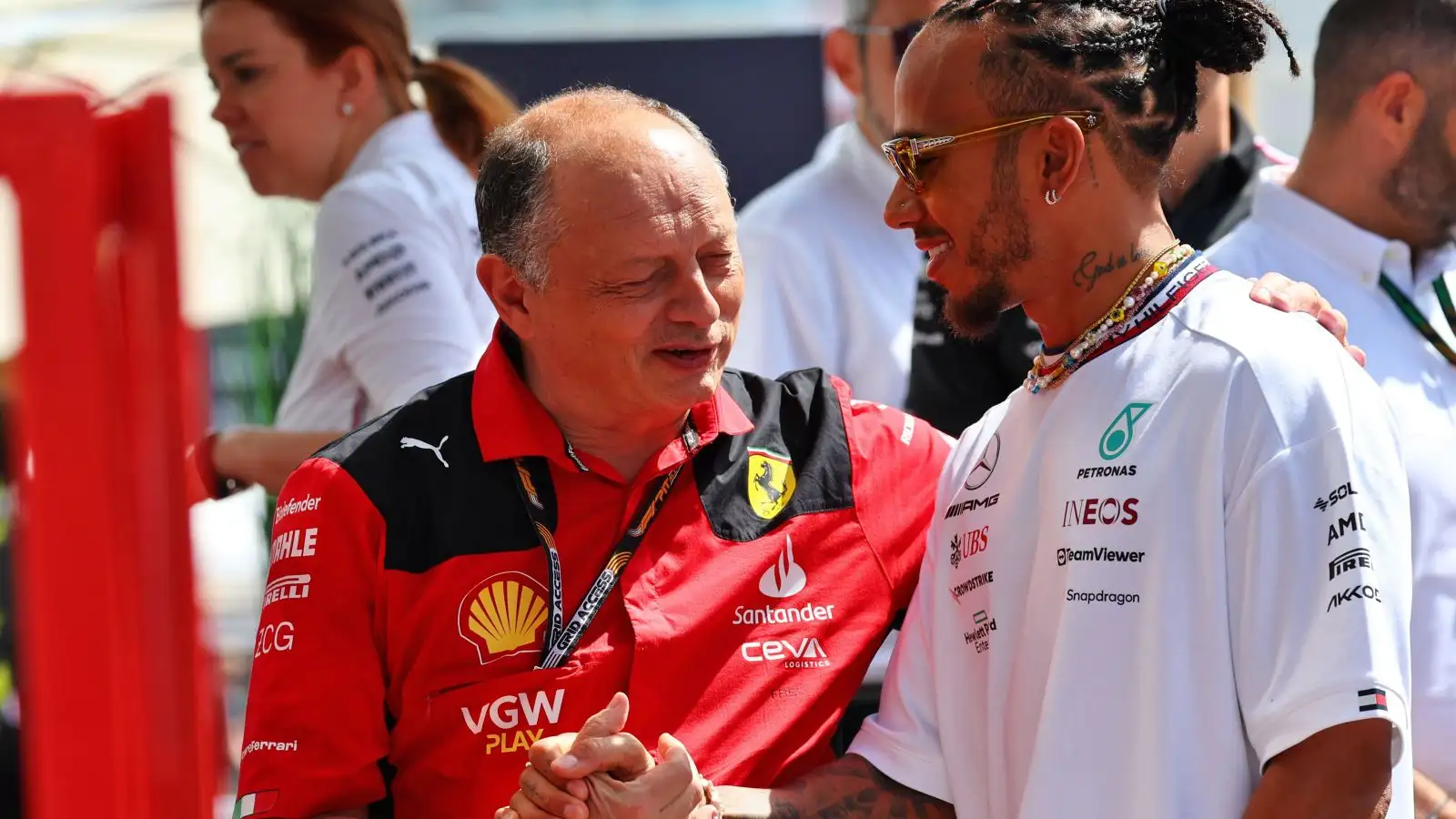 Ferrari boss Fred Vasseur has denied his team are preparing to send a contact offer to Lewis Hamilton following reports this week.
Hamilton was linked to a move to Maranello earlier in the week as British tabloid the Mail said Ferrari were preparing a £40 million offer to entice the Brit away from his current team Mercedes.
This was quickly ruled out by Silver Arrows team boss Toto Wolff and Ferrari's team principal Vasseur has also now rubbished the rumour.
Speaking ahead of the Monaco Grand Prix, the 54-year-old Frenchman said it was natural any team would be interested in Hamilton but no offer will be coming from Ferrari.
"As a joke I could say that two weeks ago you were sending [Carlos] Sainz to Audi, one week ago you sent [Charles] Leclerc to Mercedes – now I am alone," Vasseur said, referencing recent speculation surrounding his team.
"You know perfectly that at this stage of the season each week you will have a different story and we are not sending an offer to Lewis Hamilton, we didn't do it.
"We didn't have discussions. I think every single team on the grid would like to have Hamilton at one stage, it would be bull**** to not say something like this.
PlanetF1.com recommends
Ferrari poised to make Lewis Hamilton mega offer for F1 2024 drive – report
Four reasons why Lewis Hamilton to Ferrari rumours make zero sense
"If I discuss with Hamilton, the last 20 years I discussed almost every single weekend with Hamilton, I don't want to have to stop to discuss with him because you are chasing me."
Hamilton has yet to put pen to paper on an extension to his Mercedes contract which is set to expire at the end of the 2023 season. Wolff admitted it was "uncomfortable that two friends" had to discuss money but in regards to the Ferrari rumour, he said "none of this is true.
"These rumours come up every two years when we have to sign a new contract," he told oe24. "But none of this is true. We discuss normally, without any time pressure."
"It's just uncomfortable that two friends, two blood brothers who have been through thick and thin for ten years, suddenly have to discuss money."
But, he added: "I'm firmly convinced that we'll find each other, there's not a millimetre of doubt for me.
"I can't imagine anything else. If we give Lewis a competitive car, he will win for a long time. Look at Tom Brady what he was still capable of in his 40s."