Ferrari reveal striking new look for Italian Grand Prix anniversary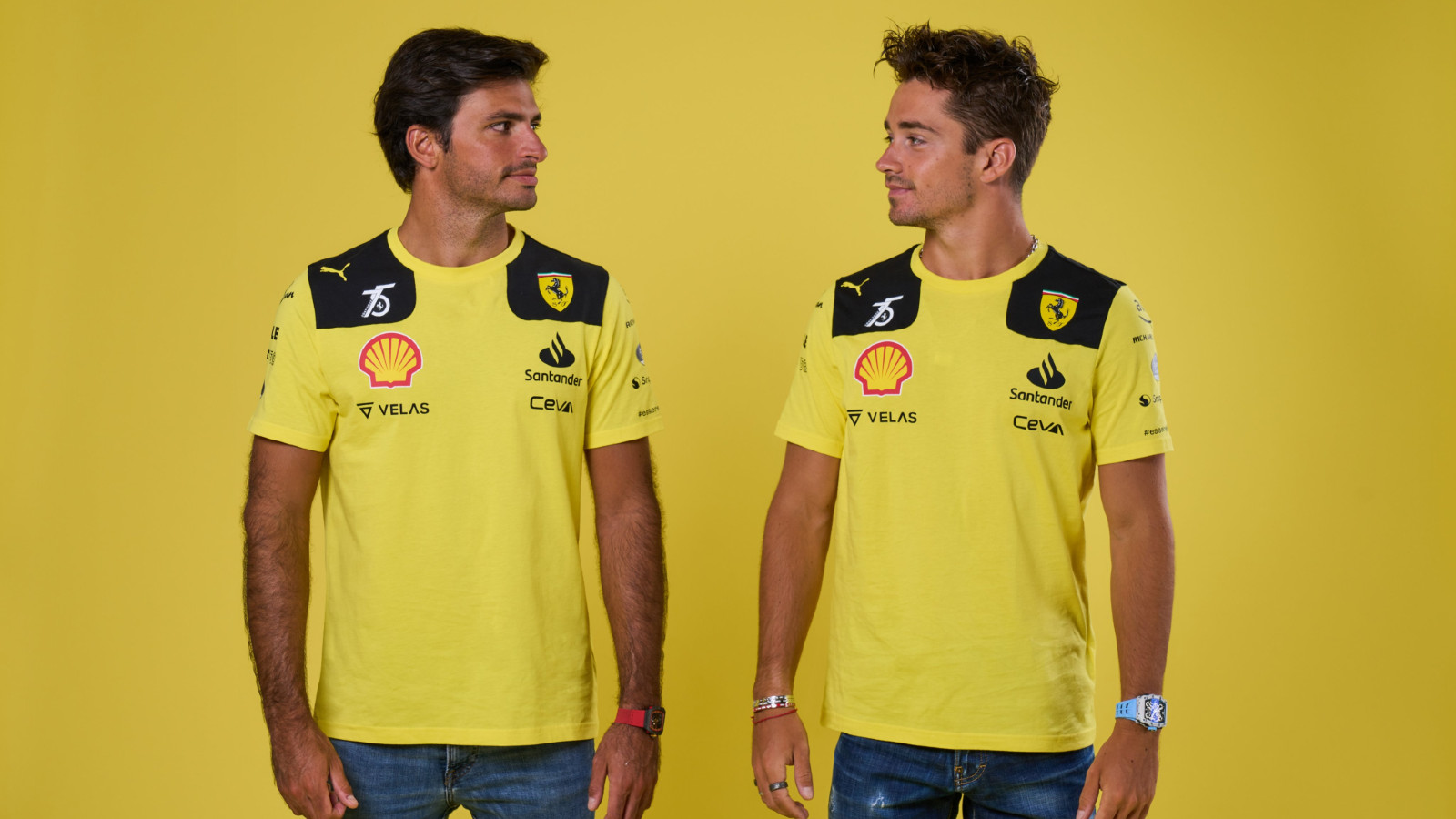 Ferrari have unveiled the yellow team gear Carlos Sainz and Charles Leclerc will sport for this weekend's action at Monza.
Ferrari are heading to their home race at Monza this weekend as Formula 1 descends upon Milan for the Italian Grand Prix.
While their championship challenge has faded significantly during the middle part of the 2022 season, there are still plenty of reasons for the tifosi to feel jubilant for the Monza race as Ferrari appear certain to challenge for victory on home soil for the first time since Leclerc's historic 2019 win.
To celebrate the occasion, Ferrari have come up with an unusual new look for the grand prix weekend at Monza.
Ferrari roll out a yellow colour scheme
Taking to social media on Tuesday, counting down the days to their home race, Ferrari showed off shots of race drivers Carlos Sainz and Charles Leclerc sporting yellow T-shirts.
One tweet had the caption "C²", referring to their two drivers, and included Sainz and Leclerc in a variety of poses to show off the clothing range.
"Shop the Monza look – get your hands on the new 'Giallo Modena Special Edition' T-shirt NOW," said another tweet.

The reason for the colour yellow is the team are celebrating 75 years since the inception of the Scuderia as an independent constructor (which was actually Enzo Ferrari's second attempt at a team). This is also the reason for the 2022 F1 car bearing the moniker of the 'F1-75'.
Yellow and blue are also the colours of Modena's flag and arms, the city in which Enzo Ferrari was born and raised.
C² 💛#essereFerrari 🟡 @pumamotorsport @ferraristore pic.twitter.com/CFlDTw8oIo

— Scuderia Ferrari (@ScuderiaFerrari) September 6, 2022
For now, it appears the team's yellow colour scheme only applies to team gear and race suits, with no plans to change the base of the car livery. However, there could be a nod to the yellow included in the form of a logo emblazoned on the nose and sides. This is yet to be confirmed by Ferrari.
While Ferrari have raced with yellow colour schemes in various motorsport categories during their long history, a yellow Scuderia Ferrari F1 car is particularly rare. In the early 1960s, teams such as Ecurie Nationale Belge and Ecurie Francorchamps, both Ferrari-affiliated teams, raced in yellow.
There has been only one yellow Ferrari F1 car that raced officially for the Scuderia, which was fielded by the team for Olivier Gendebien at the 1961 Belgian Grand Prix. The Belgian driver won the Le Mans 24 Hours with Ferrari and was given the chance to race his 156 at the Belgian GP as a 'thank you'.