Ferrari planned to swap but not through undercut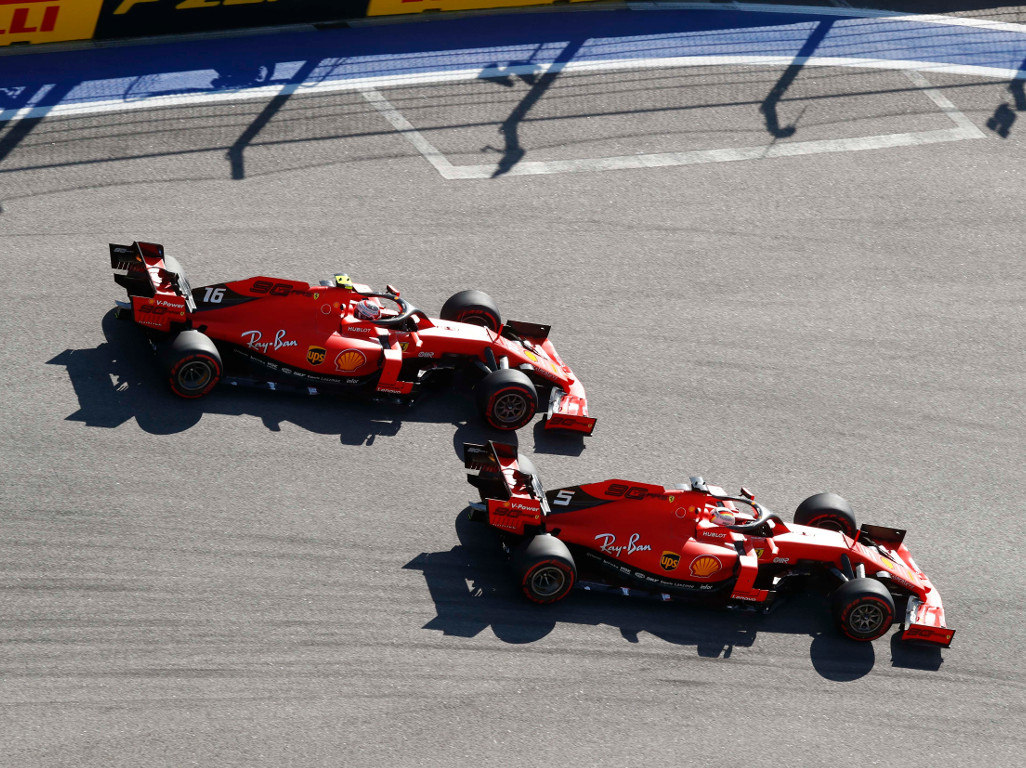 As Ferrari's team-mate tensions spilled over in Sochi, Mattia Binotto says the team always planned on swapping drivers but didn't doing it with the undercut.
For the second Sunday in succession there was trouble at Ferrari as Charles Leclerc felt as if he was being undone by the team.
But while in Singapore that resulted in a 1-2 for the Scuderia with Sebastian Vettel taking the victory, in Russia they only managed a P3 for Leclerc as they snookered themselves.
Leclerc started the race from pole position with Vettel P3 but given the long run down to Turn 1 it was the German who took the lead thanks to a slipstream from his team-mate.
"Being first and second was the first objective," team boss Binotto explained to Autosport.
"We agreed together that the best way was not to give any slipstream to Hamilton first, and therefore Charles would have given the slipstream to Seb.
"That was what we agreed, by giving the slipstream to Seb and not defending the position would have given an advantage to Seb which later on in the race we would give back by swapping the cars. So that was the deal.
"I think what happened was exactly what was explained, they got a good start, Charles stayed on the left, Sebastian jumped Hamilton, and was [then] in the slipstream of Charles."
But that's when it all began to unravel.
Instead of giving P1 back to Leclerc, Vettel immediately put over a second between himself and his team-mate and informed Ferrari that Leclerc would have to "close up" if he wanted to swap positions.
Leclerc couldn't.
Binotto added: "The start went as planned, and therefore we thought it was right to ask Seb to swap positions.
"We initially asked Seb to give the position back, but fair enough to say at that stage of the race maybe Charles was not close enough, and we would have lost some time on track.
"Later on Seb was quite fast and gained some track advantage on Charles."
Eventually it was Leclerc's efforts to close the gap to Vettel that put him ahead of his team-mate as it meant he wore down his tyres faster and therefore pitted four laps before the German.
That was enough to undercut Vettel with Leclerc coming out ahead.
"The undercut was because Charles stopped because he had worn tyres – left rear was starting to be worn, so it was the right moment for him to pit," said Binotto.
"We knew as well that if we stopped both our cars there we would have been vulnerable on Safety Cars, by leaving the lead to Hamilton.
"We tried to stay out as much as we could with Seb, simply to protect in case of Safety Cars at that period of the race."
Vettel would go onto suffer a MGU-K failure, retiring from the race and bringing out the VSC that handed Lewis Hamilton the win.
Follow us on Twitter @Planet_F1 and like our Facebook page.