Ferrari open door to Red Bull engine link-up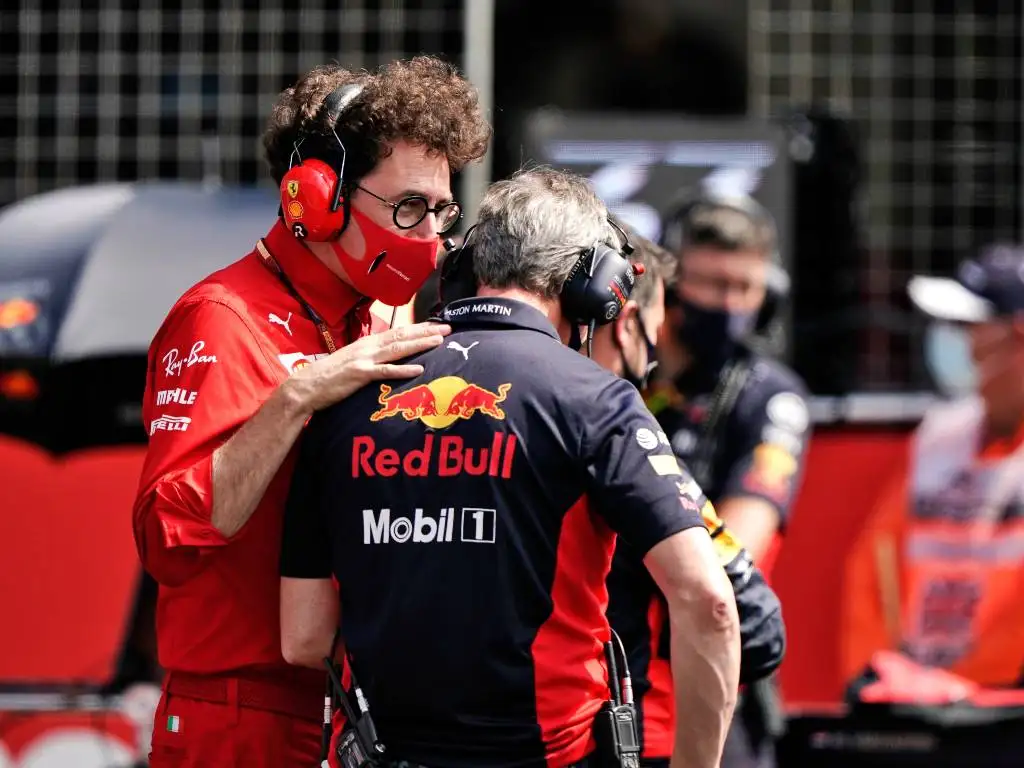 Ferrari have taken a softer stance to Mercedes by saying they would "consider" supplying engines to Red Bull in 2022.
Red Bull are seeking a new power-unit provider following Honda's decision to pull out of Formula 1 at the end of next season, citing "environmental initiatives" as their priority.
With attracting an entirely new manufacturer thought to be nearly impossible in such a short timeframe and engine regulations due to change in 2026, Red Bull and their 'sister' team AlphaTauri may have to rely on one of their rivals to power them.
That would leave Mercedes, Ferrari and Renault as the options. Red Bull used Renault engines up to 2018 but the two parties fell out, although a reconciliation could happen.
But Mercedes and Ferrari would be more difficult alliances to form because they are Red Bull's closest competitors.
During the constructors' press conference at the Eifel Grand Prix, Mercedes team principal Toto Wolff and his Ferrari counterpart Mattia Binotto were asked about the chances of their respective companies linking up with Red Bull.
Get your hands on the official Red Bull 2020 collection via the Formula 1 store
Whereas Wolff was unsurprisingly dismissive of the idea, Binotto was more receptive.
"We are not considering it, [but it is] something we need to start considering now," said Binotto.
"I think we have not decided as first I think it will be down to Red Bull to eventually look at us and ask for a supply. They're a great team, no doubt.
"I think supplying them is a lot of energy somehow which is required, but something which we need to consider and have no position yet, which we need certainly to take our time to think that and have a decision.
"It was sudden news from Honda and I think now we need to consider something that was not being considered a few days ago."
Wolff, meanwhile, said that supplying four teams – Racing Point, Williams and, from next year, McLaren as well as his own – meant Mercedes would be maxed out.
In dismissing the notion of providing Red Bull engines, Wolff explained it was "for various reasons, but the main thing is we are supplying four teams including us".
He added: "We are almost in a state that we can't make power units for all of us, so there is no capacity.
"But I have no doubt Helmut [Marko] will have a Plan B, as he said, and probably doesn't need to rely on any of the power unit suppliers."
Follow all the action from the Eifel Grand Prix with the PlanetF1 live centre