Latest Ferrari rumours: Haas went with Vasseur's driver pick, great news for Leclerc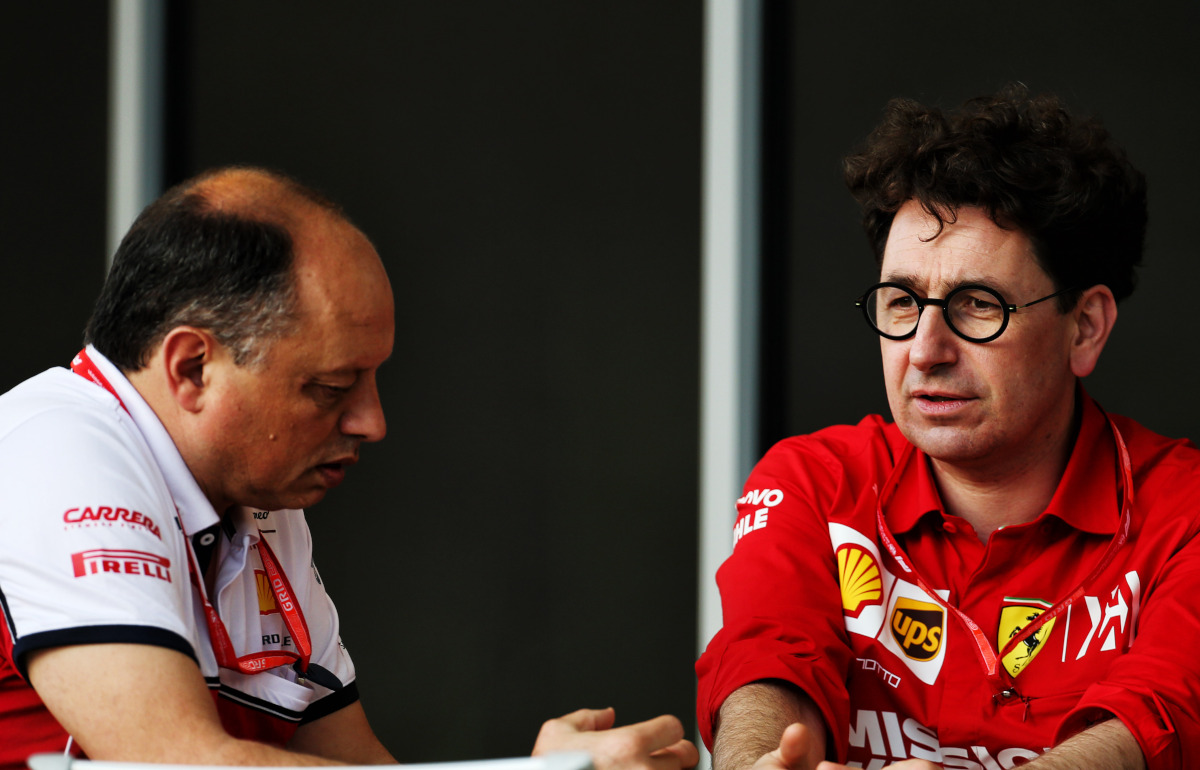 As rumours of Mattia Binotto's pending exit as Ferrari team boss continue to gather momentum, Fred Vasseur is being billed as his replacement – and he has reportedly already made his first power play.
Last week, fresh reports emerged about Ferrari team boss Binotto, some claiming he had been given his marching papers with others saying he had handed in his resignation.
Either way, there has been no confirmation from Ferrari, it is all just rumours.
Even Haas, powered by Ferrari, have been brought into the mix with claims the team rejected all Binotto's options for their vacant 2023 seat and instead went with Nico Hulkenberg on the advice of Vasseur. That is according to Italy's Corriere dello Sport.
Two years ago, Haas signed Mick Schumacher on the suggestion of Ferrari but with the German's crashes outweighing his points-scoring finishes, team boss Guenther Steiner decided to look elsewhere for a new team-mate for Kevin Magnussen.
Ferrari suggested Antonio Giovinazzi and Robert Shwartzman but it was a no from Haas, the team instead signing F1 super sub Hulkenberg despite him not having had a full-time race seat in three years.
Corriere reports it was Vasseur who made the suggestion.
"It is whispered it was Frederic Vasseur who pushed Haas to hire the German," claims the Italian publication, the Frenchman having done so knowing he is the "Ferrari team principal elect and therefore doesn't need to worry about Binotto's bad moods because soon there it will be him" in charge.
Although Ferrari ended their drought this season, the Scuderia taking four wins after two seasons without a P1, F1's rumour mill says it was not enough to save Binotto's career, not when balanced against the team's numerous mistakes with him at the helm.
According to reports, it is just a matter of time before Ferrari announce his exit with Vasseur replacing him.
The Alfa Romeo team boss has been coy about the rumours, reportedly telling Belgian journalist Gaetan Vigneron of RTB: "I won't tell you anything, but you'll know soon enough."
One person Gazzetta dello Sport says is waiting eagerly for the news is Ferrari driver Leclerc.
While Binotto made it clear to the driver, especially at this year's British Grand Prix, that no driver is bigger than the team, Vasseur is expected to make the Monégasque driver the team's undisputed number one driver ahead of Carlos Sainz.
The Frenchman is a man who believes in number ones, saying a few years back: "For the last 25 years, all good projects have been built around a reference driver. Ferrari with Schumacher, Renault with Alonso, Red Bull with Vettel, Mercedes with Hamilton."
Leclerc previously worked with Vasseur at Sauber, with Gazzetta asking whether he has had a role to play in the expected management change.
"It is hard to imagine him capable of that, let alone having that power, but inside the 'gentleman' Leclerc is lurks sky-high ambitions," reports the Italian publication.
While Leclerc may be smiling, Sainz will not be. "It will be interesting to see how Carlos Sainz will react to this. After all, he arrived in Maranello under the assumption he could compete with Leclerc, something he has been able to do so far and has shown he is capable of doing so."
There may be a bit of a delay to all of this playing out as Vasseur is still contracted to Alfa Romeo-Sauber and is not expected to be released before January 1 2023.
A few more weeks of rumours to come…
Read more: Conclusions from the F1 2022 season: Max Verstappen unstoppable, Ferrari's failure and more