Former Ferrari president Luca di Montezemolo has called on the Scuderia to support Sebastian Vettel in their final season together.
Vettel's last campaign in Ferrari red has been a miserable one so far having amassed just 10 points from the first five races of  the revised 2020 schedule.
At the 70th Anniversary Grand Prix, the disconnect between driver and team continued to show after Vettel openly criticised the team's decision to pit him early while Ferrari boss Mattia Binotto put Vettel's P12 finish down to Vettel's first-lap spin at Silverstone.
The open disagreement playing out between the two parties has led to some quarters of the press to question whether Vettel will actually see out the whole year with Ferrari.
Di Montezemolo, though, wants to see Ferrari give Vettel as much support as possible for the reminder of the season.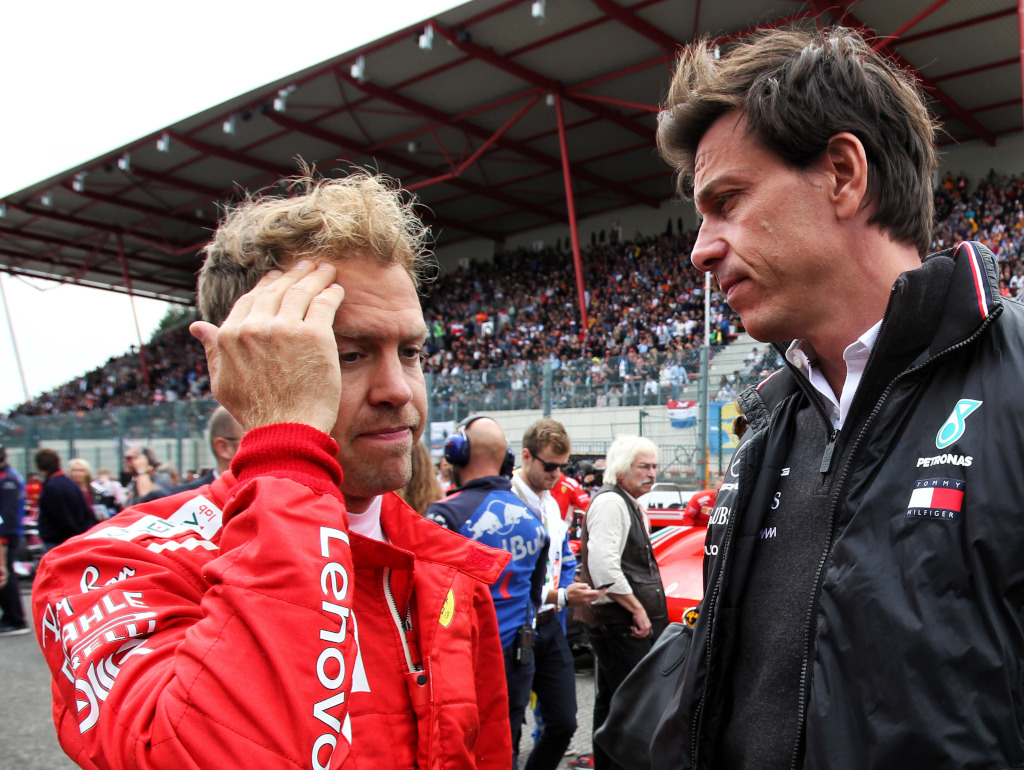 Head on over to the Formula 1 store for all your official Sebastian Vettel merchandise
"One of my last actions as the CEO of Ferrari was to bring Sebastian to Ferrari," Di Montezemolo told RTL.
"For me Sebastian is a champion, he is a very good team driver. What do I mean? Like Michael Schumacher: he wins and loses with the team. He works wonderfully in a team.
"Sebastian is very fast. Sometimes a champion needs a good environment, to show it. In my opinion the decision not to extend with Sebastian was made too early. They should have taken more time.
"Sebastian does not feel at home at the moment, if I may put it like that. And the psychological aspect of a driver is fundamental.
"Certainly he made a mistake at Silverstone on Sunday, that's part of the race. You can understand his anger.
"The team needs to give him a lot of trust now, he needs that. Ferrari needs him, needs his points, needs Sebastian.
"I hope that everyone in the team will help him to show that he is a champion in his last year [at Ferrari]. Because he is a champion.
"But I have my doubts whether the car's characteristics match Sebastian's driving style. He hasn't been satisfied since the beginning of the year. Without question, the car is not competitive."
I'm spinning around
Move outta my way…

…I'm breaking it down
I'm not the same#F170 🇬🇧 #F1 pic.twitter.com/xbAoxupoSR

— Planet F1 (@Planet_F1) August 9, 2020
Asked if he suspected Vettel and Charles Leclerc were not driving equal cars, Di Montezemolo replied: "I really don't know how everything is handled at the moment.
"But I hope…I am sure that both drivers are treated equally. I see no reason to treat them any differently. But like I said I don't know.
"Sebastian is incredibly important for Ferrari, especially at this moment when Ferrari doesn't have a competitive car.
"And Ferrari needs two motivated drivers who bring the maximum out of the car. I hope they will do everything to bring the enthusiasm back and treat Sebastian in the best possible way to enable him to succeed again."
Follow us on Twitter @Planet_F1, like our Facebook page and join us on Instagram!