Ferrari has officially launched their 2020 season with the grand reveal of the Ferrari SF1000 at the Romolo Valli Municipal Theatre in Reggio Emilia.
Haas and Mercedes have only displayed their respective new liveries on their 2020 cars thus far, but Ferrari are the first Formula 1 team to show their new car – the SF1000 to commemorate their upcoming 1000th race in the sport this season – in the flesh.
Before taking the covers off the car the Scuderia upped the drama with an orchestra and choir, a throwback to the glitz and glamour of yesteryear's launches.
In front of a theatre packed with Ferrari team personnel, fans and the media – with the powers-that-be sitting in the royal boxes – CEO Louis Camilleri addressed the challenges that face Ferrari in 2020.
Speaking about the "huge responsibility" that rests on Ferrari's shoulders as it strives for the "ultimate goal", he added: "This year is clearly going to be an interesting year, we have tough competition and a long season.
"It is also an important year as in parallel we have to create and build a completely new car in line with the regulations that will govern F1 from 2021. The team will be very very busy.
"I have every confidence that we have the people with their creativity, discipline and work ethic.
"Mattia [Binotto] and his team are doing a great job and we look forward to success going forward.
"But we are not just looking forward to this season as time is our enemy.
"We spend weeks, months to gain hundredths of a second and we are very much focused on the long term.
"We have Sebastian [Vettel] and Charles [Leclerc], who we count on. They share a passion and pride for Ferrari and are loyal to Ferrari."
After the pomp and ceremony, the new SF1000 was finally unveiled.
The new Ferrari retains its matte finish to help keep the car weight down while Ferrari have tweaked the suspension and bodywork.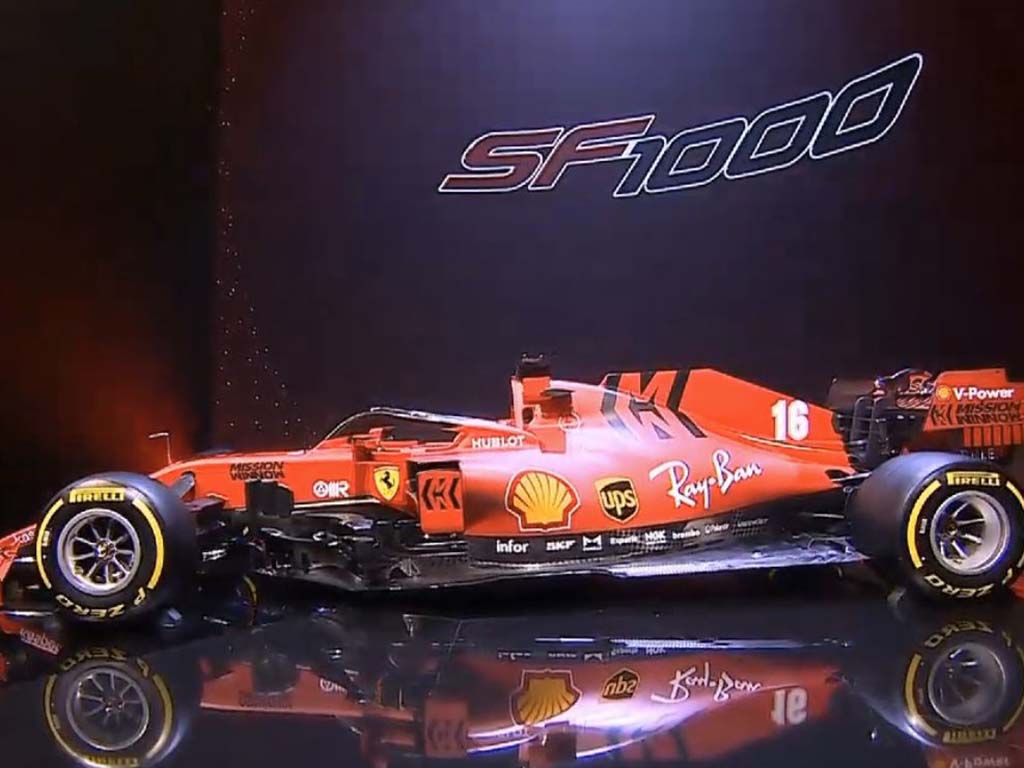 "Presenting a new car is always an emotion," said team principal Binotto.
"We are celebrating the 1000th grand prix for Scuderia Ferrari and 70 years for Formula 1. Ferrari has always been there, we haven't missed one year.
"We are the team winning the most, the one that has always been there.
"Competition is part of our DNA. Ferrari will also be part of F1.
"Our group is still young, we still have to grow and learn from our mistakes, capitalising on this. We have to concentrate on reliability, which was a weak point last season."
"The regulations remain stable so certainly we have streamlined the concept to maximise performance and downforce level."
Sebastian Vettel and Charles Leclerc were on hand to reveal the car they hope will put them firmly in World Championship contention this season.
Ferrari has not won a Constructors' Championship since 2008, whilst the last driver to win a World Championship in famous Scuderia red was Kimi Raikkonen back in 2007.
Follow us on Twitter @Planet_F1 and like our Facebook page.