Ferrari simulations show Leclerc was set for Baku win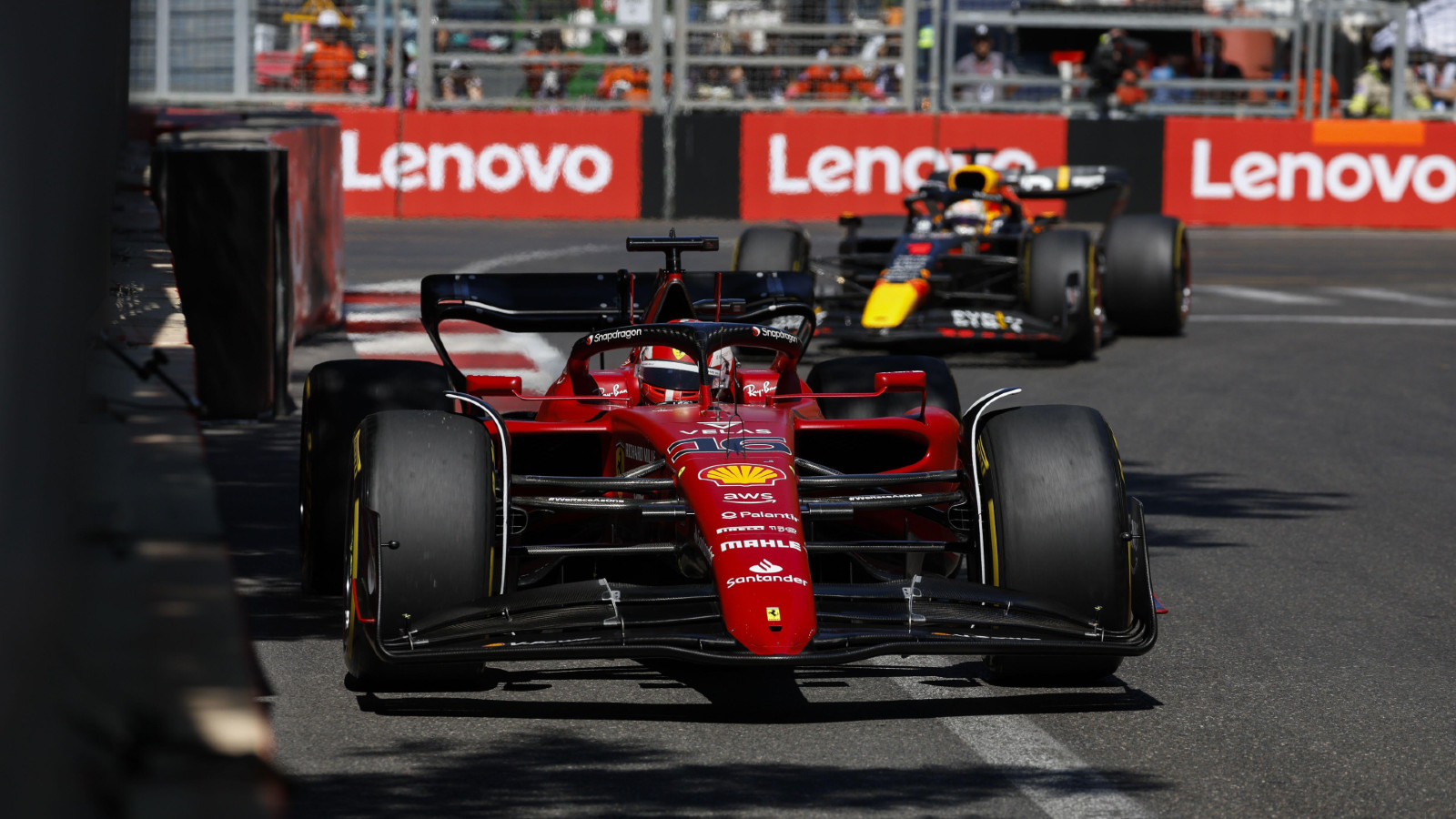 Ferrari's Inaki Rueda says the Scuderia's own simulations show Charles Leclerc was set for a comfortable win in Azerbaijan.
Leclerc was all set to claim the win in Baku had his power unit not let go, according to Ferrari's sporting and strategy director Rueda.
Leclerc was leading the Azerbaijan Grand Prix ahead of both Red Bull drivers after each had made a pit-stop, having dived into the pits on lap nine under the Virtual Safety Car. With one-stop strategies being the order of the day in Baku, Leclerc thus lost far less time in the pits compared to the Bulls, who stopped after running a normal-length stint on the medium tyres.
That gave Leclerc a comfortable lead, but he appeared set to have to fend off pursuing Max Verstappen and Sergio Perez who would have had fresher tyres to get to the chequered flag. That all became academic on lap 20 when Leclerc's power unit failed, giving Red Bull a comfortable 1-2.
Fans were robbed of the opportunity to see whether Ferrari's strategic gamble would have paid off against the Red Bulls, but Rueda explained everything had looked set for a Leclerc victory.
A tough break for Leclerc as his Baku hopes go up in smoke 😖#AzerbaijanGP #F1 pic.twitter.com/LEYq3hVA8f

— Formula 1 (@F1) June 12, 2022
"Charles' race was different. He was fighting for the lead with Perez and he had Verstappen on his gearbox," Rueda explained in the official Ferrari debrief from Azerbaijan.
"Verstappen got within DRS range of Charles and this is something we have been working on lately. With such small margins with Red Bull, we find ourselves winning or losing games with DRS overtakes.
"For Baku, we took a different rear wing and we worked on our strategy. Crucially, when Carlos [Sainz] stopped (with a hydraulic failure), we realised it would very likely be a Virtual Safety Car period and we got ready.
"We got ready with Charles to 'pit' in case race direction thought they had to deploy the VSC. This was crucial for our race because a pit-stop under VSC costs roughly 10 seconds less than a normal pit-stop.
"Because of this, Charles was able to do his only pit-stop of the race with much less penalty than both Red Bulls. So after the VSC period, Charles set off to go to the end on the hard tyres.
"Red Bull tried to go as long as possible on the medium tyres but they were dropping a lot. The medium tyres had a lot of degradation and Perez lost a lot of time trying to go longer and longer to offset himself to Charles. Unfortunately, after 11 laps on the hard tyres, Charles suffered a power unit failure and this cut our race short.
"Our simulations indicate that had there not been another VSC period, Charles would have won the race comfortably against Verstappen."
With Ferrari falling to 80 points behind Red Bull in the Constructors' Championship in light of their most recent disappointment, Rueda said the Scuderia are clinging on to the positives from Azerbaijan.
"We come back from Baku disappointed from not having scored the number of points we should have," he explained.
"But we bring some positives. We have a very strong performing car in qualifying and in the race – we are capable of fighting in every possible scenario.
"Our reliability is a weak point. We are aware of this and we will address this in the future. Our ambitions are still high and our aim hasn't changed."
Torquing Point: Are Ferrari harming their Charles Leclerc relationship?
Oliver Harden discusses another DNF for Charles Leclerc in Baku, that has cracked his short-term relationship with Ferrari.