Ferrari: Everyone on 'same line' over sprint qualy changes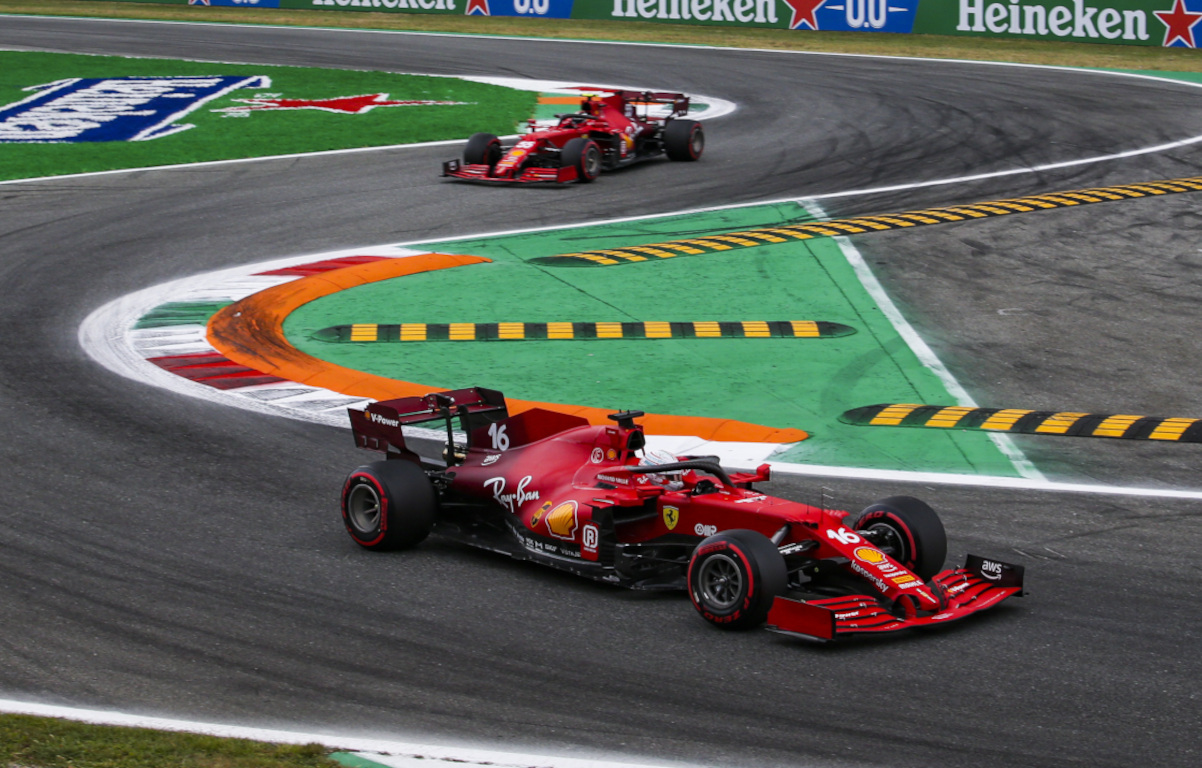 Neither Charles Leclerc nor Carlos Sainz were impressed by Monza's sprint qualifying, saying changes need to be made.
Formula 1 held its second trial of sprint qualifying at the Italian Grand Prix having previously run the experimental format at Silverstone.
But while Friday evening's qualifying went down a treat, adding excitement to a day usually reserved for two hours of practice running, the sprint qualifying on Saturday fell flat.
There was not much passing during the 18-lap event, except on the opening lap and the lap after the Safety Car that had been brought out for Pierre Gasly's crash.
"I quite like this format for the Friday," Leclerc told Autosport. "I think for the Friday it's definitely something positive. I am a bit bored on the normal Friday because FP1, FP2, nothing to win, nothing to lose.
"You do a bit more laps, it's always good, but you've so much other chances to recover what you have lost in FP1 for example.
"Now FP1 is a natural session that really is worth pushing and finding the limits in. And I think it's also good for us drivers to just go on a track and push straight away.
"It's more interesting also for the show. So I quite like the Friday format like this personally."
But while he enjoys the new-look Friday, Saturday's sprint qualifying needs some work.
"I didn't enjoy it as much in Monza," Leclerc said. "And I feel there's maybe room to just try something different for the sprint qualifying.
"There's been already quite a lot of ideas. And I think we are more or less all on the same line to just try and do something different for the sprint qualifying."
Time to keep going 👊#essereFerrari 🔴 pic.twitter.com/L7f0xgORfc

— Scuderia Ferrari (@ScuderiaFerrari) September 14, 2021
Kit yourself out in Ferrari colours via the official Formula 1 store
His team-mate Sainz is of the same opinion.
"I agree with Charles," he said, "that we need to find a way to make Saturday a bit more exciting because at the moment, I don't think it's giving much excitement compared to Saturday qualifying.
"I don't see sprint qualifying being more exciting than a Saturday qualifying. So we need to find a way to make Saturday a bit more exciting."
As for their team boss, Mattia Binotto reckons throwing in a reverse grid would be one way to up the excitement for sprint qualifying.
"I think the new format is still a positive experiment, if you look at it in the view of the entire weekend. Obviously not looking at the single day, but as overall in terms of weekend, having already some action on Friday I think is positive," Binotto said.
"So overall, I think we should judge it positively. Now, how can we improve it? Obviously, there are some ideas like the reverse grid.
"If not that one, I am pretty sure there will be other discussions or ideas to come up through the F1 commission with F1, FIA and all the other team principals. So I'm fully open-minded.
"I think what we need is to honestly consider that as an overall positive experiment so far, it still needs [time] or can be improved. And let's see what can be the better ideas compared to the one I suggested."