Ferrari: There is a point at which we will introduce team orders
Ferrari sporting director Laurent Mekies has said team orders will likely be forthcoming in the second half of the season.
While Charles Leclerc continues to lead the Ferrari title challenge as he lies second in the Drivers' Championship, 80 points behind Red Bull's Max Verstappen, Carlos Sainz's stronger mid-season run means the Spaniard is only 22 points behind his team-mate.
Up to now, Ferrari have not tried to introduce team orders, allowing Sainz to have a fair crack at recovering from his poor start to the season. This saw Ferrari almost throw away victory at Silverstone, with Sainz holding up the evidently quicker Leclerc and allowing them to come under pressure from the Mercedes of Lewis Hamilton.
But with Red Bull evidently throwing their weight behind Verstappen in the title fight, Mekies said team orders will be introduced at Ferrari when the moment is right.
"I think it is more discussed outside Ferrari than inside Ferrari," he told media over the Hungarian Grand Prix weekend.
"But more seriously, again, we have always been very clear. We target to have the best result for the team. Ferrari comes first.
"Then, of course, there will be a point when we will need to focus more on a driver compared to the other one if the championship position is requiring. So it does not mean waiting for a mathematical difference, but it means being at the point of the season when you think it is the right thing to do."
Which driver will they favour?
While Leclerc has shown more pace overall this season, Sainz's upward momentum could give Ferrari pause for thought – especially considering the Spaniard's apparent willingness to challenge team strategy calls.
After Leclerc threw away a likely victory in France due to a mistake while leading, Mekies said Ferrari have no desire to try reigning in Leclerc.
"He has been showing such outstanding speed this year again that you don't want to go and touch that aspect," he said.
"Charles doesn't need us to understand, as a great racing driver, where he needs to go in terms of closeness to the limit. He is a master of that and, as we all do, mistakes can happen. I think we don't look at single mistakes, we look at the strike rate. We look at how extraordinarily you are able to do things compared to stuff you do not do as good, and I think his strike rate this year has been very impressive and we don't want him to change anything."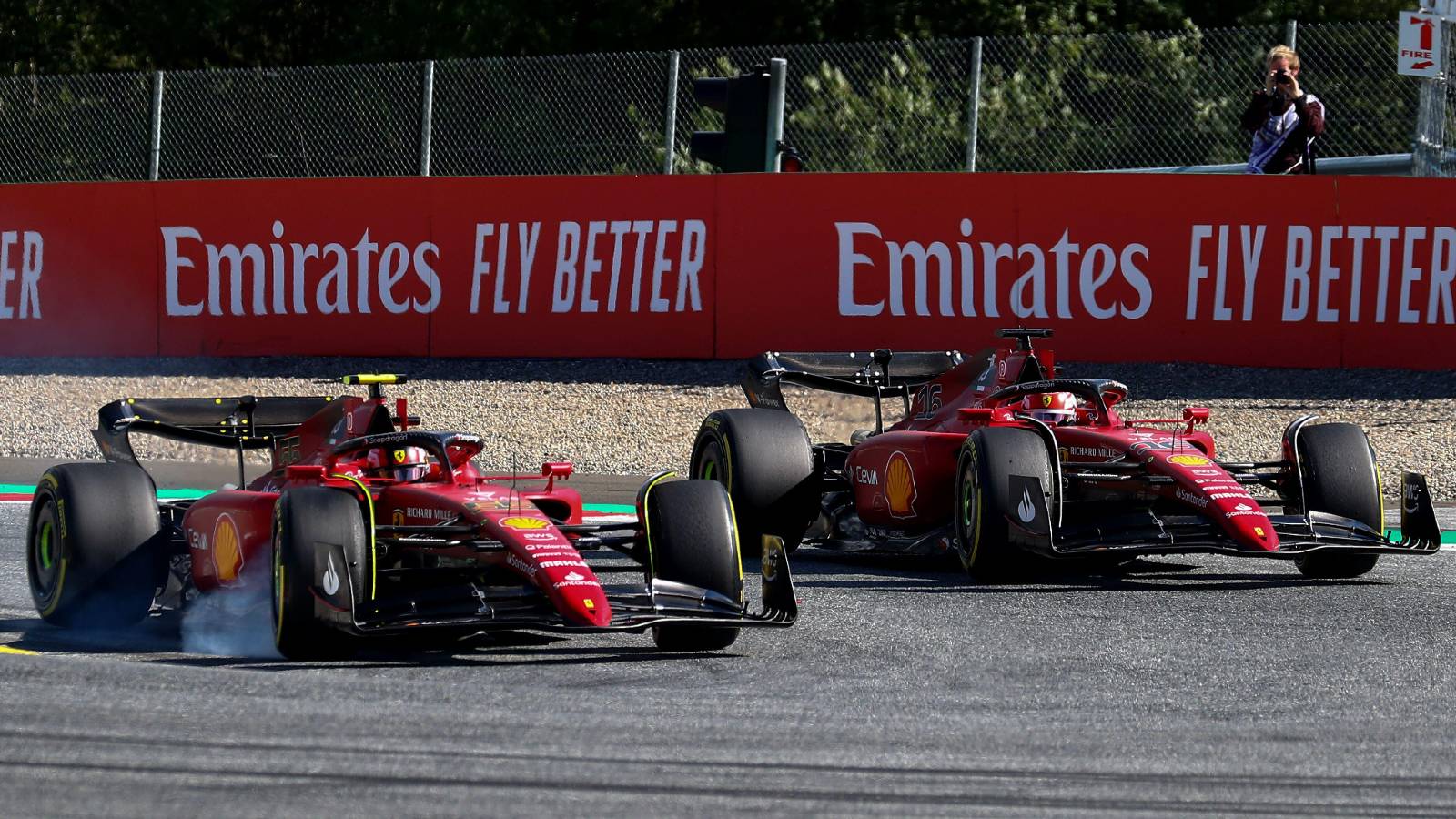 Mekies then spoke about Sainz, detailing the progress he has made during the year.
"Carlos has had three extremely strong weekends – Silverstone, Austria, France. We are very happy with that," he said.
"It did not show up so much in the final race classifications besides Silverstone because we had other things to deal with. But you are very right in saying he has made great progress since the start of the season. We made no secret at the beginning of the year that naturally the car was not suiting him very well.
"We had to work a lot with him, with his engineers, with everyone back in Maranello to make sure we can give him something he is more comfortable with. And these things take time. And slowly, it seems we are heading towards the right direction, which is another great sign for the team and the way we interact. So I think that's where it is."
But Mekies denied Sainz's recent form makes him the more likely candidate to become the team leader.
"Does it make someone a leader or not? No, it doesn't, it is not what makes a leader or not," he said.
"We know we have two very good drivers. We treat them in a way that we can maximise our championship positions and we want them as fast as they can possibly be."
Mekies: Leclerc is not more emotional than Sainz
With Leclerc having a reputation for being publicly self-critical and allowing his frustrations to be heard over team radio, this is in stark contrast to the more aggressive radio calls from Sainz.
With question marks over Leclerc's mental fortitude in a title battle, as evidenced by the error in France while under pressure from a Red Bull undercut attempt, Mekies denied the Monegasque is a driver more inclined to distraction by emotion than his team-mate.
"I would not say so, really," he said.
"With both these guys we have had very good highs and we have had very painful lows this season, and in both ways, in both directions, when they come back to the garage, when they have looked at what happened, when they have looked at the data, they are able to reset, to be in the learning mode pretty much after 15 minutes.
"So you need to separate that from maybe what you can hear on the radio in the heat of the moment when they are racing with a high heart rate. I think it's two different things. But when they get out of the car and they analyse everything, after an hour they will be back into the analysis mode and show little emotion in a negative way, no negative emotions, but instead you can see it drives them to even more motivation. "