Binotto had Vettel v Leclerc flashbacks in Brazil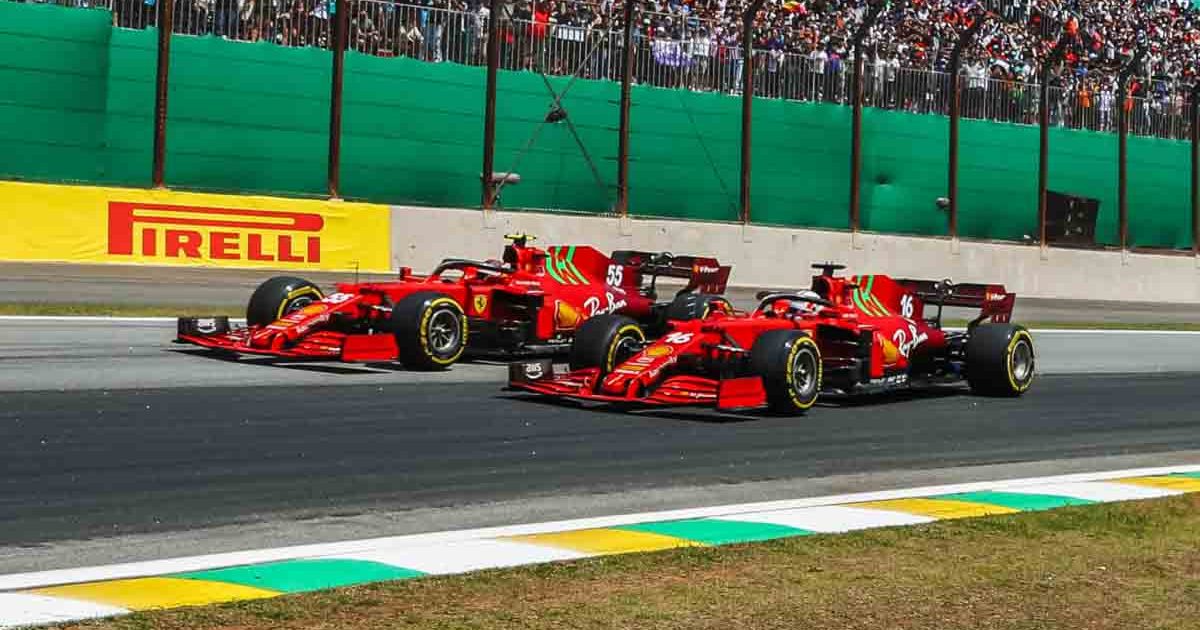 Ferrari team principal Mattia Binotto said he was on edge when Carlos Sainz and Charles Leclerc fought on the first lap at Interlagos.
Leclerc and Sainz ran side by side as they made the run down to Turn 4 after the start and, where Leclerc had collided with Sebastian Vettel at the same point, leaving both cars damaged, Binotto admitted he felt "afraid" in that moment.
Leclerc moved his way past his team-mate on the inside of the corner, but mercifully from a Ferrari point of view, they managed to avoid contact this time around.
"They fought among themselves at the start of the race and made me relive moments already experienced two years ago [with Leclerc and Vettel]," Binotto said to Sky Italia.
"But it went well. I was afraid, but they didn't take too many risks.
"They know what they can do with each other. I hope to see them fighting with each other again and that they keep the safety margin they know."
Leaving Brazil with another 19 points in our pockets 💪

We're remaining focused on the final three races and our 2021 target 🤜🤛#essereFerrari 🔴 #BrazilGP pic.twitter.com/ig1S7QPwyn

— Scuderia Ferrari (@ScuderiaFerrari) November 15, 2021
Leclerc was able to draw alongside after Sainz suffered a poor getaway, tangling with Lando Norris at Turn 1 and leaving himself vulnerable to his team-mate, who was able to muscle his way past and stay in front for the remainder of the race.
Both drivers were seen chatting to each other after the race and Sainz was quick to say there was no tension between the two of them after their battle, and Binotto maintains that they are still free to race each other when the moment allows.
He added: "Between Carlos and Charles there is always free competition. The priority is the team. If competing against each other means bringing home the team result, there's no problem.
"They have to do it with care. I saw that Carlos tried to close Charles down, but he didn't close so much. He respected our wishes."
Leclerc and Sainz came home as best of the rest behind the Red Bull and Mercedes drivers, adding a strong haul of points to extend their advantage over McLaren in the fight for third in the Constructors' Championship.
Binotto praised how much his team has progressed this year, and he hopes to carry that through for the remainder of the season.
"We know this is our car and we can't fight with the best," he said.
"It's a car that comes from last year's car, which was born with gaps and flaws. Starting from this assumption, it has grown a lot and well.
"The team at home for 2022 is working a lot. We're also growing on race management. Strategies, pit stops, and very good drivers too."
Additional reporting by Luca Brambilla
Ferrari moving out of McLaren's reach?
Ferrari extended their gap on McLaren at the Brazil GP.