FIA ban Mercedes style front wing following complaints from rivals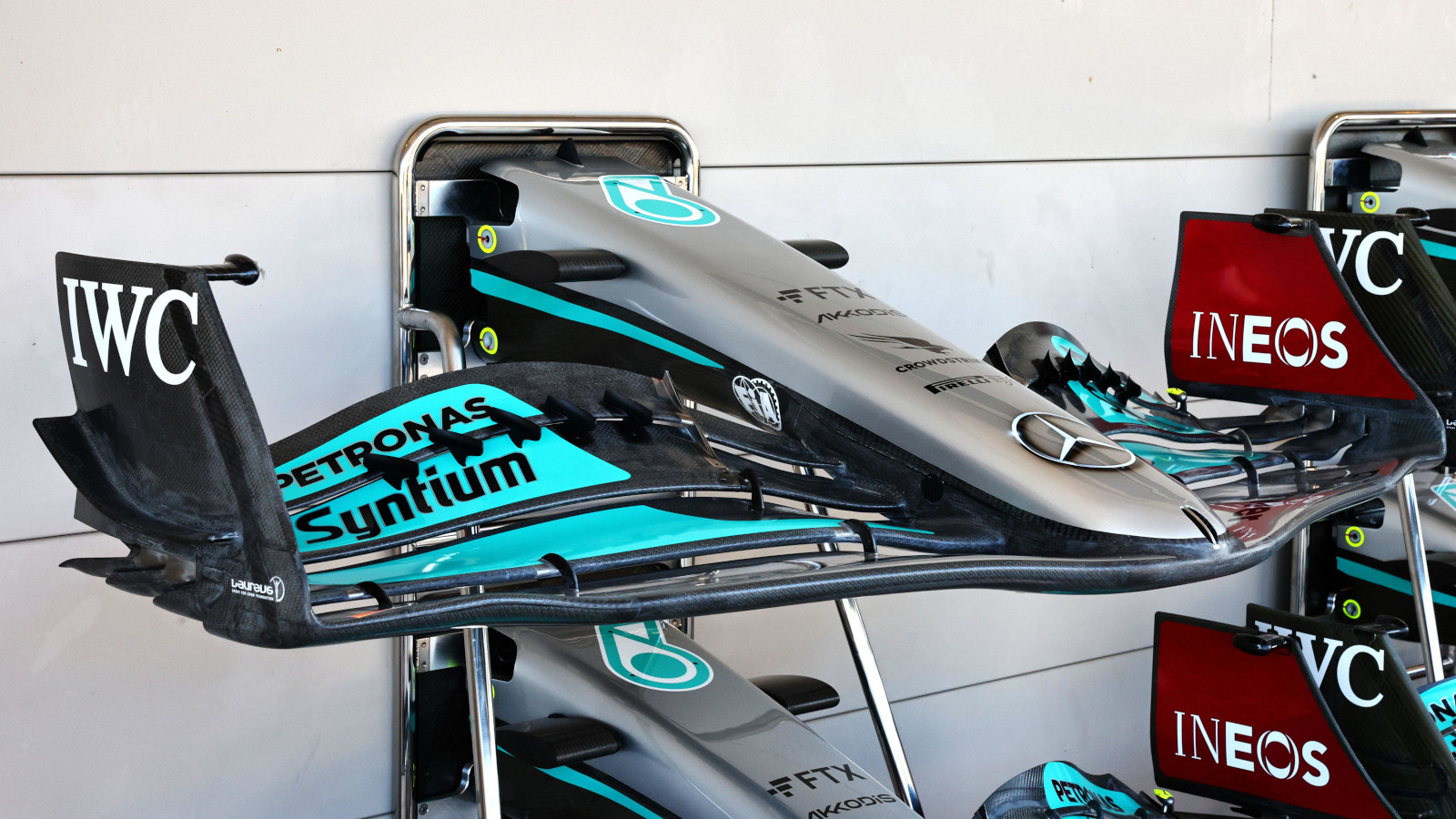 The FIA have updated their rules so that a front wing designed by Mercedes ahead of the United States Grand Prix has been banned.
As cars took to the track for practice in Austin, all eyes were instead on the pit lane where a Mercedes front wing had been left on the stand.
Mercedes had never been planning on running the new design which had slot gap separators due to not having enough for both drivers but were reportedly preparing them for first deployment in the following race in Mexico.
Having been seen by the world, Mercedes' rivals in the paddock were not happy and argued to the FIA that the fins allowed for more directed airflow than the regulations stipulated.
Mercedes' defence was that the rule said the slot-gap separators should "primarily" be for mechanical, structural or measurement reasons but did not clarify whether any secondary benefit, such as aero, was allowed.
The FIA ruled against Mercedes and ordered that the pieces of carbon fibre be removed for the race in Mexico and now the sport's governing body has updated their regulations to close the "primarily" loophole should any teams look to exploit it.
Following the meeting of the FIA World Motor Sport Council in Bologna on Wednesday, where other matters such as the locations of the 2023 sprint races and the F1's efforts towards climate change where also addressed, the FIA updated their rules so the sentence featuring the 'primary' wording was removed.
Given the change only affects one team and has been made between seasons, it is unlikely to cause the same amount of backlash as the previous rule change by the FIA.
Following mounting concern for drivers' safety, the FIA announced a technical directive in June with the intention of reducing the bouncing motion.
Teams such as Red Bull and Ferrari took issue with the mid-season change, which also brought in a more strict view when it came to the so-called flexi floors but the FIA has recently said they had "no doubt" changing the rules for 2023 was the right decision.
"No doubt we did the right thing," Nikolas Tombazis, the FIA head of single-seaters, told Motorsport.com.
"We tried to find a pragmatic, short-term solution and a medium-term solution.
"It won't necessarily dissipate [porpoising] completely, but it will be a step less."
Read more: What next for Mattia Binotto? Five possible destinations after Ferrari F1 exit