FIA explain how Max Verstappen was able to clinch World Championship in Japan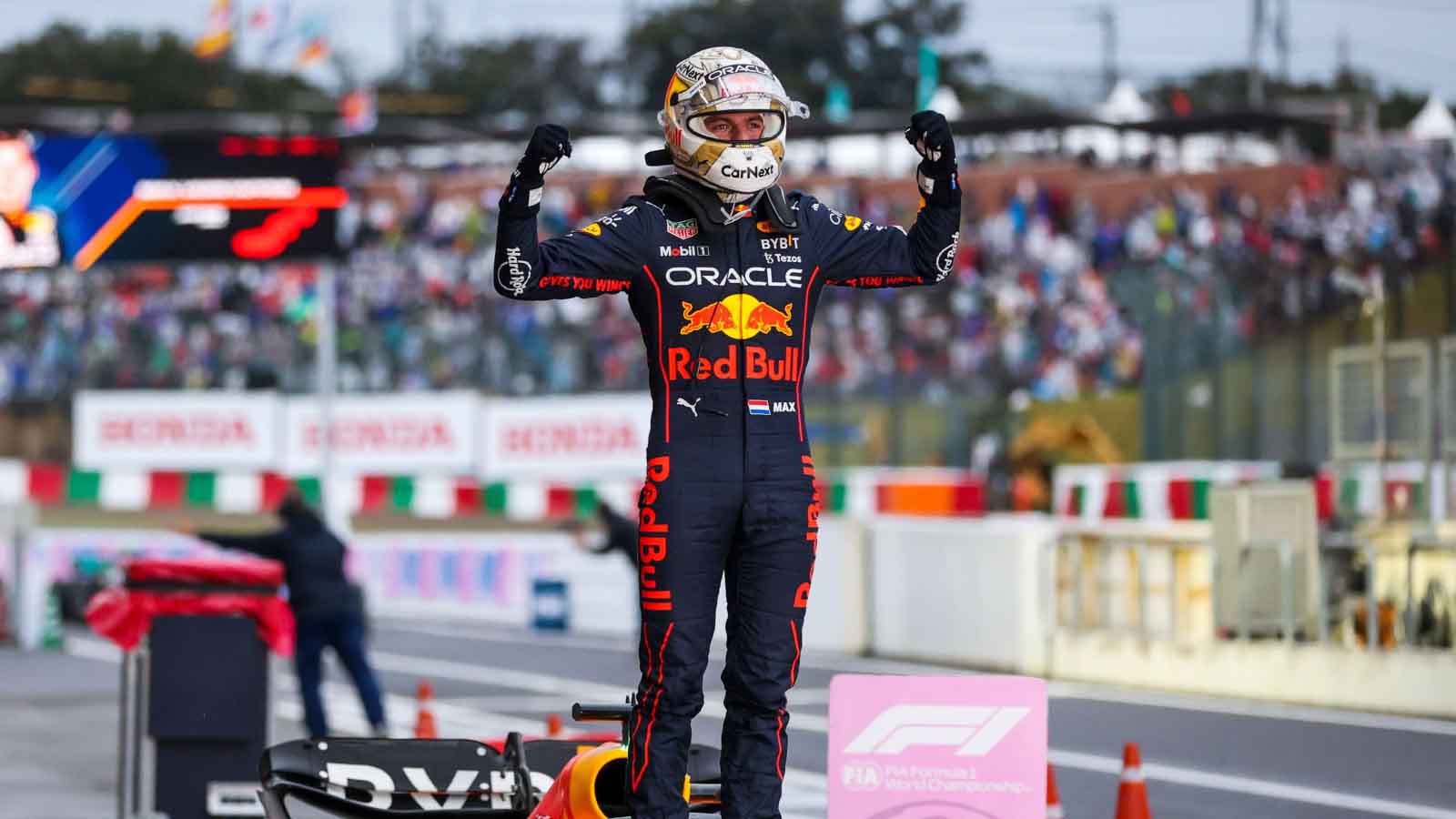 After significant confusion surrounding Max Verstappen being crowned World Champion in Japan, the FIA has clarified the regulations surrounding why full points were awarded in the shortened Japanese Grand Prix.
The race had been halted for two hours after multiple first-lap incidents combined with bad weather to bring out the red flags at Suzuka, but the weather eventually cleared up enough for 40 minutes of racing to take place.
Eventually, 28 laps were raced and Verstappen dominated when proceedings got underway, winning by a whopping 26.7s to Charles Leclerc behind.
The FIA has tiered points systems in which different totals apply depending on the race distance completed. Given the lap count at the time of the race finishing, it was thought when Verstappen crossed the line that he had not got over the threshold to take a second title – with a lessened 19-14-12 point tally ['Points Column 3'] for the top three instead of the usual 25-18-15 structure.
But news of Charles Leclerc's five-second penalty for cutting the final chicane brought out confirmation from Johnny Herbert that Verstappen had indeed been crowned champion – despite initial head-scratching as to why.
Not least from Verstappen himself, who even asked in the cooldown room: "I am not [World Champion], am I? Are you sure?"
But the outcome was then confirmed to the Dutchman, with Leclerc's drop from second to third being enough to take the Red Bull driver over the line to secure his second consecutive title.
Full World Championship points were awarded for the shortened race, due to wording in Article 6.5 of the FIA Sporting Regulations that states the staggered points system does not apply if the relevant red flag period ends and the race restarts – instead of calculating points on a pure lap-count basis.
Article 6.5 reads as follows, before detailing the exact points structures: "If a race or sprint qualifying session is suspended in accordance with under Article 57, and cannot be resumed, points for each title will be awarded in accordance with the following criteria:
a) No points will be awarded if the leader has completed less than two (2) laps.
b) No points will be awarded unless a minimum of two (2) laps have been completed by the leader without a Safety Car and/or VSC intervention."
The FIA subsequently confirmed: "Article 6.5 only applies in the event of race suspension that cannot be resumed, and therefore full points are awarded and Max Verstappen is World Champion."
Team boss Christian Horner even admitted to Sky F1 that Red Bull sporting director Jonathan Wheatley had been peeling through the FIA regulations to make sure he was in fact champion – having thought he was one point short.
Read more: FIA issue response as Pierre Gasly fumes over recovery truck on track