FIA to investigate Sainz's seatbelt after Monza crash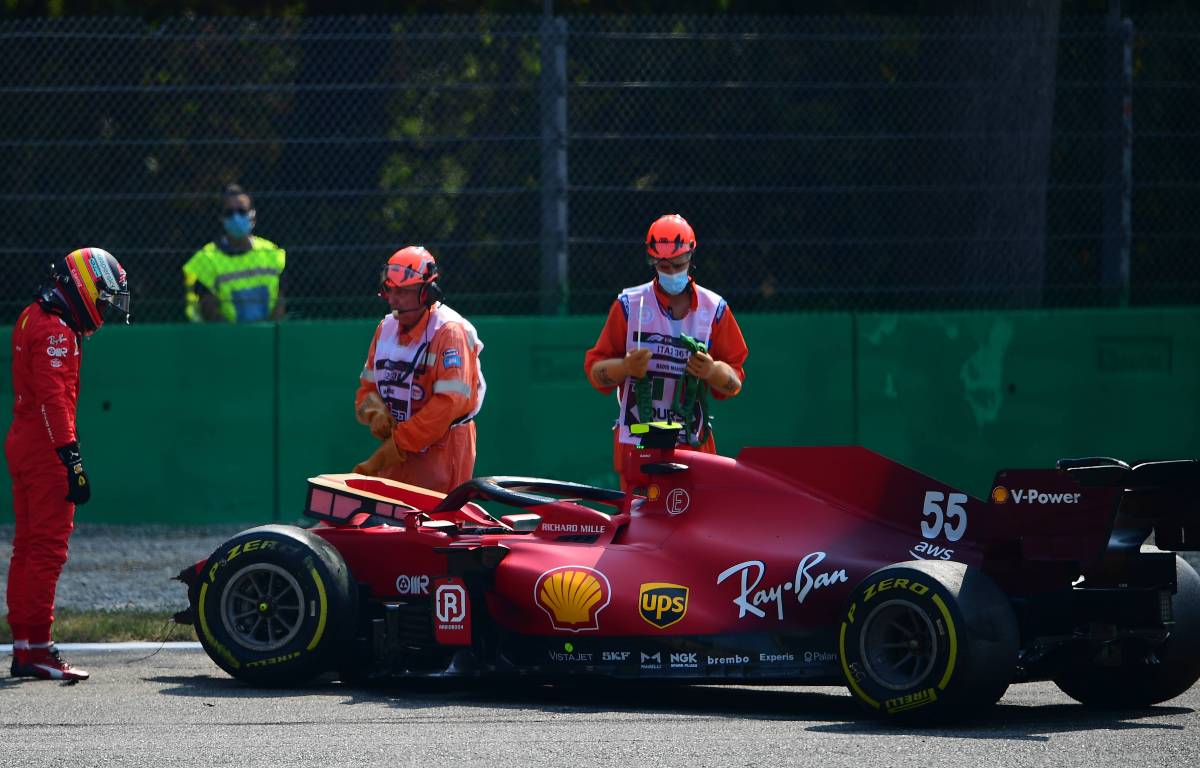 The FIA will examine Carlos Sainz's seatbelt after the Ferrari driver was thrown forward as he hit the barrier in FP2 at the Monza circuit.
Sainz suffered his third crash in four race weekends when, in second practice at the Italian Grand Prix, he lost control of his Ferrari through the middle part of the Ascari chicane.
Hitting the tyre barrier nose first, Sainz was thrown forward in the impact.
The Spaniard was left groaning, saying that one "hurt" before climbing out of his car and being taken to the track's medical centre.
He was given the all-clear and was back out on track a few hours later for sprint qualifying.
But while the driver walked away from the crash, the manner in which he was thrown forward raised questions as that should never happen.
Both Ferrari and the FIA are looking into it.
A heavy crash ended Carlos Sainz's FP2 session#ItalianGP 🇮🇹 #F1 pic.twitter.com/AsGyYx95md

— Formula 1 (@F1) September 11, 2021
Carlos Sainz's Ferrari merchandise is available via the official Formula 1 store
FIA race director Michael Masi explained via Autosport: "I think the belts are made to stretch.
"You've got a human body in there, so there's got to be some give. You can't just keep everyone completely tied in because there has to be a bit of give in things.
"So we will look the belt stretch, as we do with any major incident, or significant incident like that, and see what we can learn from it.
"You know, can it be improved? Let's have a look?"
He added: "I'm always encouraged by all of the safety features and the ever improvement with safety that we have.
"You look at Carlos's incident in FP2. Although it didn't look like much, it was quite a severe impact.
"Be it halo, be it equipment, be it car design, everything, there's always that constant evolution of improving safety as a whole."
Asked if Sainz's seatbelt has possibly stretched too much, Masi replied: "Possibly. And let's try and learn from it."
Sainz has also paid a rest to one concern which was that his HANS straps had snapped.
"No it didn't," he said. "It was just that the impact was so heavy that my head went forward a lot and I took a bit of the belts with me, but not the HANS."
Planet F1 verdict
McLaren overshadow Ferrari's home Grand Prix
With McLaren getting a 1-2, Ferrari need to have a better race weekend in Sochi.