The FIA has set out how they are going to investigate Romain Grosjean's horror crash from the Bahrain Grand Prix.
On the opening lap of the Bahrain GP Grosjean collided with AlphaTauri's Daniil Kvyat, causing Grosjean to spear into the barriers at speed.
But upon impact the Haas would break into two pieces and erupt into flames, while Grosjean in the cockpit was sent through the barrier which split during the impact.
It was thanks to Grosjean's ability to unbuckle himself from the wreckage, the amazing intervention of medical personnel, and the halo head protection device, that the Frenchman walked away with only minor injuries.
Nonetheless, several aspects of the crash generated major talking points. The barrier should not have split in the way it did, and it has been a very long time since a car burst into flames like that during a crash.
But the FIA will now begin their investigation, and the emphasis they say will be on data collection.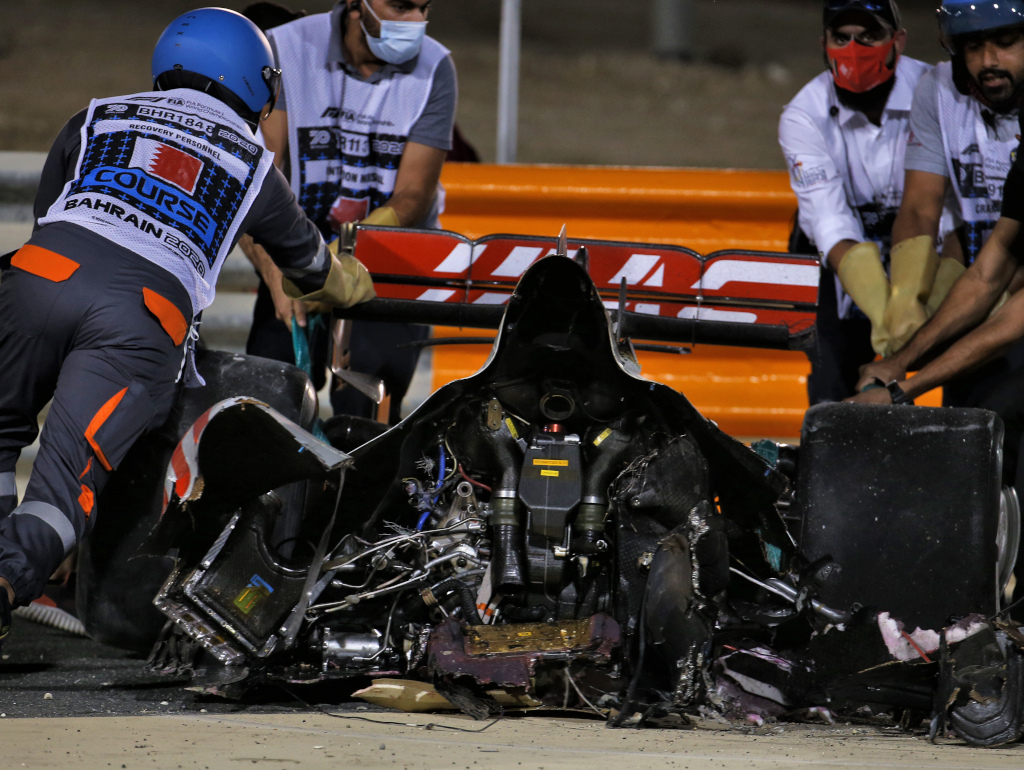 Get your hands on the official Haas 2020 collection via the Formula 1 store
'The investigation into the Grosjean incident will look at all areas including competitor safety devices such as the helmet, HANS, safety harness, protective clothing, survival cell, headrest, in-car extinguisher system and the Halo frontal cockpit protection,' Formula 1's governing body confirmed in a statement.
"Analysis will also include chassis integrity and the safety barrier performance for an impact of that energy and trajectory. It will also assess the role of the track marshals and medical intervention team.
"The FIA will work with all parties involved, including the Formula 1 promoter, the Haas F1 Team and the Grand Prix Drivers' Association, which has already been contacted for input.
"Data collection will be at the heart of this investigation and in Formula 1 there is more data instrumentation than in any other championship. FIA researchers will be able to gather data from the various video streams, including a High Speed Camera which faces the driver and films at 400 frames per-second to reveal in slow motion what happens to him during the accident.
"Data will also be gathered from the in-car Accident Data Recorder, which will reveal the speed and forces on the car, and the in-ear accelerometers that are moulded to fit inside a driver's ear canal to measure the movement of his head in a crash.
"The investigation is expected to take around 6-8 weeks to complete before findings are made public."
Follow us on Twitter @Planet_F1, like our Facebook page and join us on Instagram!