Red Bull delight as FIA introduce new rear wing test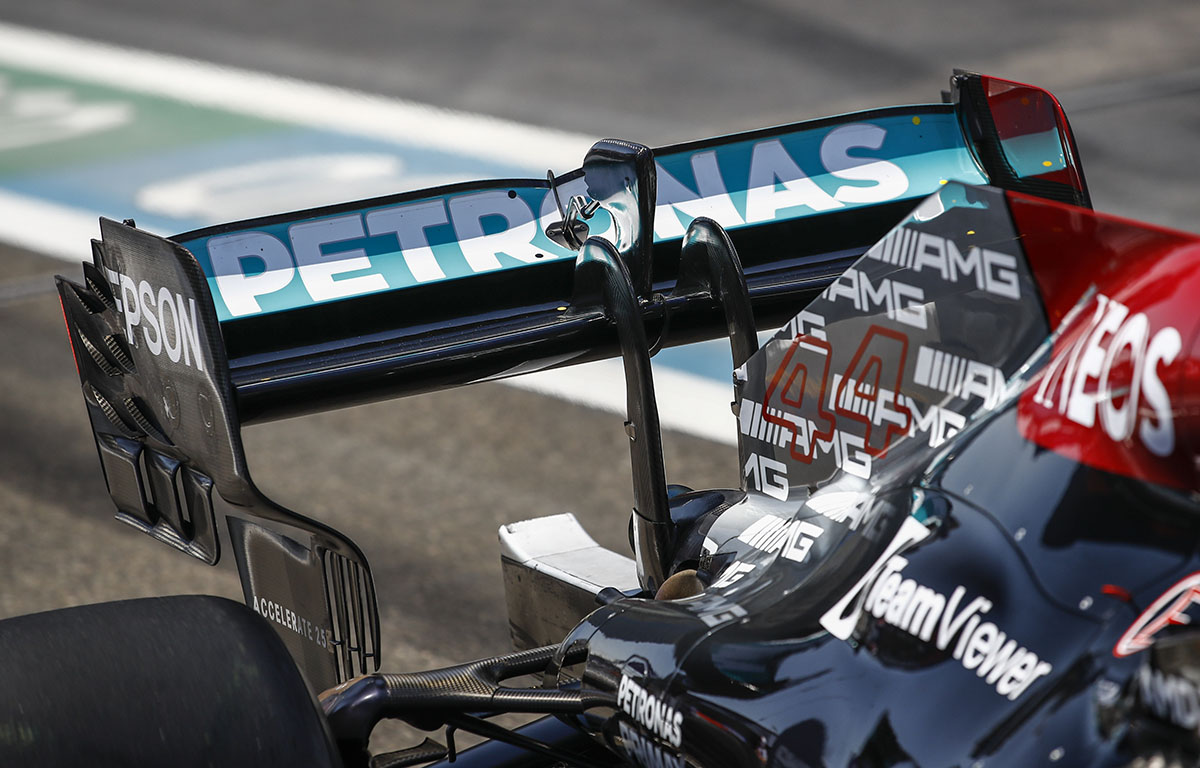 The FIA have reacted to Red Bull's suspicions over Mercedes' rear wing by introducing a new test at the Qatar Grand Prix and beyond.
The rear wings have been the subject of intense scrutiny throughout this dramatic 2021 season as Mercedes and Red Bull continue to trade punches in the World Championship fight both on and off the track.
During the campaign, the spotlight has shifted from the Red Bull's flexing 'limbo' wing to the Mercedes rear wing, with Red Bull boss Christian Horner recently drawing particular attention to the "score marks" seen on the W12's rear wing endplates in Brazil.
Red Bull suspect the Mercedes rear wing is contributing to the W12's sudden, sharp boost in straight-line speed over the past few months and have been in regular discussions with the FIA whilst collecting evidence and threatening protests.
As a result of Red Bull's lobbying, the FIA have extended the rear wing test first introduced from the French Grand Prix to cover the areas in which Red Bull feel Mercedes have been exploiting in recent races.
Score marks on the rear wing end plate of Mercedes?
Via: @racefansdotnet #F1 #Qatargp pic.twitter.com/m9XkDEk9lf

— F1 News.Live (@f1newslive_) November 19, 2021
"We are really delighted to see that they [the FIA] have introduced a fact-finding mission here," Horner told Sky F1.
"After qualifying they are going to be testing these wings.
"There will be a pull-down test on the back of the wing, so effectively an amount of load will be added to the back of the wing.
"I think it will be more than 20 kilos, I think you would probably be closer to, split across the wing it's probably going to be 70/80 kilos and it will be ramped up in stages.
"So you will be able to measure the deflection. It's great that the FIA are being proactive, they're looking at it.
"Our concern isn't so much here, where straight-line speed isn't the premium that it is at potentially Saudi Arabia and Abu Dhabi, so we are glad that they are taking this very seriously."
Mercedes, though, are not worried about any new tests or the continued threats of protest by Red Bull, insisting the W12 is completely legal.
"I mean we have been checked 14 times already this season," Wolff said in Qatar.
"So this particular wing…the FIA has all the drawings of it. This wing that Red Bull is talking about doesn't exist. We are happy to send it. You can take it apart.
"I'm also happy to send one to Milton Keynes."