FIA post-qualifying press conference – Hungarian GP
At long long last the Hungarian GP saw Max Verstappen claim pole position in Formula 1 – he also happened to be the 100th polesitter.
He was joined by the Mercedes pair of Valtteri Bottas and Lewis Hamilton as the top three faced the media…
DRIVERS
1. Max VERSTAPPEN (Red Bull Racing), 2. Valtteri BOTTAS (Mercedes), 3. Lewis HAMILTON (Mercedes)
TRACK INTERVIEWS
(Conducted by Paul Di Resta)
Q: Your first pole position, sum up the emotions?
Max Verstappen: It's incredible! This one was still missing. The car felt good all weekend and then of course you know it's always going to be hard in qualifying but we managed to do it and of course a big thank you to the team. The car was flying out there in qualifying. It was incredible.
Q: If you'd saw how nervous the garage was when you went out for that last run, but I guess when you hear on the radio that you've actually nailed that, it's just growing isn't it, the confidence with there, and tomorrow you're in a great position with that.
MV: Yeah, absolutely. Very happy about today. Still a race to do and that's at the end of the day the most important, but for me today was an important one, a very nice one and also a great one for the team.
Q: The Dutch travel in form and you can hear when you drew up..?
MV: They're loving it!
Q: …You had the engine noise but you could hear them. You've lifted this place. Max, congratulations. Valtteri, you nearly got the job done. I guess after last weekend, Max pulling out a great lap, but you came close and you're in a good position.
Valtteri Bottas: Yeah, I've been kind of chasing a little bit this weekend after missing pretty much all practice one, only limited laps in practice two, and I only really started to get into the rhythm this morning. It was getting better and better in qualifying and I'm pretty pleased with the lap in the end. Very close with Max, they've been quick all weekend, but, you know, as always it's tomorrow that counts.
Q: Can you still win this race from the position you're in?
VB: Of course. We are here to fight for the win. There's lots of support for that, so that's going to make a difference.
Q: All the best. Lewis, third position. I guess you would say it's been a difficult day after your form in qualifying normally. But I guess Max pulling out a great lap, Valtteri there as well, are you happy with where you ended up?
Lewis Hamilton: Naturally we're always targeting first. Max did a great job and so did Valtteri. It kind of got away from me a little bit once we got into qualifying but still we're in a good position to fight for the win, so we'll just be pushing hard tomorrow.
Q: These guys are starting to ramp up the pressure now, Ferrari were very close as well, the Red Bull. Are you relishing this fight that they're taking to you?
LH: I'm always down for a fight so…
Q: I guess you'll have to pass some cars tomorrow to try and get this win?
LH: Yeah, I think it's obviously a long, long way down to Turn 1, so it will be interesting. It's not the easiest place to overtake, but strategy will come into it tomorrow, so I hope we can give them a run for their money.
PRESS CONFERENCE
Q: Max, what an exciting moment for you. You've had a few minutes now to digest it, how does it feel?
MV: Yeah, it feels good. I think the whole weekend already the car was very competitive. Of course there's always a bit of a question mark how it's going to work out in qualifying when we know that they can turn up a bit more power. But we seemed to hang in there and the car actually got better and better throughout qualifying. I was very happy with it, very pleased. It was really enjoyable to drive. I didn't really have any comments throughout qualifying, I just said 'keep it going, keep the car going and give me new tyres' and that's exactly what we did. Of course to get your first pole is very nice but it's of course what counts on Sundays always.
Q: Well, you've been brilliant on Sundays, you've had seven wins. What's the overriding emotion now that you've finally go this first pole?
MV: People will stop asking me that question. Yeah, I guess so. For me it never really mattered. I knew it was a matter of time. You need a bit of luck sometimes as well. Of course, I made mistakes myself to miss a pole position shot. And today we got it, so very happy with that.
Q: Many congratulations, well done. Valtteri, it's been a difficult build up to qualifying for you, with very little running in practice yesterday. How was the car this afternoon?
VB: Yeah, it's been not the easiest of weekends so far. I missed the whole of practice one, I had no track time, and I obviously very limited running in practice two. So this morning it was really important in practice three to find the rhythm and it was really getting better and better. I was getting the confidence in the car. Luckily there were no big set-up issues and I could just fine-tune it for qualifying. And again in qualifying, just learning each lap more and more and it started to feel very nice in Q3. It's a shame to miss the pole by such a small margin, always, but congrats to Max and to Red Bull, they've been strong all weekend. But on how the weekend started, in that sense, I'm quite happy with that, but obviously a lot happier sitting in the middle.
Q: Thank you and well done. Lewis, you came into the qualifying session seeking your seventh pole position here in Hungary. You're lining up third. Just talk us through it?
LH: Firstly, congratulations to Max. It's an amazing feeling to get your first pole position, so really happy for him. For me a difficult qualifying session. Practice was going quite well. We knew the Red Bulls were quick – they're always quick here. I think when I got into qualifying the car wasn't the same as it was in P3 and it just was a bit of a struggle from the beginning and it kind of just plateaued there. It didn't really get any better. But nonetheless we're still there in the fight and hopefully for the race we'll have better race pace than I did in quali.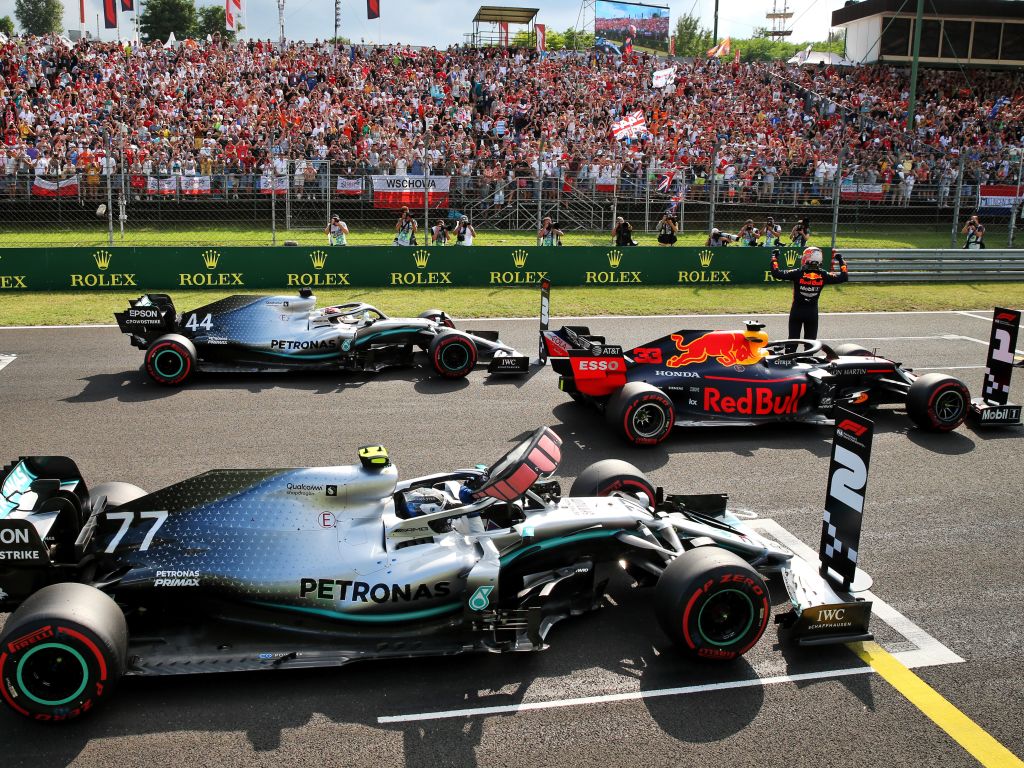 QUESTIONS FROM THE FLOOR
Q: (Dan Knutson – Auto Action and Speedsport) Max, you have a powerful engine but I think at the start of the season the chassis wasn't really optimum. How much has the chassis improved from Spain testing to here?
MV: I never said it was only the chassis, I think it's a bit of both where we were lacking in the beginning. We made good gains with the engine, but we're not where we want to be and I think everybody knows that. But we are pushing hard and we are improving and we are getting close to Mercedes and Ferrari, especially Ferrari, they seem very quick on the straights. With the chassis I think since Austria where we introduced a few crucial updates I think the car has been a lot better. From there onwards we kept bringing new parts. Maybe not as major as that one but it always gave me more of a balanced feeling in the car. And that's exactly what we were looking for in the car and I guess it shows today on a track where you need a lot of downforce that the car was working really well.
Q: (Vladimir Rogovets – Sb Belarus) My question to Mr Hamilton. Lewis, seven years ago you were here the winner but 2012 we had six champions in the peloton and you were only a one-time champion. Today we have only three champions in the peloton and you are a five-time champion. Do you think tomorrow, will it be easier for you to win than seven years ago – or not?
MV: I didn't know we had a peloton…
LH: Did I win 2012? I don't really remember that far back. Competition-wise, I don't think it makes any difference, I don't think, between those years. We've got some fierce competition within the top three teams. Is it easier now to win than before? I wouldn't say so. It's different circumstances now, naturally, and with more experience hopefully you are slightly prepared that I was back in… I would hope I'm better prepared than I was in 2012 but you're still fighting an uphill battle all the time. You're always finding new circumstances each weekend. This weekend, it started out well and it's not gone great today but that doesn't mean tomorrow can't go great.
…but you have more experience?
LH: So, hopefully we'll see that play its role.
Q: (Scott Mitchell – Autosport) Max, by getting the breakthrough pole position for yourself and Red Bull with Honda, what message do you think that sends? Obviously you've made it clear that qualifying is the area you think you need to improve. And to the two Mercedes drivers, obviously you won't take your eye off the challenge from Ferrari but do you think that Max is now your nearest, most consistent challenger?
MV: We know that, if you can start more upfront in the race, it all makes it a bit easier to control a race – but we kept working really hard to improve the engine, to get a bit more out of it in qualifying, and I think that showed again today – that we were able to push it a bit more but of course within the limits of not blowing up. We keep improving. There are positive things also coming in the upcoming races. Of course, very happy to get my first pole position but also with the team, how quickly we turn things around from the beginning of the year where we were clearly lacking and now we are definitely closing up. And this weekend we were there, so that was good.
Mercedes drivers: Valtteri, how do you see the pecking order at the front now? Do you think Max is your closest rival?
VB: Well obviously it always depends on the tracks and circumstances but if you look at the trend, let's say from the last five races, I think Red Bull has been the one who has been improving the most, closing the gap and today qualifying on pole. So, for sure they are doing many things right, and that means we have to work harder as a team but, y'know, I'm sure Ferrari isn't standing still either. It's maybe a tricky track for them but we're going to see a strong performance from them as well.
Lewis, your thoughts.
LH: Enough said.
Max is the top scorer in the last four races?
MV: You need to be the top scorer over the whole season, that's what counts.
Q: (Péter Farkas – Autó-motor) Max, you have been quite close to pole on a couple of occasions recently but you had a problem with the throttle application – turbo-lag, I think – is that problem now solved. And do you agree with Lewis the Honda engine is now at least as powerful as the Mercedes one at certain places.
MV: Yeah, no problems this weekend, so that was all very good. No, I think we are still a bit down, in qualifying especially, but we are definitely closing up.
Q: (Heikki Kulta – Turun Sanomat) Valtteri, you have had only one victory from P2. How tricky a place is this to get the second one?
VB: Well, for sure it's going to be a good battle tomorrow. It's never going to be easy, and that's obviously the only target as a driver. And starting in the front row and it's very much possible. If the performance is there from my side, we as a team, it's possible. It really doesn't matter where you start from, as we've seen in the past, anything can always happen. Good chance. Very upbeat for tomorrow.
Q: (Luke Smith – crash.net) Max, throughout your career so far you've held the majority of records for being the youngest driver to hit certain achievements. This is one of the few things you've missed out on. Do you care much for those kind of accolades and records – or not really?
MV: No. I don't' know, I can make it a long story but it's not so. It's nice but it doesn't make me sleep better, or anything.
LH: Who has the youngest pole?
MV: I think it's Seb.
VB: Now you can't sleep.
MV: Yep, now I'll have a bad sleep.
Q: (Masahiro Owari – Formula Owari) Question to Max. You struggled with an issue at a couple of grand prix, Hockenheim and Silverstone, how was the issue in today's qualifying?
MV: Yeah, I just had the same question before. There was no problem this weekend.
Q: (Peter Vamosi – Racing Line) Renault claims that the engine is now at 1000bhp. What about Honda and Mercedes engines in this case? And an engineer said it's impossible right now in this state to break this, also for Ferrari.
MV: Well, if they claim to have a thousand horsepower they have a really bad car! I think it's better to do the talking on the track than in the media anyway.
LH: I have no idea what brake horsepower we have so similar; it's all very close.
VB: Actually just yesterday I asked the team – because we had some engine issues, we had some talks about the engine and I asked how much horsepower we had in qualifying and the engineers said they don't know, they don't actually know, so no one knows.
LH: That might be why you're catching us up.
Q: (Peter Windsor – Clarksport) Max, you used the phrase earlier on 'we knew Mercedes were going to turn up the engines for qualifying.' Just to be clear, are you now able to turn up the Honda engine for qualifying, because you implied that but not actually said that?
MV: Yeah, we do but it just seems like it's not as powerful as maybe… well, looking at Ferrari they really turn it up. We do turn it up but maybe not as aggressive.
Q: (Livio Oricchio – liviooricchioF1.com) Lewis and Valtteri, Mercedes presented almost a new version of the car at Hockenheim with great changes in the aero package and here the results were maybe not what the team expected. Is that because the teams needs to understand better the new spec of car or even the upgrade was not one the team was expecting?
VB: Well, based on everything we saw with the new package and analysis after last weekend as well it's working as it should, so it's a reasonable step forward in terms of downforce and efficiency. I guess other teams are moving ahead as well, forward as well with the performance but for sure we kind of expected to have a bit of a step compared to others but I think they are improving as well. It's still a development race for quite some while before things are done.
LH: Still trying to understand it. I think there are bits of it that are better and bits of it that are the same. So as I said the other day, we're just constantly trying to understand it and improve it and I don't think it's a negative at all. We definitely have moved forward but clearly the others continue to move forward at the same time, at a steeper pace, maybe.
Q: (Louis Dekker – NOS) Practice starts, did they go OK, did they give you confidence?
MV: Yeah, they were all good.
VB: I had a really good practice start.
MV: Yeah? I had a wheelie off the line! I was wheelie-ing.
VB: Yeah? Me too!
MV: Up to second gear!
Q: (Daniel Majer – GPHirek.hu) Lewis and Valtteri, track position on this track is very important so tomorrow if Max comes first from the start, he can have an easier task. Do you think it would be good to discuss with the team any kind of tactics to hunt him down and then play it between yourselves or do you prefer just to mind your own thing?
LH: Where's the other Red Bull? So we're in a good position in terms of working as a team tomorrow. We're in a fortunate position, potentially, if we can hold on to Max to be able to work together to pull him closer to us and give him a bit of a run for his money. It's a little bit harder when you're on your own at the front in the team, because you can come under attack from undercuts and all this sort of thing. We'll see how that plays out but we've got a long run down to turn one so hopefully we will have a nice long battle down there and then after that it's down to team tactics.
VB: Yeah, for sure we always discuss it, especially if we're kind of starting next to each other and like Lewis said, we have a good chance as a team because we have two cars very much at the front. Obviously we are both also racing for our own result but also working as a team will benefit both of us so it should be interesting tomorrow.
Q: (Zsolt Godina – F1Vilag.hu) Lewis, can you please tell us how was your preparation for this race weekend after your problems in Hockenheim?
LH: It was just sleep. I didn't get any training done, just literally sleeping a lot all week. That's all I can really say about it.
Q: Are you healthy this weekend?
LH: Yeah, I feel a lot better, a lot better. Sweating a lot still but much better.
Q: (Viktor Bognar – Magyar Szo) Max, in the past couple of weeks you were quickest in the fast and very hot Red Bull Ring. You were quickest in the wet Hockenheim and now you're quickest here in the cooler and slow Hungaroring. Can Red Bull and you be favourites in the next races or what makes you think you can't be?
MV: I don't know. We've got Spa and Monza coming up. Monza is maybe not our best track. Spa I don't know actually, but first we have the summer break as well so honestly I'm not thinking about that yet. I feel good. I think the last few races, even on tracks where I didn't expect to be like really, really competitive we were still there so anything can happen, to be honest.
Follow us on Twitter @Planet_F1 and like our Facebook page.