Five Christmas crackers to watch on F1 TV over the holidays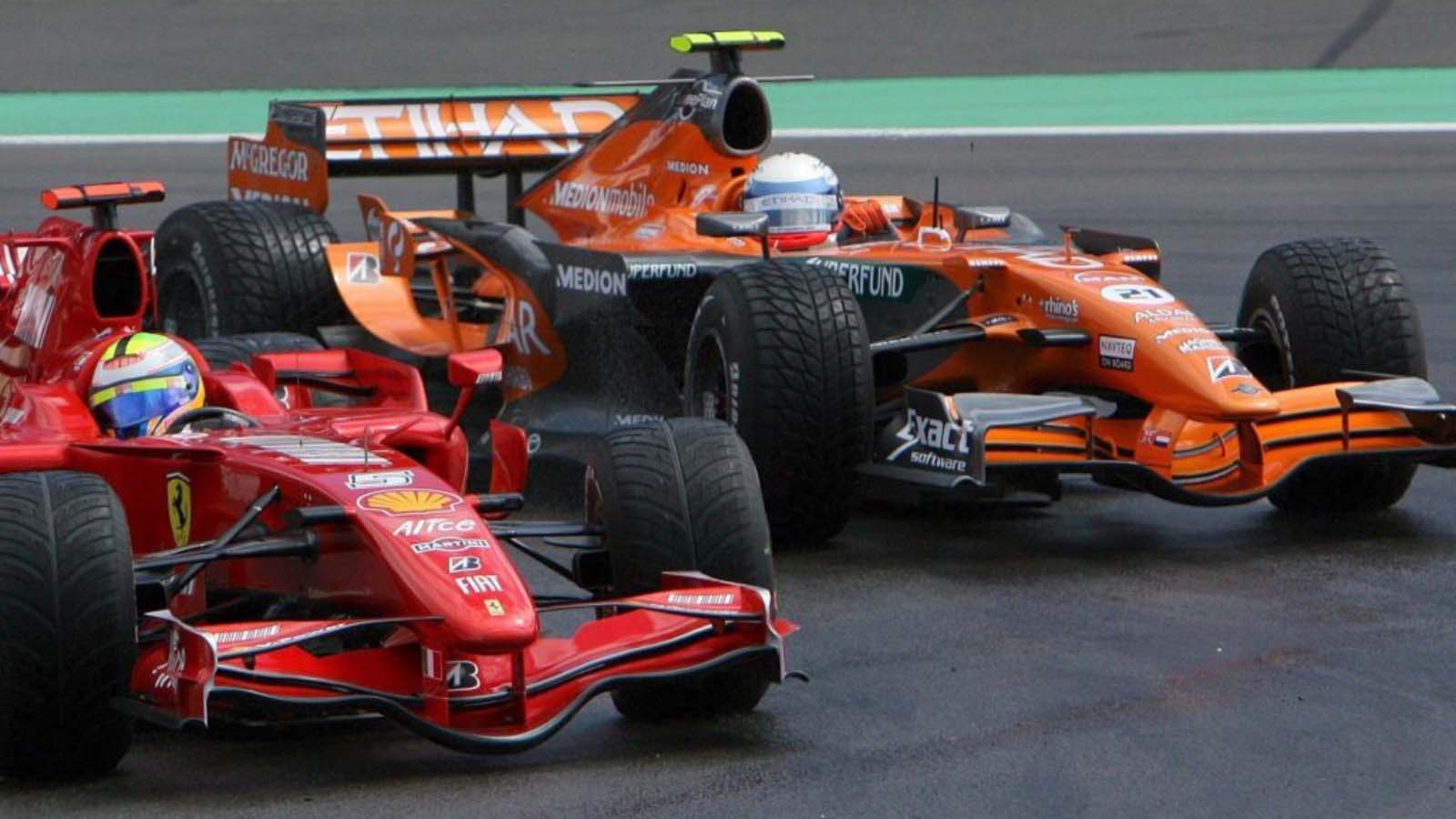 Christmas is the perfect time to relax with family, and for the Formula 1 fan in your life, you can scroll through the archives on F1 TV and rewatch some of the classics over the holiday period.
If you like to rewatch your favourite Christmas films and TV shows at this time of year, why not do the same with your favourite sport? You know it makes sense.
With F1 TV, you can gain full access to a whole heap of full race replays from years gone by and exclusive content – and here at PlanetF1.com, we have picked out just a few of our choices of classic races to make your Christmas that little bit more, well, fitting for a Formula 1 fan.
2007 European Grand Prix, Nurburgring
An unforgettable weekend in Germany for a number of reasons.
World Championship leader, a young rookie named Lewis Hamilton, suffered an enormous crash in qualifying when his wheel failed after his tyre was not attached properly, causing him to fly into the barrier at about 160mph.
Thankfully, he was able to climb out and be fit enough to race on Sunday, but the race itself was where the real drama started.
Rain began to fall on the formation lap, pretty hard, and only one driver was brought into the pits for wet tyres before lights out – Spyker's Markus Winkelhock, driving in what would be his only grand prix start, deputising for Christijan Albers at the team.
What unfolded after that was a thrilling feat of driving for those who were able to keep their cars on track, as well as a ding-dong battle for the lead. If you haven't seen it, this is a race well worth a watch.
1989 Japanese Grand Prix, Suzuka
One of the most consequential and iconic races in Formula 1 history, not least because it decided that season's World Championship in the most controversial of circumstances.
McLaren team-mates and bitter rivals Ayrton Senna and Alain Prost went into the race duelling for the title, with their relationship already at a boiling point as they fought for glory.
The repercussions for how the title was decided would rumble on far beyond the race itself, but the drama involved in the 1989 Japanese Grand Prix is well worth seeing for yourself if you have never had the opportunity to do so before.
2018 German Grand Prix, Hockenheim
Bringing things closer to the modern day, and an event which will also go down in the annuls of Formula 1 history as one of the all-time great races.
Wet weather also played its part at Hockenheim as polesitter Sebastian Vettel looked to navigate his way through his home race for Ferrari, while title rival Lewis Hamilton had to force his way back through the field after beginning the race from a lowly 14th.
What would later unfold is one of the most exciting races in modern times, not least for the drama up and down the field, as well as Hamilton's rise back through the pack as mixed conditions played their part in Germany back in 2018.
2005 Japanese Grand Prix, Suzuka
Back to Suzuka here as one of the all-time great one-off drives took place from one of Formula 1's young guns at the time.
Starting a lowly 17th, Kimi Raikkonen was tasked with getting back through as high up the field as he could come the chequered flag, but what would follow was an astounding display of the Iceman's raw pace behind the wheel of a Formula 1 car.
The Finn had plenty of fast drivers to contend with on his way back to podium contention and, given how his strategy played out, the final stint of the race was nothing short of masterful from the then-McLaren driver. Befitting of a future World Champion, you could even say…
2021 Saudi Arabian Grand Prix, Jeddah
Saudi Arabia's debut race in Formula 1 produced drama of the highest order between the two World Championship rivals, as the title fight between Lewis Hamilton and Max Verstappen came to a head.
Verstappen's crash in qualifying coming out of the final corner scuppered what looked almost certain to be a pole-worthy lap from the Red Bull driver, and the tension between the two title rivals had already reached several peaks as the season went on.
But with the title potentially on the line at the penultimate race of the season, Hamilton needed to do all he could to keep himself in the fight for the final round in Abu Dhabi.
But Verstappen was not wanting to give up without a fight, and in a season of many dramatic races, the fight under the lights in Jeddah was one of the biggest of the lot.
You can sign up for F1 TV and get full access to the comprehensive archive by clicking this link.
Read more: Ranked: The top 10 overtakes from the F1 2022 season