Formula 1 only has itself to blame for Japan's 'WTF' moments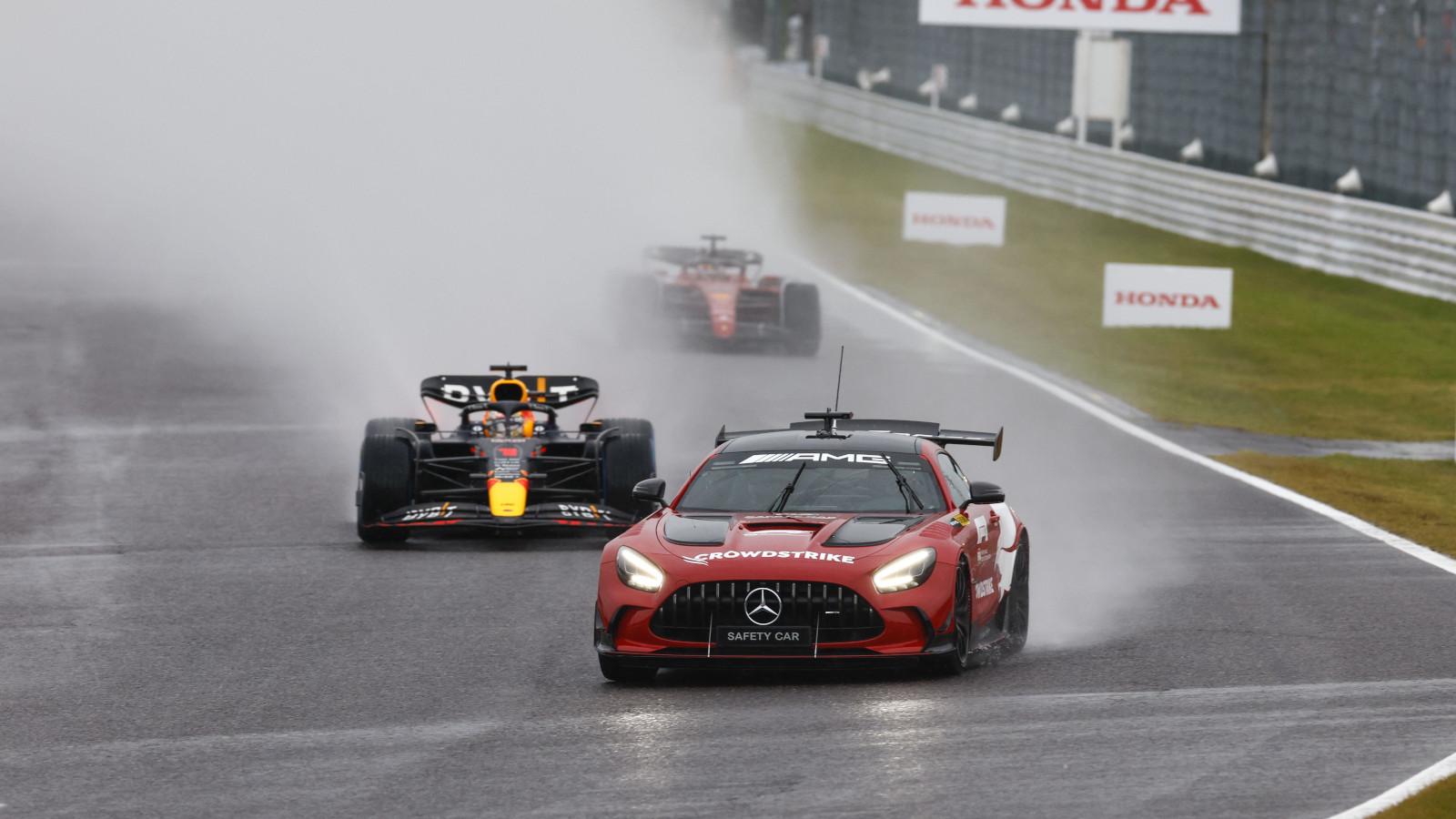 From Pierre Gasly's close encounter with a recovery vehicle to Max Verstappen's championship victory, Formula 1 followed the rules as they are written at the Japanese Grand Prix.
And yet a driver could have been seriously hurt, and a championship was lost and gained based on three words.
It was a shambles: one that could have avoided with a bit of common sense and a lot more communication.
Under new management, F1 sacking Michael Masi and sharing his seat between Niels Wittich and Eduardo Freitas, Formula 1 was supposed to have turned a page on farcical decision-making.
But there was no sign of that on Sunday at Suzuka. In fact, it was unfortunately quite the opposite.
Perhaps in response to criticism over what felt like an overly cautious delayed start to the Singapore Grand Prix, round 18 got underway on time in the rain with the entire field opting for the intermediate Pirellis.
But with more rain falling as they sat on the grid, it was quickly evident that the conditions were bordering on dangerous as there was almost no visibility in the spray.
Carlos Sainz crashed heavily as he aquaplaned off the track and dislodged a piece of an advertising board which Pierre Gasly collected, Alex Albon was tagged and retired on the side of the track, and still others went spinning.
Race Control deployed the Safety Car while Gasly made his way back to the pits to have the board removed after which he joined the action, heading into lap 2, and set about trying to catch the Safety Car.
Not going to lie, he was also in the wrong. Going 250 when one can barely see their front wing is not very clever but neither is having a recovery vehicle on the track – not even off to the side…on it.
This is just terrifying, why is that marshal out on track when there's ANY cars going passed, you can't play with peoples lives like this just because there's a safety car out, in these conditions that means nothing https://t.co/L2pugpFGMC

— Aldas🇱🇹 (@Aldas001) October 9, 2022
Race Control allowed a recovery vehicle to go onto the track to collect Sainz's car. That is, per the rules, allowed given that the race was under Safety Car conditions and all the drivers were, or should have been, driving slow.
One by one the field running behind the Safety Car passed the recovery vehicle, pretty much all of them asking "WTF" as Lando Norris so aptly put it.
The drivers couldn't see a thing, just the recovery vehicle's lights. Had they been to the left of the track, they'd have hit it. Had they aquaplaned at the moment, they'd have hit it. Had one of them made a mistake of some sort, they could have collectively hit it.
It is mind boggling that eight years after Jules Bianchi crashed into a recovery vehicle – one that was in the gravel, not even on the track – in a crash that cost him his life, Formula 1 did it again.
One can argue all they want that it is allowed in the rules, and one can blame Gasly, but the point is when a driver can barely see the flashing red light of the car ahead of him, how can Formula 1 deem those conditions to be safe enough to put a recovery vehicle on the track.
How? There is no answer, there is no excuse. Race Control blundered beyond belief.
📻 | Charles during the safety car and red flag:

"Guys…what the fuck is this crane?" pic.twitter.com/Y4amMRSWF7

— Ferrari News 🐎 (@FanaticsFerrari) October 9, 2022
But wait, there's more…
Verstappen won the 28-lap Japanese Grand Prix, the Red Bull driver crossing the line believing he was a point short of retaining the title as less than 75 per cent race distance had been completed.
That, according to the columns F1 decided on after last year's farcical Belgian Grand Prix, meant he only scored 19 points. So be it and move onto Austin and win the Championship there instead.
Minutes later Formula 1 declared him the World title, the Dutchman as confused as the rest of us. Going back to the calculators, the maths was done again, and he was still a point short.
But then F1 insisted it was a full points race and it's all down to three words in the rules that over ride the columns, "cannot be resumed".
The columns apparently only apply if a race is stopped, not if it is stopped and then restarted. To quote Norris, "WTF!"
Had the FIA just explained it when the race resumed that it now meant it was a full points race they would have avoided the confusion, the complaints, and the criticism on this particular gaffe.
But for this one the FIA aren't solely to blame as several team bosses have admitted they missed the wording when the rule were written and left it open for interpretation.
congrats max on potentially the funniest championship cool down room of all time (charles leclerc is a paid actor) pic.twitter.com/Fi8MmeeGke

— Formula Whatever (@formulawhatever) October 9, 2022
While no one objected to Verstappen winning the title –  it was always his it was just a matter of when, not if – that once again Formula 1 managed to confuse Formula 1 and every single person watching, well, that's sadly become as predictable as Ferrari throwing away a win.
And all this came just one day before the FIA will release its findings into 2021's teams spending with FIA Vice President for Sport Robert Reid already using the words "grey area", "tweak" and "some unintended or unrealised consequences in the way things are written".
This is not shaping up to be Formula 1's best 24 hours…