Formula 1 pays tribute to Roger Federer on his retirement from tennis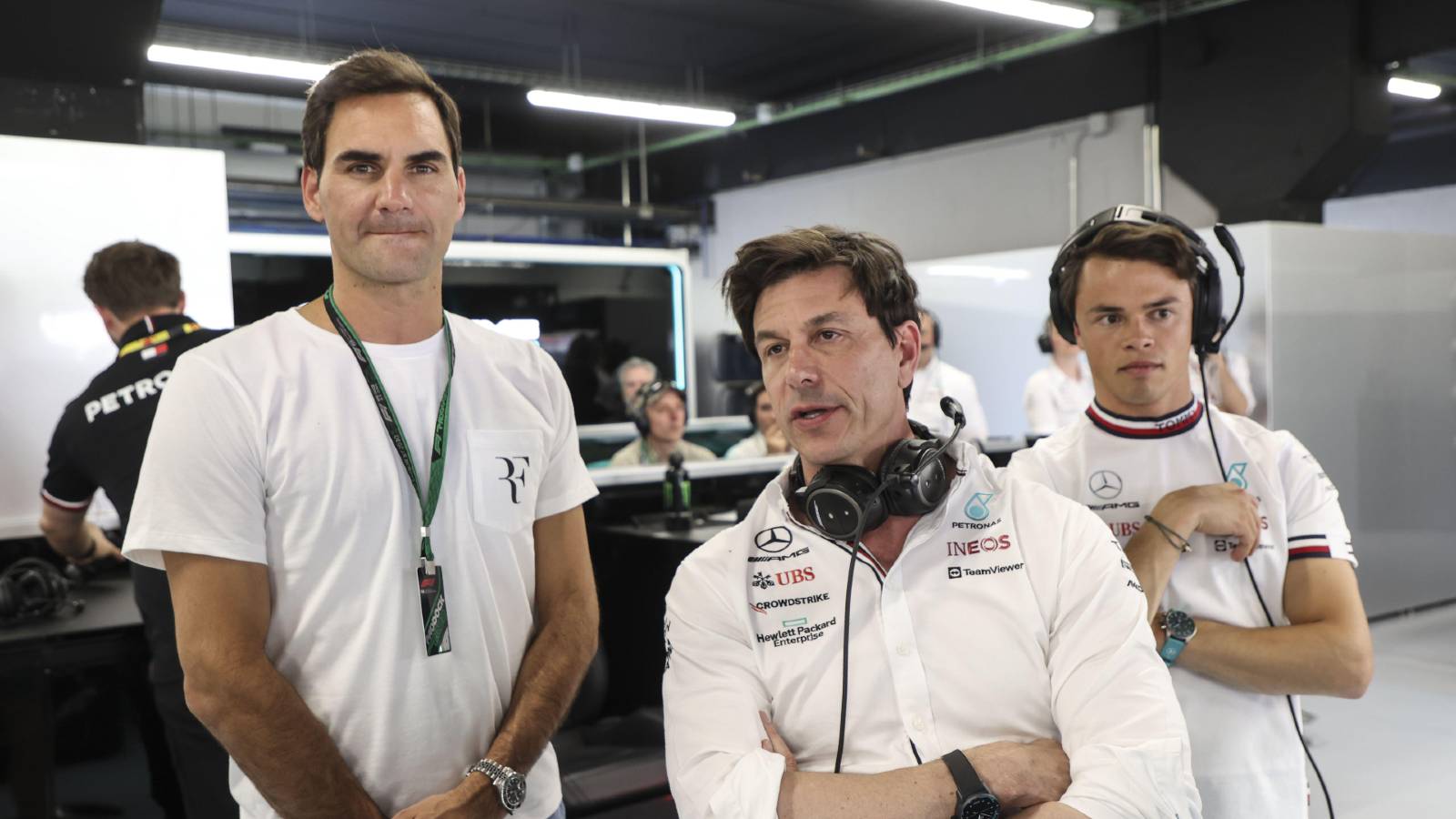 Formula 1 personalities and teams have paid glowing tributes to Roger Federer, who has announced his retirement from tennis.
The 41-year-old Swiss is one of the all-time tennis greats having won 20 Grand Slam singles titles, a record eight of those at Wimbledon, and been ranked No 1 in the world for 310 weeks, including 237 consecutively between 2004 and 2008.
Federer has not played competitively due to injuries since Wimbledon 2021 and will retire after the Laver Cup team competition in London from September 23-25.
In May, Federer attended the Spanish Grand Prix, where he posed for photographs in the Mercedes garage with Lewis Hamilton and George Russell and was also pictured with team principal Toto Wolff.
A tennis fan, Russell, who attended Wimbledon this year on day 10 of the championships, was among the first to wish Federer well in his retirement.
Roger, congratulations on a remarkable career! It's been an honour to watch you on court. Enjoy retirement, and I look forward to seeing you at a few more F1 races in the future! pic.twitter.com/4zG1AVhkeg

— George Russell (@GeorgeRussell63) September 15, 2022
Mercedes, meanwhile, posted the same image in their tribute.
Congratulations on a game-changing career, Roger. 👏

Have an ace retirement! And remember, you'll always be part of the Mercedes family. ❤️ pic.twitter.com/7KtNeOfPVr

— Mercedes-AMG PETRONAS F1 Team (@MercedesAMGF1) September 15, 2022
Fernando Alonso posted Federer's official statement and offered a simple "gracias" along with a crying emoji.
The Spaniard is also a big admirer of his compatriot and Federer's long-time rival, Rafael Nadal, to whom he has referred as "a tennis god".
😢. Gracias @rogerfederer https://t.co/5o2HpdxUc8

— Fernando Alonso (@alo_oficial) September 15, 2022
Nico Hulkenberg, who is being strongly linked with a return to the Formula 1 grid in 2023 with Haas, posted an image of himself standing with Federer which, it would be safe to say, was not taken in the recent past, judging by the German's youthful look in the picture.
Roger, thanks for countless goosebump moments on the court and congratulations on an incredible career. One last dance! pic.twitter.com/EwwCqYi4Fu

— Nico Hülkenberg (@HulkHulkenberg) September 15, 2022
At this year's Spanish Grand Prix, Federer talked about his love of F1.
"I followed it a lot when I was younger and then obviously I went on tour and it's so hard to follow everything on the road," he told NOS.
"I remember going to the big final when [Nico] Rosberg was going against Hamilton in 2016, I believe it was, in Abu Dhabi. But this is only my second time to a Formula 1 race.
"It's very exciting for me. I was in the [Mercedes] briefing room actually as Lewis and George were talking to the team and telling them all the details. It was incredible to see, so I was very lucky.
"I can't tell you any secrets, I was like 'what am I doing in here? I'm not supposed to know all this information', so I'm now going to forget it all again!
"But it was just interesting to dive into another sport and it inspires and motivates me to come back again."
Read more: Alpine lay out their criteria for Fernando Alonso's replacement