Formula 1 unveils three concept 2021 cars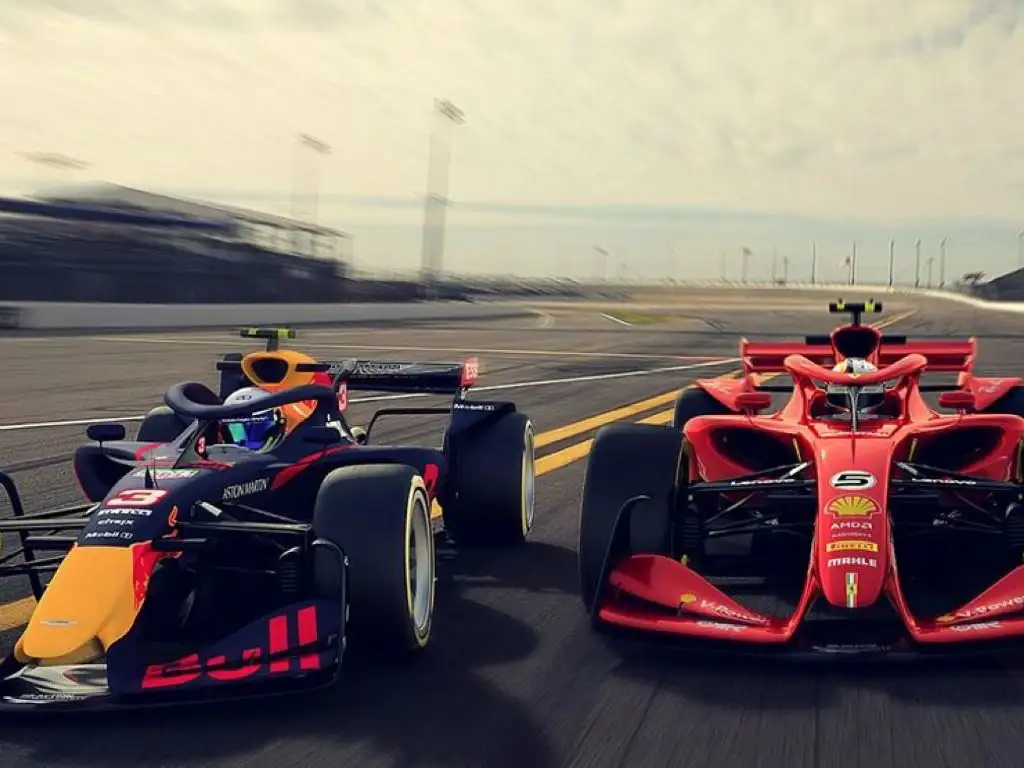 Plans to reform Formula 1 in 2021 have ramped up with the first shots of three concept cars being released.
Owners Liberty and Formula 1 are continuing to work together alongside the FIA in order to try and create a new, more competitive brand of racing once the current Concorde Agreement ends at the end of the 2020 season.
"When we started looking at the 2021 car, the primary objective was to enable the cars to race well together," says Formula 1 motorsport boss Ross Brawn.
"What we established early on in our research is the cars we have now are very bad in following each other.
"Once the cars get within a few car lengths of each other, they lose 50% of their downforce.
That's a substantial amount of performance lost. So we set about understanding why that was and how we can improve it. I'm pleased to say we're at about 80%.
"As time has gone on, another of the primary objectives was to make great looking cars. We want cars that look better than what you see in a video game, cars that kids want to have up on their walls.
"At each stage, as we have been evolving the car, we've had someone we are working with create a graphic representation artist to give us a feel of what the car could look like.
"That is not to control the development, because it's critical this development achieves its objectives, but why shouldn't we have great looking cars as we're evolving the cars? We want a car that is inspiring.
"F1 is the pinnacle of motorsport and the car should look sensational."
And the three concept cars certainly catch the eye:
Concept 1:
2️⃣0️⃣2️⃣1️⃣

👀 First look >> https://t.co/rkRvM2ztpH#F1 pic.twitter.com/Q1VZxiDedf

— Formula 1 (@F1) September 14, 2018
The first concept concentrates on how the Halo cockpit safety device can be better intregrated with the car.
Concept 2:
Interesting that 'Concept 2' here is not the same car as the one shown the other day, as the rear wheel pod covers have already been discarded… pic.twitter.com/c1cSGR2TAG

— Matthew Somerfield 🅢🅞🅜🅔🅡🅢Ⓕ① (@SomersF1) September 14, 2018
"As the aerodynamicists were evolving the car, the graphics designer was taking where they were and trying to capture it at each stage," Brawn said.
"Concept 2 is a bit more extreme. One of the things you'll see is the bigger wheels. We're committed to 18-inch wheels for the future. They look better but there are a lot of technical reasons why we want them."
Concept 3:
"The tyres and the wheels are the dirtiest area of the car, they cause huge disruption in the airflow," Brawn said on the third concept.
"We are starting to look at devices that can stabilise the flow as it comes of the wheel. It's maturing as we go along."
Liberty are now working towards a late 2019 deadline to put a more substantial framework in place for 2021 and still allow time for further alterations if needed.
Follow us on Twitter @Planet_F1 and like our Facebook page.