FP1: Max pips Vettel, Hamilton to top spot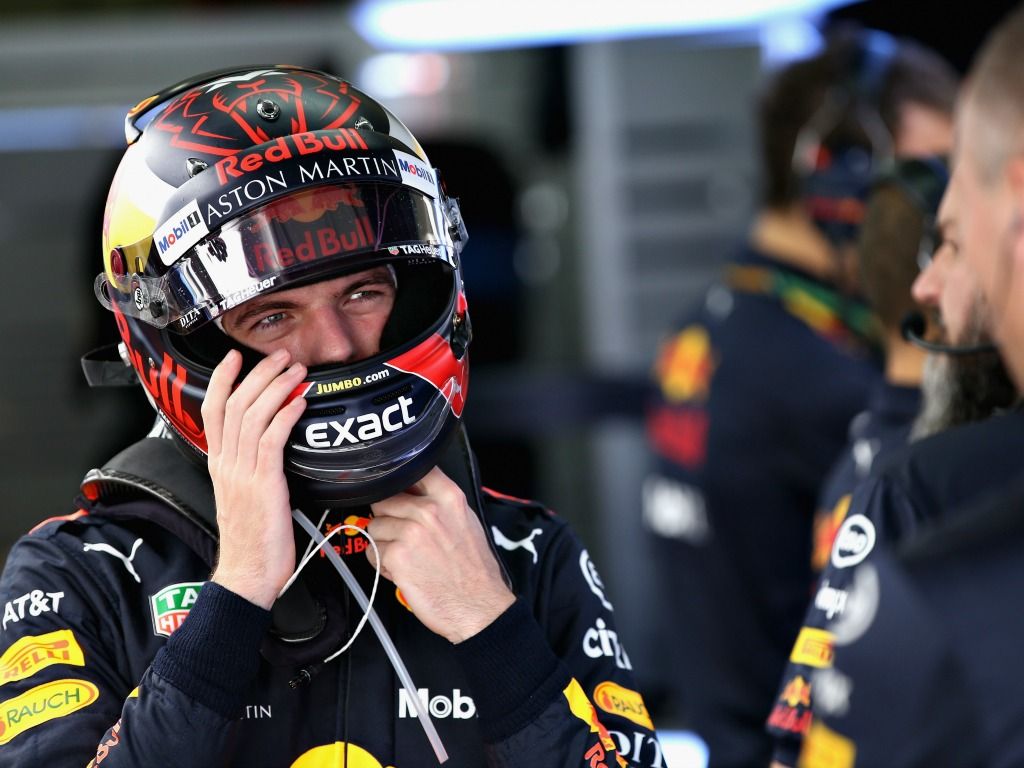 Max Verstappen was quickest in the opening practice session in Brazil with Sebastian Vettel and Lewis Hamilton both within a tenth of the Dutchman.
Verstappen is pessimistic about Red Bull's chances at Interlagos this weekend, but got off to a promising start with a 1:09.011 set on the supersoft tyres.
Sebastian Vettel was just 0.049 seconds behind the Dutchman, while Lewis Hamilton was only 0.096 seconds off the pace.
Daniel Ricciardo, who has a grid penalty coming his way this weekend, was three tenths behind; Kimi Raikkonen and Valtteri Bottas were P5 and P6 respectively.
Haas duo Romain Grosjean, P7, and Kevin Magnussen, P8, showed the best midfield pace. Charles Leclerc and Esteban Ocon completed the top 10.
it was a dry start to proceedings at Interlagos, where there is a risk of thunderstorms throughout the weekend.
There were also some fresh faces adding to their Formula 1 experience in the first practice session with Lando Norris, Nicholas Latifi and Antonio Giovinazzi replacing Fernando Alonso, Sergio Perez and Marcus Ericsson respectively.
FP1 DRIVER SHUFFLE 🔀

We've got a handful of FP1 swaps taking place in Sao Paulo

Norris 🔁 Alonso
Latifi 🔁 Perez
Giovinazzi 🔁 Ericsson#BrazilGP 🇧🇷 #F1 pic.twitter.com/4Me6v5nyY7

— Formula 1 (@F1) November 9, 2018
Ricciardo was particularly eager to get going, lining up at the pit lane exit 10 minutes before the session was due to start. However, this only spelled out to everyone that a grid penalty is on the way after taking on yet more new engine parts in his cursed RB14.
Confirmation soon followed from the FIA: a five-place grid drop for his sixth turbocharger of a rather miserable season.
After the first 30 minutes of FP1, just 0.50 seconds separated the top four of Vettel, Raikkonen, Verstappen and Ricciardo, whilst Mercedes were their usual laid-back self and in no real rush to begin their Friday programme.
However, by the halfway stage, it was five-time World Champion Lewis Hamilton was fastest with 1:09.423 on supersoft tyres, despite complaints about the balance of his W09. Verstappen was in very close quarters, just 0.037s down.
There were a couple of very minor incidents in the second half of the session, with Mercedes quickly fixing an oil leak on Bottas' car and Kevin Magnussen's morning ending early after ruining his supersofts with a big lock-up.
Max tops the FP1 timesheet with a 1:09.011 👊 Daniel is P4 after posting a 1:09.395 💪🇧🇷 #BrazilGP pic.twitter.com/XaB0B9ND4F

— Red Bull Racing (@redbullracing) November 9, 2018
Back at the top of the timesheet, Verstappen was able to dislodge Hamilton from P1 with a 1:09.011. Vettel was able to close to within 0.049 seconds in P2 and Hamilton was also within a tenth of the Dutchman in P3.
FP1 timesheet
1 Max Verstappen Red Bull 1:09.011
2 Sebastian Vettel Ferrari 0.049s
3 Lewis Hamilton Mercedes 0.096s
4 Daniel Ricciardo Red Bull 0.384s
5 Kimi Raikkonen Ferrari 0.562s  S
6 Valtteri Bottas Mercedes 0.668s
7 Romain Grosjean Haas 0.911s
8 Kevin Magnussen Haas 1.225s
9 Charles Leclerc Sauber 1.335s
10 Esteban Ocon Force India 1.35s
11 Carlos Sainz Renault 1.651s
12 Nico Hulkenberg Renault 1.668s
13 Antonio Giovinazzi Sauber 1.674s
14 Lance Stroll Williams 1.788s
15 Pierre Gasly Toro Rosso 1.923s S
16 Lando Norris McLaren 2.002s S
17 Sergey Sirotkin Williams 2.026s
18 Brendon Hartley Toro Rosso 2.165s S
19 Stoffel Vandoorne McLaren 2.441s M
20 Nicholas Latifi Force India 2.482s
Quickest times set on supersofts unless stated.