FP1: Max throws down the gauntlet, fastest by 0.8s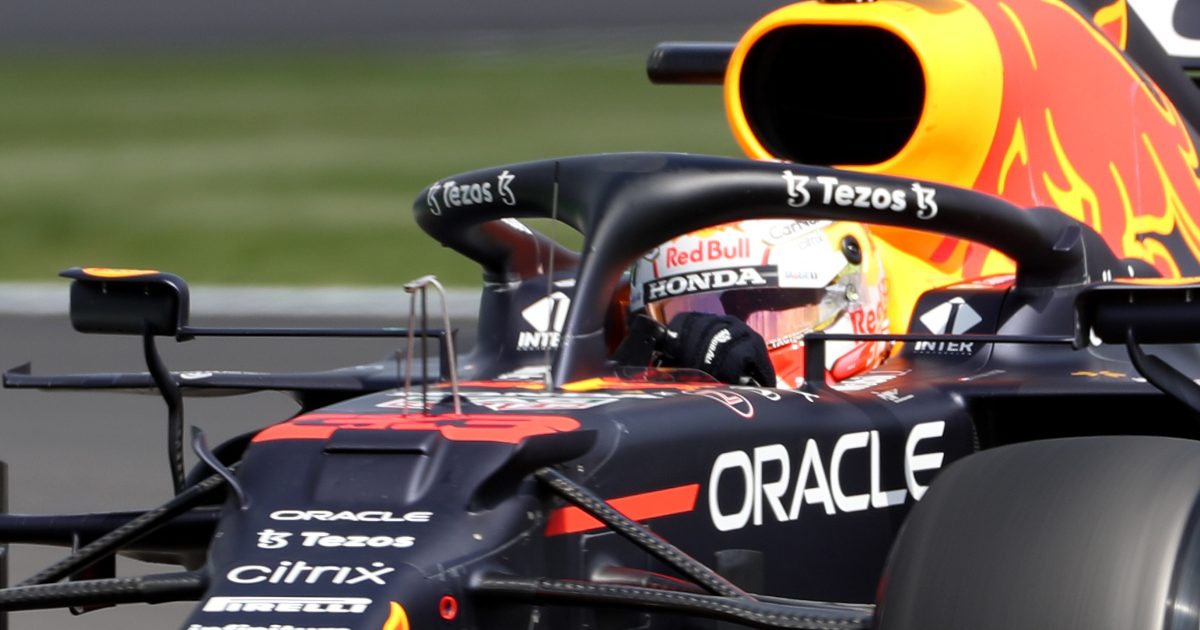 Max Verstappen made it clear he wasn't worried about Mercedes' Silverstone domination or their upgrades, laying down a blistering 1:27.0 to set the pace in FP1 for the British GP.
Formula 1 took to the Silverstone circuit to rapturous applause as fans were welcomed back to the British circuit for the first time since 2019 – and what a weekend to be watching.
The drivers were quickly out on the track as they had just 60 minutes to set-up their cars before Friday evening's qualifying, the first part in what is a sprint qualifying trial.
With the track temperature a sweltering 46'C, Lewis Hamilton went quickest on the mediums with Verstappen two-tenths down on the hard Pirellis.
Both drivers were a little scruffy in the opening stint with Hamilton off at Copse and Verstappen's RB16B looking squirrelly through Village and The Loop.
Red Bull swapped to the medium tyres and, 20 minutes in, the benchmark time was a 1:28.179 for Verstappen with Sergio Perez up to second but six-tenths down. Antonio Giovinazzi was slowest of all with a 1:33.479.
Worryingly for Verstappen, on his next lap he reported "what the **** was that, I had no power out of the last two corners. Can you fix that?" Red Bull had him change engine mode settings, problem solved as he went even quicker, shaving 0.434s off his previous best.
Hamilton, back out on his used mediums for a 21st lap, reported "blistering front right" while Charles Leclerc became Red Bull's closest challenger, up to third place. He was, however, 1.1s down on Verstappen's P1 time. Sebastian Vettel in the Aston Martin was fourth ahead of Carlos Sainz, Daniel Ricciardo, Bottas and Hamilton.
40 minutes in, Red Bull and Verstappen were the first of the front runners to blink and swap to the soft tyres. The Dutchman, as expected, blitzed his previous best time, the benchmark down to a 1:27.035.
Lando Norris, who did not have a good build up to the grand prix weekend, revealing he was struggling after he was mugged at the Euro football final, shot up to second on the medium tyres.
Lando Norris is sporting a brilliant helmet, which is filled with thank you messages and tributes to key workers for their hard work and dedication 🥰#BritishGP 🇬🇧 #F1 pic.twitter.com/iKjskDg3az

— Formula 1 (@F1) July 16, 2021
As more drivers swapped to the soft tyres, Hamilton upped his pace but wasn't able to challenge Verstappen, 0.8s down on his title rival. Told of his gap to Verstappen, he replied: "Seven tenths? Where did that come from?"
Leclerc finished fourth fastest ahead of Bottas and Sainz with Vettel, Perez, Ricciardo and Esteban Ocon completing the top ten.
George Russell was slowest of all with a 1:29.857.
Next session is qualifying…
Times
1 Max Verstappen Red Bull 1:27.035 21 laps soft tyres
2 Lando Norris McLaren 0.779s 24 laps medium tyres
3 Lewis Hamilton Mercedes 0.780s 28 laps soft tyres
4 Charles Leclerc Ferrari 0.793s 24 laps soft tyres
5 Valtteri Bottas Mercedes 0.862s 28 laps soft tyres
6 Carlos Sainz Ferrari 0.888s 23 laps soft tyres
7 Sebastian Vettel Aston Martin 1.027s 21 laps soft tyres
8 Sergio Perez Red Bull 1.128s 23 laps soft tyres
9 Daniel Ricciardo McLaren 1.176s 26 laps medium tyres
10 Esteban Ocon Alpine 1.380s 22 laps soft tyres
11 Pierre Gasly AlphaTauri 1.414s 26 laps medium tyres
12 Yuki Tsunoda AlphaTauri 1.565s 27 laps medium tyres
13 Antonio Giovinazzi Alfa Romeo Racing 1.792s 24 laps soft tyres
14 Fernando Alonso Alpine 1.838s 22 laps medium tyres
15 Kimi Raikkonen Alfa Romeo Racing 2.185s 25 laps soft tyres
16 Nicholas Latifi Williams 2.192s 25 laps soft tyres
17 Mick Schumacher Haas 2.192s 21 laps soft tyres
18 Lance Stroll Aston Martin 2.562s 19 laps medium tyres
19 Nikita Mazepin Haas 2.773s 21 laps soft tyres
20 George Russell Williams 2.822s 27 laps soft tyres