Hulkenberg 'asses' his way to P9, Max quickest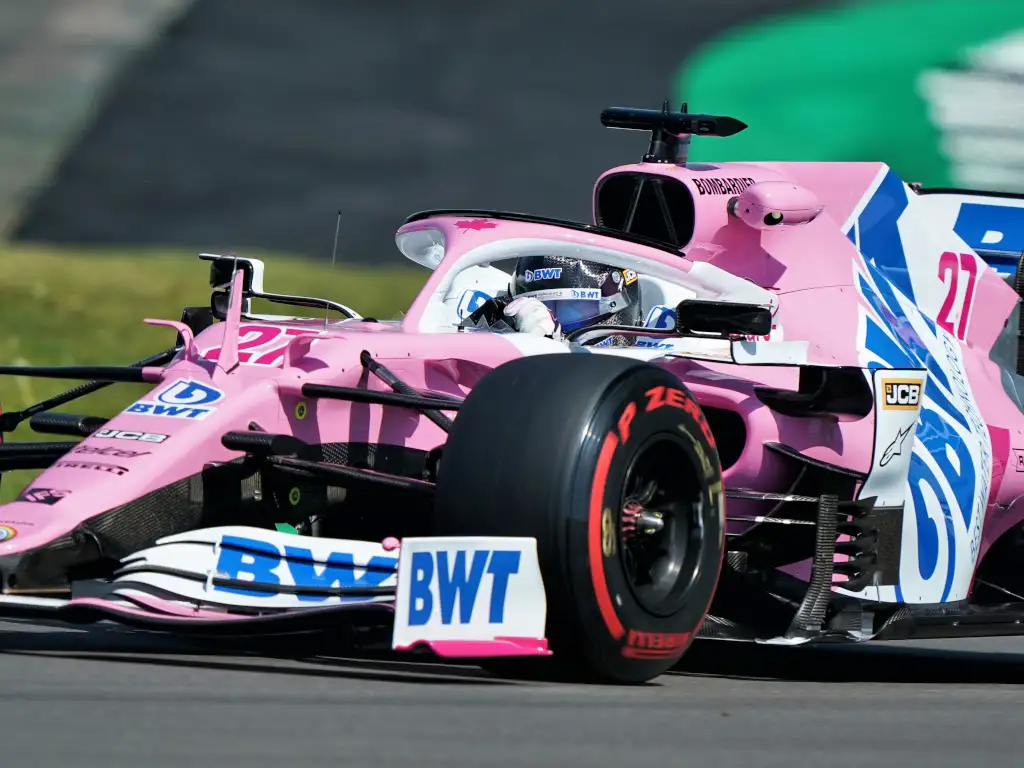 Nico Hulkenberg bagged a P9 on his F1 comeback but it came with a bit of pain as the German's first run in a F1 car in seven months left him with a sore butt.
With Sergio Perez sidelined for the British GP after a positive test, Racing Point were on the hunt for a driver to replace the Mexican.
They turned to former driver Hulkenberg, who raced for the team from 2011 to 2016.
After jumping through a few hurdles, including requiring a negative Covid-19 test, he was confirmed just minutes before FP1 for the British Grand Prix got underway at Silverstone on Friday morning.
The German was one of the first drivers out on track, putting in his first lap in a Formula 1 car is some seven months.
Welcome back, Nico! 🙌 #BritishGP #F1 pic.twitter.com/OGp9l0GORg

— Planet F1 (@Planet_F1) July 31, 2020
Max Verstappen was having headrest problems, telling the team that he didn't "like" the blocks on the side as he "cannot move his head". He returned to the pits to have that sorted out.
Kimi Raikkonen posted the first time of the session, a 1:32.661, he also had the first off as he picked up a bit too much wheel spin at the exit of Luffield and spun off into the gravel.
Moments later his team-mate Antonio Giovinazzi fluffed it at Becketts, destroyed his rear tyres and the floor of his C38. Not a great start to the weekend for Alfa Romeo.
Giovinazzi's off brought out the red flags as the marshals were called in to clear the debris from the gravel and the bits of rubber and carbon fibre his car spewed.
Problems for @Anto_Giovinazzi – he's spun off track 😮#BritishGP 🇬🇧 #F1 pic.twitter.com/EVySgLQs8M

— Formula 1 (@F1) July 31, 2020
Alfa Romeo's troubles weren't quite as bad as those down at Ferrari, at least for Sebastian Vettel.
He completed all of two laps before returning to the pits.
"We have detected something wrong with the intercooler system on Seb's car so we have to strip the car down and check, to be ready for FP2," the team tweeted.
With the pit lane again open for action, Mercedes ventured out with Valtteri Bottas going quickest ahead of Lance Stroll, Max Verstappen and Lewis Hamilton.
---
Get Sky TV, Sky Sports & Sky Cinema for £46 p/m for 18 months
---
The six-time British GP winner went quickest on his next hot lap on the soft tyres, clocking a 1:28.3. Verstappen, running the hard tyres, improved to third.
Hamilton's soft tyres were not holding up well on the 44'C track, with the Brit telling his team that the "tyre is terrible" after just eight laps.
The best complaint, though, came from Hulkenberg. He informed Racing Point that his "right ass cheek is getting a bit numb". The German worked his way up to ninth place after an hour, just 0.7s down on team-mate Stroll.
Nico: "my right ass cheek is getting a bit numb"

— Ky (@FiftyBucksss) July 31, 2020
Back out on track for a second run, Hamilton lowered his benchmark time to a 1:27.8 only to be pipped by Verstappen moments later.
The Red Bull driver took almost half a second off Hamilton's best, purple in the first and second sectors as he ran the soft Pirelli tyres.
Stroll finished third, 0.582s down on Verstappen's best, with Alex Albon fourth ahead of Charles Leclerc and Bottas.
As for Hulkenberg, he was P9, 0.6s slower than Stroll.
Silverstone shots from FP1 📸#BritishGP🇬🇧 #F1 pic.twitter.com/mhl400RbFN

— Planet F1 (@Planet_F1) July 31, 2020
Times
1 Max Verstappen Red Bull 1:27.422
2 Lewis Hamilton Mercedes 0.474s
3 Lance Stroll Racing Point 0.582s
4 Alex Albon Red Bull 0.707s
5 Charles Leclerc Ferrari 0.799s
6 Valtteri Bottas Mercedes 1.097s
7 Esteban Ocon Renault 1.137s
8 Daniel Ricciardo Renault 1.153s
9 Nico Hulkenberg Racing Point 1.170s
10 Daniil Kvyat AlphaTauri 1.446s
11 Pierre Gasly AlphaTauri 1.487s
12 Carlos Sainz McLaren 1.566s
13 Lando Norris McLaren 1.568s
14 Kevin Magnussen Haas 2.110s
15 Romain Grosjean Haas 2.154s
16 Kimi Raikkonen Alfa Romeo Racing 2.324s
17 George Russell Williams 2.477s
18 Antonio Giovinazzi Alfa Romeo Racing 2.503s
19 Nicholas Latifi Williams 3.281s
20 Sebastian Vettel Ferrari no time
Follow all the action from the British Grand Prix with the PlanetF1 live centre