FP1: New season, new look Mercedes, same result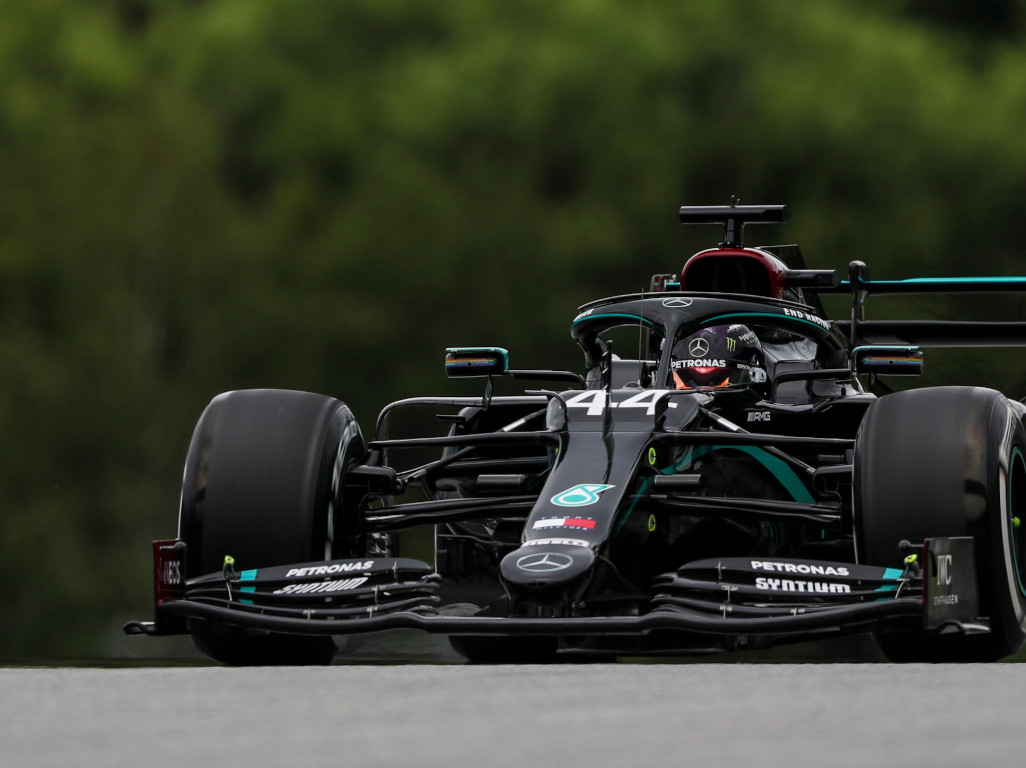 The new Formula 1 season began with the same ol' Mercedes 1-2 as Max Verstappen went from spinner to contender.
More than three months after the 2020 season was delayed, Formula 1 saw its first green light on Friday morning as practice got underway at the Red Bull Ring. The Austrian circuit is hosting the season-opener in a double header with round two scheduled for next weekend.
Carlos Sainz put in the first official lap of the championship as the McLaren driver began his final season with the Woking team before moving to Ferrari.
One by one the drivers ventured out for installation laps, the majority putting in their first lap in their 2020 car since pre-season testing concluded back in February.
Lando Norris clocked the opening lap time of the session, putting in a 1:10.251 on the hard compound tyres as McLaren tried to get in as much running before the forecast rain arrived.
P1 wasn't in his grasp for very long, though, with Valtteri Bottas in the W11 with its all-black livery and its controversial DAS shaving almost three seconds off the Brit's time.
Mercedes on top ☝️@ValtteriBottas sets a 1:07.578 to go first of our three time-setters so far #AustrianGP 🇦🇹 #F1 pic.twitter.com/kO2F2ndCtJ

— Formula 1 (@F1) July 3, 2020
But while the engines roared around the Ring, the grandstands were silent as fans have been banned from attending the European leg of the championship.
Lewis Hamilton joined the action, slotting into second place and then going fastest with a 1:06.994, while Norris and Sainz narrowed the deficit. They were the only four drivers to set times in the opening 30 minutes.
There were early problems for Sergio Perez as his pink Mercedes, otherwise known as the Racing Point RP20, puffed away with a possible engine issue. He headed back to the pits.
While Perez's car was given the once over, his team-mate Lance Stroll hit the front of the timesheet only to lose out moments later to Hamilton. The reigning World Champ lowering the benchmark to a 1:06.547.
Stroll's time was subsequently deleted for failing to adhere to the track limits at Turns 9 and 10 where he ran wide.
Birthday boy Sebastian Vettel, starting his final season with Ferrari, jumped up to second place as Perez returned to the track with his earlier issue seemingly nothing more than an oil problem.
Entering the second part of the session there was a change at the top as Daniel Ricciardo went quickest in the Renault with a 1:06.075, edging Sainz – the man whose car he will be driving next season – by 0.003s. Stroll put in a legal time to sit third.
The pink Mercedes replaced the usual Mercedes in a 1-2 with Perez the next to set the pace, a 1:06.052 on the soft tyres for the Mexican driver. Stroll moved up to second, 0.022s down on his team-mate.
Sainz wasn't happy with Stroll's driving.
"He should get a warning for that" 😤

Carlos Sainz encounters Lance Stroll at the final corner#AustrianGP 🇦🇹 #F1 pic.twitter.com/RlvEMQSqQh

— Formula 1 (@F1) July 3, 2020
Romain Grosjean's session was curtailed when his Haas VF-20 suffered a brake problem. He did venture out for lap at the very end of the session after his mechanics worked furiously to fix the problem.
Mercedes returned to the track on the soft tyres with first Bottas and then Hamilton hitting the front. Hamilton lowered the benchmark to a 1:04.968, 0.2s up on his team-mate. Sainz climbed to third in the McLaren.
Renault's Esteban Ocon, back on the Formula 1 grid after a year as Mercedes' reserve driver, ran into a small problem with 20 minutes to go as his RS20 shed a piece of bodywork down the main straight. The Virtual Safety Car was briefly deployed to allow a marshal to clear the debris. Ocon pitted.
⚠️ VIRTUAL SAFETY CAR ⚠️

Brief yellow flag, as a marshal retrieves a chunk of Renault from the start/finish straight#AustrianGP 🇦🇹 #F1 pic.twitter.com/b75WVeCt1N

— Formula 1 (@F1) July 3, 2020
Renault tweeted: "Slightly earlier finish for Esteban in this session; we're assessing the reason why a piece of bodywork came off his car on the main straight."
Moments after the drivers were allowed to run at full speed, Max Verstappen, the defending Austrian GP champ, got it a bit wrong as he caught a kerb and went spinning backwards. He went third on his next hot lap, 0.6s down on Hamilton.
The session ended with Hamilton and Bottas in yet another Mercedes 1-2 ahead of Verstappen while Sainz, Perez and Norris completed the top six.
Ferrari, focusing on race pace, was P10 with Charles Leclerc and 12th with Vettel.
At the back of the timesheet, Pierre Gasly was 16th for AlphaTauri ahead of George Russell, with whom he had a near miss, rookie driver Nicholas Latifi, Daniil Kvyat and Grosjean.
Two very different racing lines through the final corner 😱

George Russell gets a front-row seat as Pierre Gasly gets a little out of shape#AustrianGP 🇦🇹 #F1 pic.twitter.com/ezhk66W7pO

— Formula 1 (@F1) July 3, 2020
Times
1 Lewis Hamilton Mercedes 1:04.816 41 laps
2 Valtteri Bottas Mercedes 0.356s 37 laps
3 Max Verstappen Red Bull 0.602s 36 laps
4 Carlos Sainz McLaren 0.615s 40 laps
5 Sergio Perez Racing Point 0.696s 33 laps
6 Lando Norris McLaren 0.805s 41 laps
7 Alex Albon Red Bull 0.885s 29 laps
8 Daniel Ricciardo Renault 1.044s 28 laps
9 Kevin Magnussen Haas 1.091s 27 laps
10 Charles Leclerc Ferrari 1.108s 31 laps
11 Lance Stroll Racing Point 1.258s 34 laps
12 Sebastian Vettel Ferrari 1.261s 32 laps
13 Esteban Ocon Renault 1.454s 22 laps
14 Antonio Giovinazzi Alfa Romeo Racing 1.544s 24 laps
15 Kimi Raikkonen Alfa Romeo Racing 1.549s 28 laps
16 Pierre Gasly AlphaTauri 1.588s 24 laps
17 George Russell Williams 1.679s 26 laps
18 Nicholas Latifi Williams 2.090s 31 laps
19 Daniil Kvyat AlphaTauri 2.127s 18 laps
20 Romain Grosjean Haas 5 laps
Follow us on Twitter @Planet_F1 and like our Facebook page.