FP1: No let up from Mercedes in Bahrain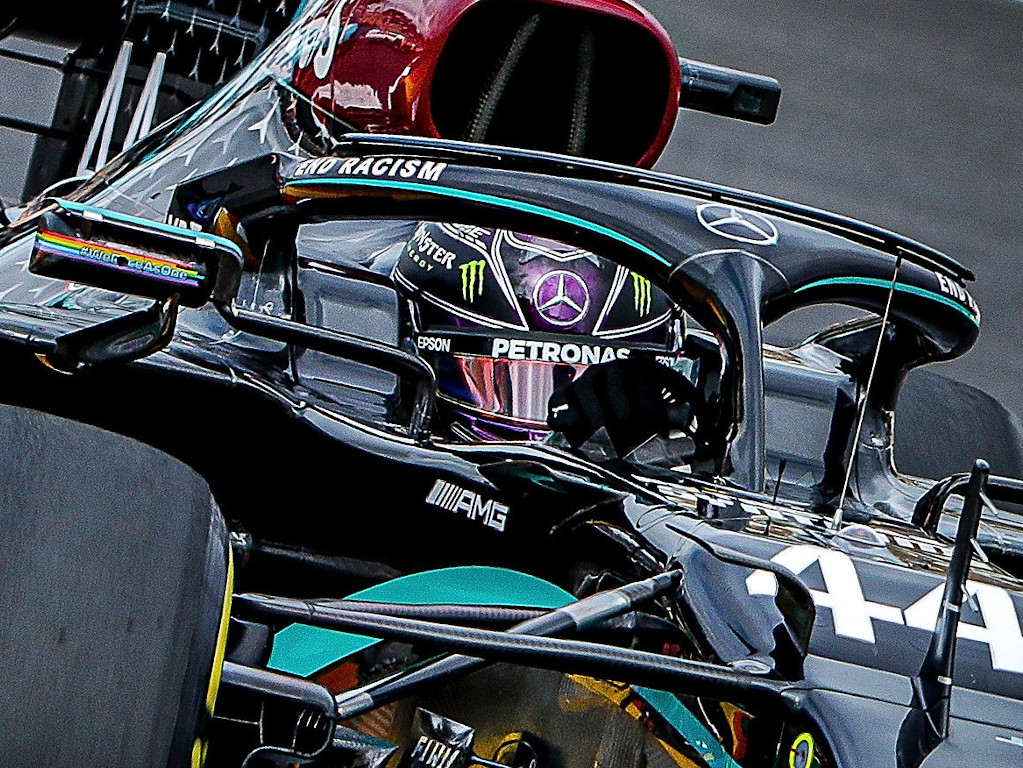 Mercedes' promise to keep its foot on the gas was evident in Friday's first practice in Bahrain with Lewis Hamilton leading home a 1-2.
Moving from its traditional early April slot to late November, the drivers were greeted with very different conditions to the norm for first practice in Bahrain. Not only was the track temperature a mere 27'C but there was also a bit of rain in the air.
Aside from the usual three compounds of tyres that the drivers had to run, they were also given 2021 prototype tyres to test with the drivers asked to do at least six laps on those during FP1.
Roy Nissany was one of the first out, the Israeli test driver back in action for Williams for FP1. He was joined by fellow reserve driver Robert Kubica, who hopped into Kimi Raikkonen's Alfa Romeo for the session.
Within minutes of the session beginning Mercedes had the 1-2 in hand with seven-time World Champion Lewis Hamilton on a 1:31.0, 0.3s up on Valtteri Bottas.
While Hamilton upped his pace to a 1:30.5, Bottas locked up and flat-spotted his front left and Daniil Kvyat moved up to second, 0.5s down on the P1 time.
Bottas gets locked up at the notoriously tricky Turn 10 🔒

He's second in the timings so far behind Hamilton#BahrainGP 🇧🇭 #F1 pic.twitter.com/NLviCGpqX8

— Formula 1 (@F1) November 27, 2020
Red Bull joined the party, opting for an early run on the soft tyres, with Alex Albon going quickest with a 1:30.4 while Max Verstappen was third on his first flying lap, a tenth down on his team-mate.
Romain Grosjean, also on the softs, was up to fourth ahead of Kvyat and Pierre Gasly.
The only driver not to set a time in the first 30 minutes was Nissany despite putting in five laps. His sixth was a 1:36.1, putting him P20 on the timesheet.
Grosjean had the first notable moment of the session, spinning off at Turn 6 and returning to the track after eating dirt through Turn 7. His front tyre was destroyed. Charles Leclerc had a spin and an off of his own at Turn 2. Bottas had another big lock up at Turn 10.
Grosjean loses it in the middle sector 😱

GRO 📻: "I'm okay, tyre is completely gone"

He keeps the car out of the barriers and pits#BahrainGP 🇧🇭 #F1 pic.twitter.com/KcVnacrS40

— Formula 1 (@F1) November 27, 2020
Mercedes, though, were still back up into the 1-2 with Hamilton's 1:30.1 putting him 0.1s up on Bottas. Verstappen was a further 0.02s down. This time it was Sergio Perez who messed with the Mercedes 1-2 as he improved to second place, 0.07s behind Hamilton. The Mexican racer has three races to impress Red Bull enough for them to drop Albon.
Gasly hit the front with a 1:30.0 while his team-mate Kvyat, running the medium tyres, joined a growing list of drivers losing time for exceeding the track limits. "Get rid of these shit track limits," was the Russian driver's response.
Gasly's time at the top was short lived with Hamilton upping his pace to a 1:29.0 with Bottas quickly making it a Mercedes 1-2, 0.4s down. Verstappen, having dropped to P5, had a spun at the final corner and flat-spotted his tyres. "Ah lovely, think the tyres are flat-spotted," he said. Verstappen's floor was damaged in the process.
Hamilton and Bottas ended the session 1-2, the reigning World Champion almost a full second up on his nearest non-Mercedes rival, Perez.
Sainz was fourth quickest ahead of Gasly, Verstappen, Albon and Esteban Ocon. Lance Stroll and Daniel Ricciardo completed the top ten.
Ferrari's Leclerc and Sebastian Vettel were 11th and 12th, the team revealing they were testing "a lot" of new things for next year.
Times
1 Lewis Hamilton Mercedes 1:29.033
2 Valtteri Bottas Mercedes 0.449s
3 Sergio Perez Racing Point 0.967s
4 Carlos Sainz McLaren 0.985s
5 Pierre Gasly AlphaTauri 1.016s
6 Max Verstappen Red Bull 1.261s
7 Alex Albon Red Bull 1.269s
8 Esteban Ocon Renault 1.351s
9 Lance Stroll Racing Point 1.393s
10 Daniel Ricciardo Renault 1.475s
11 Charles Leclerc Ferrari 1.556s
12 Sebastian Vettel Ferrari 1.595s
13 Robert Kubica Alfa Romeo Racing 1.699s
14 Romain Grosjean Haas 1.799s
15 Kevin Magnussen Haas 1.821s
16 Antonio Giovinazzi Alfa Romeo Racing 1.863s
17 Daniil Kvyat AlphaTauri 1.987s
18 Lando Norris McLaren 2.359s
19 Nicholas Latifi Williams 3.439s
20 Roy Nissany Williams 3.768s
Follow us on Twitter @Planet_F1 and like our Facebook page.