FP1: Bottas quickest at Spa with Hamilton P18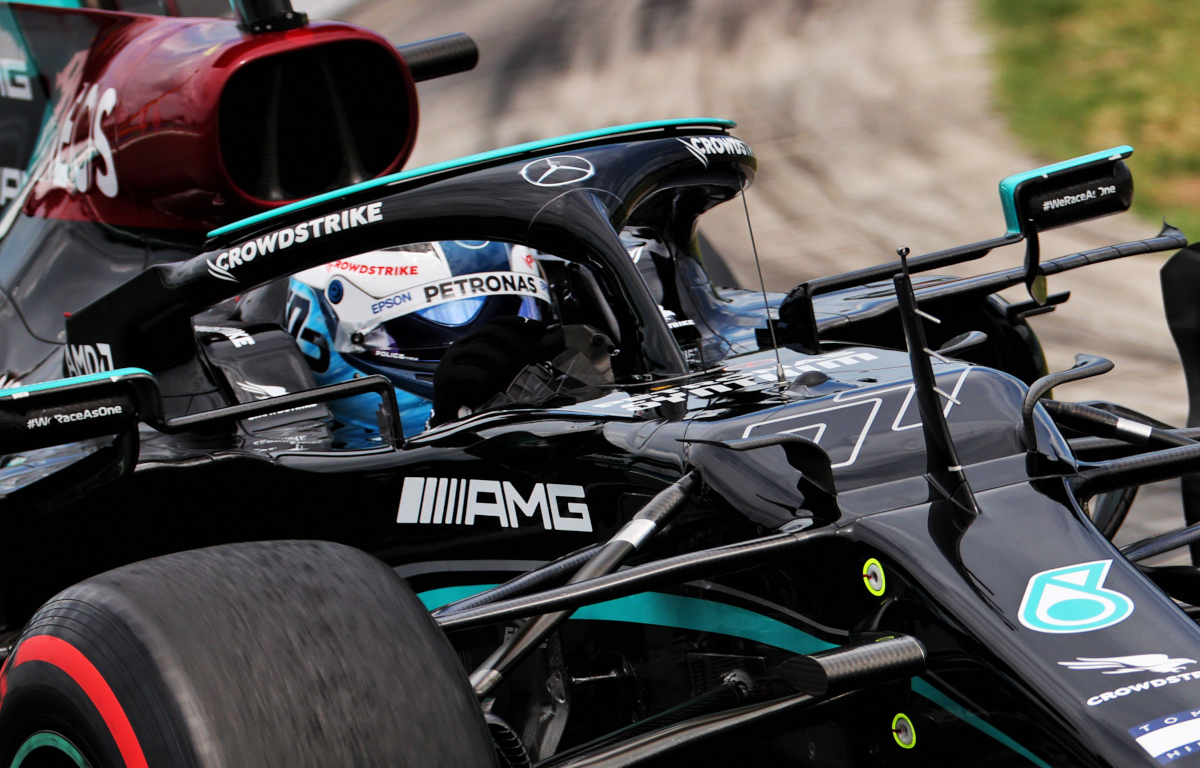 Valtteri Bottas bounced back from his Hungarian GP crash to set the pace in the opening practice session for the Belgian Grand Prix weekend.
Formula 1 returned to the track at a cold and damp Spa-Francorchamps circuit where, surprisingly given Spa's very own little climate, several drivers had never experienced the Belgian circuit in an F1 car in the wet. That was about to change.
The two Ferraris and Mick Schumacher were the first drivers out, and quickly discovered that while some parts of the 7km long track were wet, others were bone dry.
📻 "I'm not sure it's wet enough for inters."

Mick's first take on the track conditions after his installation lap. #HaasF1 #BelgianGP #FP1 pic.twitter.com/cXUswQunRB

— Haas F1 Team (@HaasF1Team) August 27, 2021
After 14 minutes of single run laps, McLaren's Lando Norris did a 1:50.191 on the medium Pirellis. That sparked a flurry of activity with Sebastian Vettel going purple, a 1:49.324, and Kimi Raikkonen spinning out of La Source.
Yuki Tsunoda also went spinning, blocking Sergio Perez as he came to a halt on the exit of the pit lane.
As the track dried out and the drivers found their footing the P1 time tumbled with Daniel Ricciardo, Pierre Gasly, again Vettel, and then Esteban Ocon hitting the front, a 1:47.250 for F1's newest race winner. George Russell wasn't overly impressed with Lance Stroll as the Aston Martin driver impeded him on a hot lap.
Max Verstappen, running the hard Pirellis, set the pace midway through the hour-long practice, a 1:46.879. The Red Bull driver, who was using a skinny rear wing, lowered his benchmark time to a 1:46.423, backing off in the final sector due to yellow flags at the pit lane entrance. Those yellows were caused by Raikkonen who hit the concrete wall as he returned to the pits.
F1 TV Pro is half price for two months! In order to claim this fantastic discount, click the following link and use the promo code SPA50 at checkout!*
*Offer expires at 23:59 on Sunday, August 29. Offer only available on Pro. Customers will need to take out a monthly subscription and this offer can only be redeemed on web. Offer not available in NL, FR or NZ.
Raikkonen hits the wall as he enters the pit lane

Not the best start to the Finn's weekend! #BelgianGP 🇧🇪 #F1 pic.twitter.com/jOuHyYBLBe

— Formula 1 (@F1) August 27, 2021
Verstappen went even quicker, a 1:45.905, as his team-mate Sergio Perez moved up to second, 1.262s down, while Hamilton, having been as high as P3, fell to 14th.
In contrast to Verstappen, Mercedes had decided on a bigger high downforce rear wing for the championship leader.
With 20 minutes remaining in the session, and rain forecast for the afternoon, the drivers began to swap to the soft Pirellis with Bottas hitting the front with a 1.45.199. The Finn ran a low downforce set-up.
Verstappen responded with a 1:45.363 as a few drops of rain began to fall. Hamilton wasn't able to respond, impeded by the Williams of Nicholas Latifi. Charles Leclerc's efforts were thwarted by a trip through the gravel at Turn 7 that also dumped a pile of stones on the track.
Bottas finished quickest of all, 0.164s up on Verstappen, with Pierre Gasly third. Hamilton was down in 18th place with only the Haas rookies behind him.
Times
1 Valtteri Bottas Mercedes 1:47.854 18 laps – soft
2 Max Verstappen Red Bull 0.164s 14 laps – soft
3 Pierre Gasly AlphaTauri 0.500s 19 laps – soft
4 Charles Leclerc Ferrari 0.619s 18 laps – soft
5 Carlos Sainz Ferrari 0.736s 20 laps – soft
6 Sergio Perez Red Bull 0.928s 17 laps – soft
7 Sebastian Vettel Aston Martin 0.978s 17 laps – soft
8 Lando Norris McLaren 1.137s 15 laps – soft
9 Esteban Ocon Alpine 1.298s 16 laps – soft
10 Fernando Alonso Alpine 1.413s 16 laps – soft
11 Lance Stroll Aston Martin 1.450s 18 laps – soft
12 Daniel Ricciardo McLaren 1.484s 18 laps – soft
13 Antonio Giovinazzi Alfa Romeo Racing 1.556s 17 laps – soft
14 George Russell Williams 1.573s 18 laps – soft
15 Yuki Tsunoda AlphaTauri 1.729s 19 laps – soft
16 Nicholas Latifi Williams 1.902s 19 laps – soft
17 Kimi Raikkonen Alfa Romeo Racing 2.926s 15 laps – soft
18 Lewis Hamilton Mercedes 3.025s 17 laps – hard
19 Mick Schumacher Haas 3.860s 15 laps – soft
20 Nikita Mazepin Haas 4.736s 15 laps – soft