FP1: Verstappen bounces back with a P1 in Hungary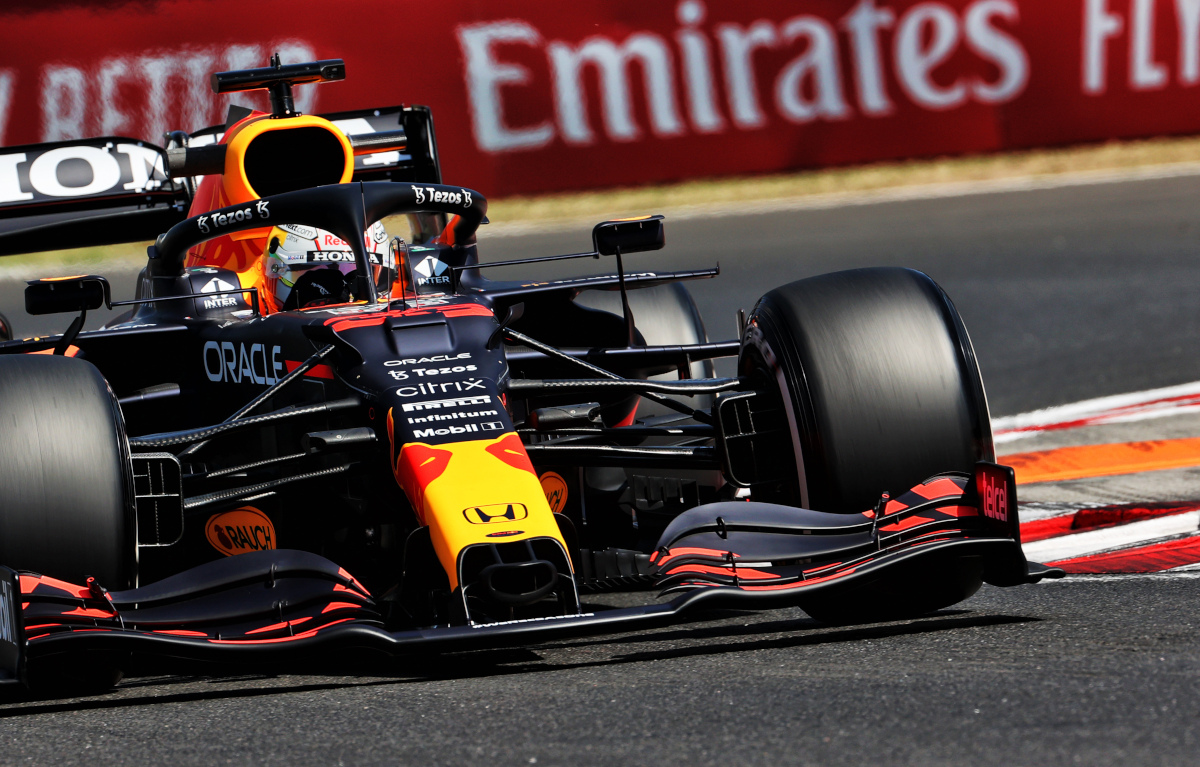 Max Verstappen bounced back from his heavy Silverstone shunt with a P1 to start the Hungarian GP weekend, while Yuki Tsunoda brought out the red flags.
The Red Bull driver put in a 1:17.555 to pip Valtteri Bottas by 0.061s, his Honda engine showing no signs of ill-effect after being involved in that heavy crash two weeks prior.
Soft tyres and hot temperatures, on the track and potentially in at least two of the cars, set the scene for Friday's first practice for the Hungarian GP, a session in which Red Bull and Honda decided to run Verstappen's Silverstone engine. Honda saying they are as sure as they can be that it is fine despite being involved in that heavy crash.
Verstappen set the early P1, 1:19.7, while Bottas reported that his brake pedal was "terribly soft". After 10 minutes Lewis Hamilton sat P2 ahead of Lando Norris and Carlos Sainz.
Verstappen and his Honda engine continued laying down the laps, the Dutchman down to a 1:19.025 after nine laps. Bottas improved to second, 0.7s off the pace.
Swapping to the soft tyres, the Finnish driver pumped in a 1:17.616 after going purple in all three sectors. Hamilton, doing a very slow final sector on his out-lap, responded with a 1:17.996. The Brit asked Mercedes for more wing.
There were a few incidents in the first half of the session with Charles Leclerc and Sergio Perez the testing the run off areas. Fernando Alonso and Yuki Tsunoda both spun, and Carlos Sainz and Lance Stroll got a little too close for the Aston Martin driver's comfort.
🚨Lance Stroll, Carlos Sainz'ın kendisine atak yapmasına sinirlendi.#HungarianGP | #F1 pic.twitter.com/FXvL2hMDrP

— Tutkumuz F1 (@F1tutkumuz) July 30, 2021
As more drivers swapped to the soft tyres in the second half of the session, Pierre Gasly was up to third, the Frenchman complaining about his headrest and not being able to turn his head as needed.
Lando Norris wasn't able to follow him up, the McLaren driver only improving as high as sixth place as, running an updated bargeboard and floor, he was a full second down on Bottas' P1 time.
While fans waited to see Red Bull come out on the soft tyres, Hamilton did another run to close the gap to Bottas to just a tenth. Sainz was up to third ahead of Gasly, Fernando Alonso and Leclerc.
And then out came the red flags. Tsunoda lost it for the second time on Friday, this time losing the rear end of his AlphaTauri into Turn 4 and rear-ending the barrier.
The damaged car was quickly removed by the marshals and the session resumed with Verstappen heading out on a shinning new set of soft tyres. Red Bull releasing the Dutchman as Mercedes let Hamilton go.
Verstappen, with the track temperature up to 58'C, put in a 1:17.555 to edge Bottas by 0.061s. Hamilton was third, a further tenth off the pace.
Times
1 Max Verstappen Red Bull 1:17.555 21 laps (s)
2 Valtteri Bottas Mercedes 0.061s 25 laps (s)
3 Lewis Hamilton Mercedes 0.167s 23 laps (s)
4 Carlos Sainz Ferrari 0.560s 23 laps (s)
5 Pierre Gasly AlphaTauri 0.626s 27 laps (s)
6 Fernando Alonso Alpine 0.830s 25 laps (s)
7 Charles Leclerc Ferrari 0.836s 22 laps (s)
8 Sergio Perez Red Bull 0.911s 19 laps (s)
9 Lando Norris McLaren 1.094s 25 laps (s)
10 Lance Stroll Aston Martin 1.200s 24 laps (s)
11 Esteban Ocon Alpine 1.210s 25 laps (s)
12 Yuki Tsunoda AlphaTauri 1.215s 18 laps (s)
13 Sebastian Vettel Aston Martin 1.434s 20 laps (s)
14 Daniel Ricciardo McLaren 1.710s 26 laps (s)
15 George Russell Williams 2.169s 23 laps (m)
16 Nicholas Latifi Williams 2.269s 23 laps (m)
17 Mick Schumacher Haas 2.828s 25 laps (s)
18 Robert Kubica Alfa Romeo Racing 3.084s 22 laps (m)
19 Nikita Mazepin Haas 3.437s 21 laps (s)
20 Antonio Giovinazzi Alfa Romeo Racing 4.334s 5 laps (h)