As expected Valtteri Bottas and Lewis Hamilton blitzed their rivals in FP1 for the Italian GP, as Max Verstappen destroyed his Red Bull wing.
Perhaps not so fresh from the Belgian Grand Prix, Formula 1 arrived at Monza on Friday for the start of the Italian Grand Prix weekend.
With the sun beating down on the circuit, Ferrari driver Sebastian Vettel was the first man out for an installation lap but it wasn't until 20 minutes in that Alexander Albon recorded the first lap time, a 1:24.0.
That, however, came and went as the Red Bull driver exceeded the track limits at Parabolica, losing that lap time and the very next one.
It was therefore Kimi Raikkonen who posted the day's first time. That didn't stand as the P1 for very long with Albon putting in a 1:22.2 with Esteban Ocon up to second ahead of Lando Norris and his pizza helmet.
𝙁𝙀𝙀𝙇 𝙏𝙃𝙀 𝙎𝙋𝙀𝙀𝘿#ItalianGP 🇮🇹 #F1 @alex_albon pic.twitter.com/LmzrCNyMea

— Formula 1 (@F1) September 4, 2020
And then the Mercedes drivers arrived. Surprisingly they didn't go 1-2 immediately with Valtteri Bottas taking second after a moment on the kerbs and Lewis Hamilton up to fourth behind the Racing Point of Lance Stroll.
Hamilton was quick to rectify that, the Brit going quickest with a 1:21.6 before losing that to Bottas by 0.019s. Max Verstappen was up to third, three-tenths down.
As for Ferrari, Charles Leclerc was P11 with Vettel in 14th place. He was one of the first to have to adhere to the FIA's rules about how to rejoin the track after getting it wrong at the Roggia chicane.
The session was red flagged with 53 minutes on the clock as Verstappen got it wrong midcorner at the Ascari chicane, spun his RB16 with the Dutchman finishing up nose first in the barriers.
He was able to reverse out and head back to the pits with a nose-less Red Bull.
Max is off! 🚩

He's able to reverse away and nurse his Red Bull back to the garage#ItalianGP 🇮🇹 #F1 pic.twitter.com/6gEsILJKHm

— Formula 1 (@F1) September 4, 2020
The session was green flagged but the drivers opted to spend a bit more time in their respective garages with Verstappen having no choice as Red Bull worked on the front end of his car.
Raikkonen and the two Haas drivers broke the silence with the Alfa Romeo driver noting a "lot of stones" on the track. Simple as that. That triggered a mass exodus from the pits.
With the tow very important in qualifying at the Monza circuit, Leclerc asked Ferrari: "Where's the next car in front I need to train for qualy?"
At the front Bottas upped his pace to a 1:20.7, moving a quarter of a second ahead of Hamilton.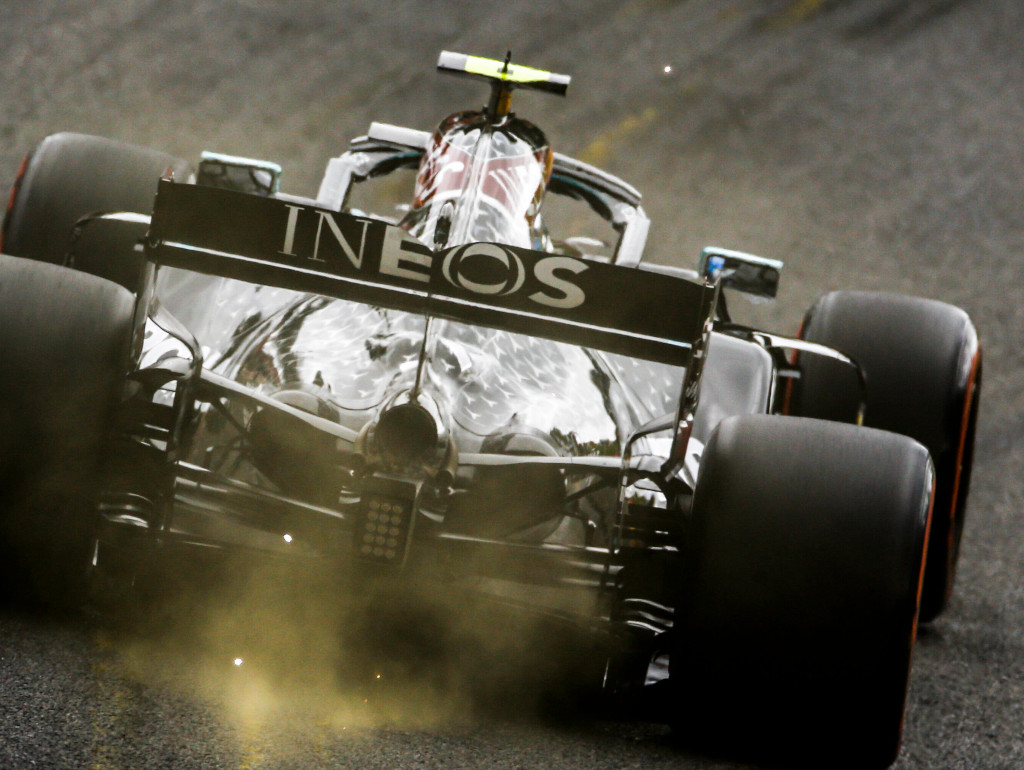 Get your hands on the official Mercedes 2020 collection via the Formula 1 store
Albon, up to P3, was eight-tenths down with the AlphaTauri's of Daniil Kvyat and Pierre Gasly next in line before Verstappen, in his repaired Red Bull, split the team-mates.
Gasly had a bit of late drama as he spun at the chicane with his AlphaTauri finishing up in the gravel. He kept his Honda engine running and made his way back to the pits.
Sergio Perez finished seventh ahead of Norris, Daniel Ricciardo and Carlos Sainz.
Leclerc was 11th at the chequered flag with Vettel P19.
Roy Nissany replaced George Russell for the session, bringing his Williams home in 18th place, 0.3s up on Nicholas Latifi who was slowest of all on the day.
Times
1 Valtteri Bottas Mercedes 1:20.703 28 laps (s)
2 Lewis Hamilton Mercedes 0.245s 27 laps (s)
3 Alex Albon Red Bull 0.797s 30 laps (s)
4 Daniil Kvyat AlphaTauri 0.852s 31 laps (m)
5 Max Verstappen Red Bull 0.938s 22 laps (s)
6 Pierre Gasly AlphaTauri 0.964s 27 laps (m)
7 Sergio Perez Racing Point 1.044s 25 laps (s)
8 Lando Norris McLaren 1.044s 29 laps (s)
9 Daniel Ricciardo Renault 1.086s 22 laps (m)
10 Carlos Sainz McLaren 1.118s 27 laps (s)
11 Charles Leclerc Ferrari 1.201s 25 laps (s)
12 Esteban Ocon Renault 1.281s 28 laps (m)
13 Lance Stroll Racing Point 1.428s 21 laps (s)
14 Romain Grosjean Haas 1.706s 20 laps (s)
15 Kevin Magnussen Haas 1.719s 19 laps (s)
16 Antonio Giovinazzi Alfa Romeo Racing 1.849s 24 laps (m)
17 Kimi Raikkonen Alfa Romeo Racing 1.916s 27 laps (m)
18 Roy Nissany Williams 2.123s 25 laps (h)
19 Sebastian Vettel Ferrari 2.285s 24 (m)
20 Nicholas Latifi Williams 2.417s 22 laps (m)
Follow us on Twitter @Planet_F1 and like our Facebook page.