FP1: Sainz heads Ferrari 1-2 as F1 returns to Melbourne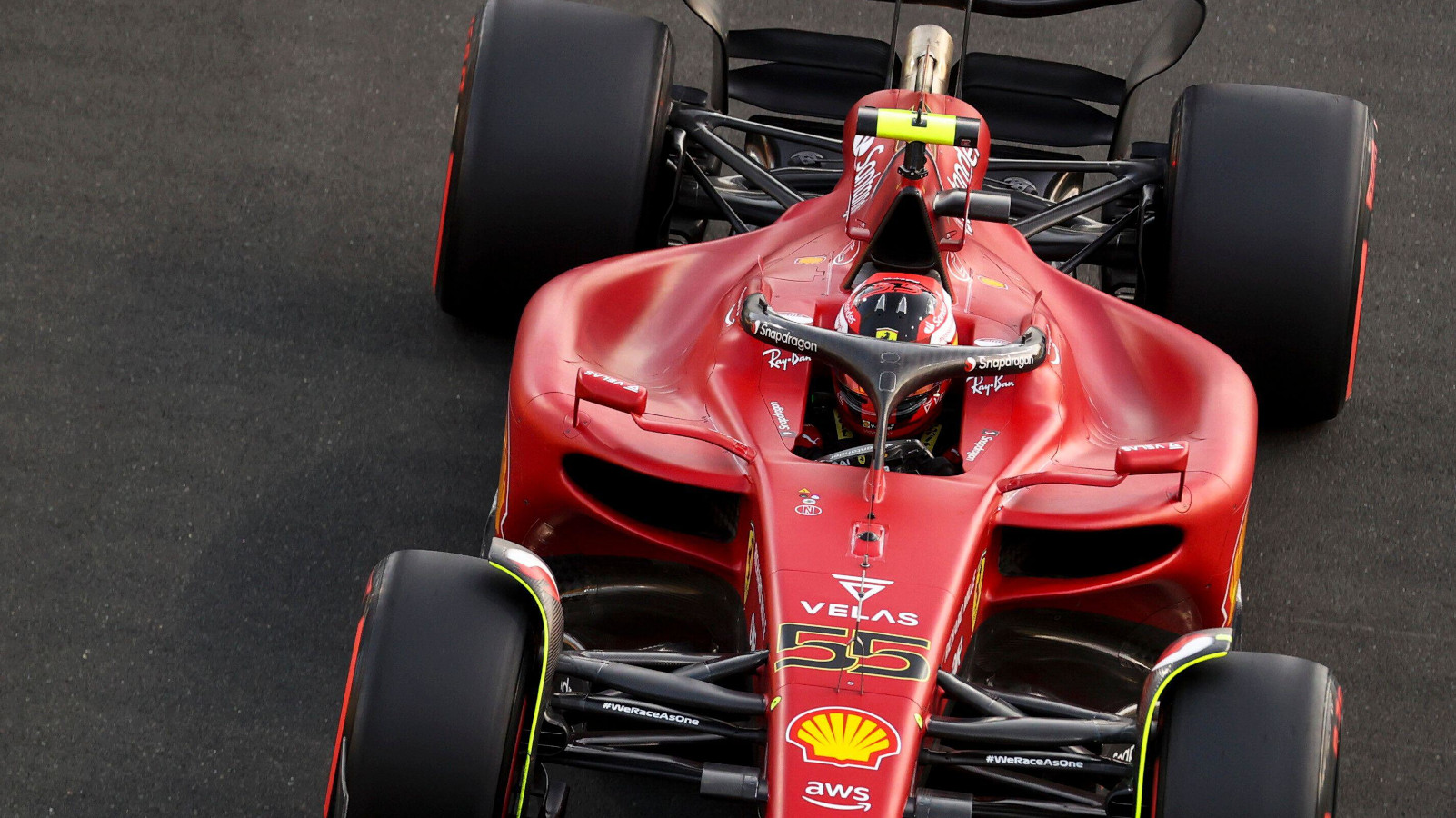 Carlos Sainz topped a Ferrari 1-2 as Formula 1 returned to Australia, the Spaniard quickest in Friday's first practice at the revamped Albert Park circuit.
His 1:19.806 put him almost six-tenths up on his team-mate Charles Leclerc with Sergio Perez third.
But while Ferrari and Red Bull resumed their tussle, there were a few signs of encouragement for two of this year's strugglers with Lando Norris fifth fastest and Lewis Hamilton P7.
Sebastian Vettel didn't have a dream return, the German stopping out on track after reporting a "problem with the engine".
Carlos Sainz gets a good look at the newly-modified @ausgrandprix circuit 👀#AusGP #F1 pic.twitter.com/yuo4TU31bv

— Formula 1 (@F1) April 8, 2022
Three years after the last Australian Grand Prix, the drivers took to a revised Albert Park circuit on Friday afternoon for the start of round three.
The track was resurfaced last year with seven corners modified and two removed, reducing the number of turns to 14.
Norris got the timesheet rolling with a 1:25.009 with his team-mate and local lad Daniel Ricciardo up to second in the early running.
Norris upped his pace to a 1:23.066 while Lance Stroll took all of six minutes to complain about another driver, reporting "Hamilton impeded me, he totally impeded me".
They were briefly joined on the track by Kevin Magnussen, Haas unsure as to how many laps the Dane will do today given he was forced to miss Friday morning's media commitments having felt nausea overnight.
Ferrari, running a new diffuser, were slow to get Sainz out of the pits as the team struggled to get the front wing, fitted with extra ride height sensors, onto the car. He ventured out 12 minutes into the session.
Problemas con Sainz. La ala con sensores de altura no encaja .

Problems for Sainz. The front wing with extra ride height sensors doesn't fit properly. #F1 #F12022 pic.twitter.com/x30NGdwloA

— Albert Fabrega (@AlbertFabrega) April 8, 2022
At the sharp end Verstappen went quickest with a 1:21.625, a 1:21.140 and then a 1:20.909, with Leclerc, the championship leader, P2 before losing out to Norris. Sainz was up to seventh ahead of Sebastian Vettel, who is competing in his first race of the season after recovering from Covid.
There was then more complaints about other drivers, this time from Guanyu Zhou, who felt Sainz had "blocked" him. Pierre Gasly meanwhile told AlphaTauri that he did "not feel very good at high speeds, the car feels very nervous".
Sergio Perez, down in 12th place at the time, lost a piece off the rear of his Red Bull RB18 through the final corner, the session briefly red flagged to allow a marshal to safely run onto the track at to retrieve it.
🚩 RED FLAG 🚩

We have a brief stoppage while marshals recover a piece of Sergio Perez's car on the racing line#AusGP #F1 pic.twitter.com/FpLPxMOUs8

— Formula 1 (@F1) April 8, 2022
Back on track Sainz jumped up to second place, 0.340s down on Verstappen, with Vettel up to third ahead of Perez, Lewis Hamilton and Norris. Magnussen ventured out for what was only his third lap of the session, the Haas driver going P19 before locking up at Turn 3 and taking a trip through the gravel.
Leclerc bolted on a set of new soft tyres and went quickest only to be pipped by Sainz. The Spaniard laid down a 1:20.325 to edge his team-mate by 0.052s, Verstappen three-tenths off the pace. Hamilton was up to fourth, seven-tenths off the pace.
Leclerc was the next to play in the dirt, the Monégasque driver off at Turn 1, while Fernando Alonso had a spin at Turn 11.
"Tyres are a bit gone," reported the Ferrari driver. His team-mate Sainz wasn't having the same issues, his P1 time down to a 1:19.806 – half a second up on the other Ferrari.
Vettel brought out the second red of the session with 14 minutes remaining, the Aston Martin driver grinding to a halt on the side of the track after telling the team that he had a "problem with the engine". He stopped.
With the session back underway, Russell left the pits as Norris was coming down – a borderline unsafe release that was apparently the Mercedes driver's fault as he ignored his team. Russell then found a Red Bull in his way and complained "that Red Bull was in a dangerous spot there."
The session ended with Sainz quickest by half a second ahead of Leclerc, Perez third ahead of Verstappen, Norris, Ocon and Hamilton. Ricciardo, Alonso and Valtteri Bottas completed the top ten ahead of Russell.
Zhou and Sainz as well as Magnussen and Stroll, both impeding incidents, will be investigated after the session.
Times
1 Carlos Sainz Ferrari 1:19.806 24 laps (soft)
2 Charles Leclerc Ferrari 0.571s 21 laps (soft)
3 Sergio Perez Red Bull 0.593s 20 laps (soft)
4 Max Verstappen Red Bull 0.820s 22 laps (soft)
5 Lando Norris McLaren 1.072s 22 laps (soft)
6 Esteban Ocon Alpine 1.198s 27 laps (soft)
7 Lewis Hamilton Mercedes 1.221s 26 laps (soft)
8 Daniel Ricciardo McLaren 1.349s 23 laps (soft)
9 Fernando Alonso Alpine 1.423s 21 laps (soft)
10 Valtteri Bottas Alfa Romeo Racing 1.441s 23 laps (soft)
11 Yuki Tsunoda AlphaTauri 1.483s 26 laps (soft)
12 George Russell Mercedes 1.651s 26 laps (soft)
13 Sebastian Vettel Aston Martin 1.855s 18 laps (soft)
14 Pierre Gasly AlphaTauri 1.895s 26 laps (soft)
15 Guanyu Zhou Alfa Romeo Racing 2.015s 21 laps (soft)
16 Lance Stroll Aston Martin 2.063s 24 laps (soft)
17 Alex Albon Williams 2.948s 25 laps (soft)
18 Kevin Magnussen Haas 3.380s 18 laps (soft)
19 Nicholas Latifi Williams 4.118s 25 laps (soft)
20 Mick Schumacher Haas 4.543s 15 laps (soft)