Sebastian Vettel kicked off Formula 1's return by being the quickest driver in FP1 at the iconic Spa circuit.
Vettel set a 1:44.358 on soft tyres to finish one tenth ahead of Max Verstappen in the Red Bull, with Lewis Hamilton, Kimi Raikkonen, and Valtteri Bottas all three tenths behind.
Daniel Ricciardo rounded off the top six, finishing 1.2 seconds off the pace but only managing to post two timed laps because of an issue discovered with his Renault engine.
Both Racing Point Force India drivers, Esteban Ocon and Sergio Perez, finished in the top 10, while Lando Norris was down in P17 on his first FP1 appearance for McLaren.
The weather is expected to be unsettled throughout the Belgian Grand Prix weekend, but the sun was poking out as the lights went green for the first time since the summer break.
Just as the session got underway, confirmation came from Mercedes that they have new-spec engines in both cars. Hamilton has a new engine, turbo and MGU-H.
Bottas has a completely new unit and that means he will fall to the back of Sunday's grid due to penalties. Customer teams also have the new engine.
The Finn was top of the timesheet after the first 30 minutes of running with a 1:44.988 set on supersoft tyres, yet there were spots of rain falling just to keep everyone on their toes.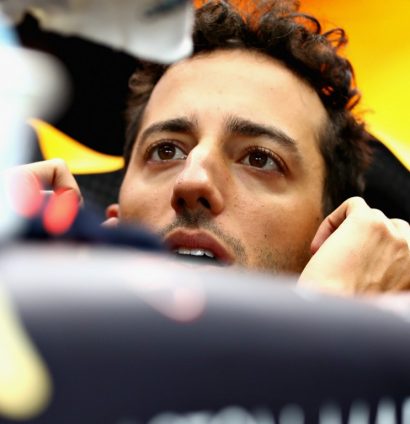 There were early problems for Stoffel Vandoorne and Daniel Ricciardo. The former reporting his brake pedal went to the floor and an engine issue spotted on Ricciardo's car ate into the Aussie's track time.
Before drivers headed back to the garage to hand in their first set of tyres, Hamilton dislodged his team-mate at the top of the standings by setting a 1:44.676 on the soft compound.
With the mid-session lull over, Vandoorne, and Sergey Sirotkin who was also rooted to the garage in the early stages, put their first timed laps on the board. But still no sign of Ricciardo.
As we ticked down to the final 30 minutes of the session, Vettel was the new driver to beat as he lowered the benchmark to 1:44.358s on the soft tyres.
Intense work continued on Ricciardo's car, while his team-mate Max Verstappen narrowed the gap to Vettel to just one tenth with an eye-catching lap on the softs.
Red Bull managed to get Ricciardo back out on track in the final stages of FP1, but one early finisher was Vandoorne who suffered a hydraulics issue just to add to his brake woes earlier.
But, back out in front, it was Vettel who remained on top and heads into the afternoon session as the driver to beat.
Follow all the action from the Belgium Grand Prix via our live race centre
FP1 timesheet:

1 Sebastian Vettel Ferrari 1:44.358 19 laps S
2 Max Verstappen Red Bull 0.151s 20 laps S
3 Lewis Hamilton Mercedes 0.318s 22 laps S
4 Kimi Raikkonen Ferrari 0.36s 17 laps S
5 Valtteri Bottas Mercedes 0.366s 25 laps M
6 Daniel Ricciardo Red Bull 1.2s 4 laps SS
7 Esteban Ocon Force India 1.428s 22 laps SS
8 Nico Hulkenberg Renault 1.593s 19 laps SS
9 Sergio Perez Force India 1.811s 21 laps SS
10 Carlos Sainz Renault 1.852s 19 laps SS
11 Pierre Gasly Toro Rosso 1.942s 25 laps S
12 Romain Grosjean Haas 2.029s 20 laps SS
13 Charles Leclerc Sauber 2.196s 20 laps SS
14 Marcus Ericsson Sauber 2.199s 19 laps SS
15 Brendon Hartley Toro Rosso 2.574s 23 laps S
16 Lance Stroll Williams 2.607s 25 laps SS
17 Kevin Magnussen Haas 2.654s 21 laps SS
18 Lando Norris McLaren 3.006s 26 laps M
19 Sergey Sirotkin Williams 3.009s 23 laps SS
20 Stoffel Vandoorne McLaren 3.094s 13 laps S