FP2: Gasly leads Red Bull 1-2, Albon crashes out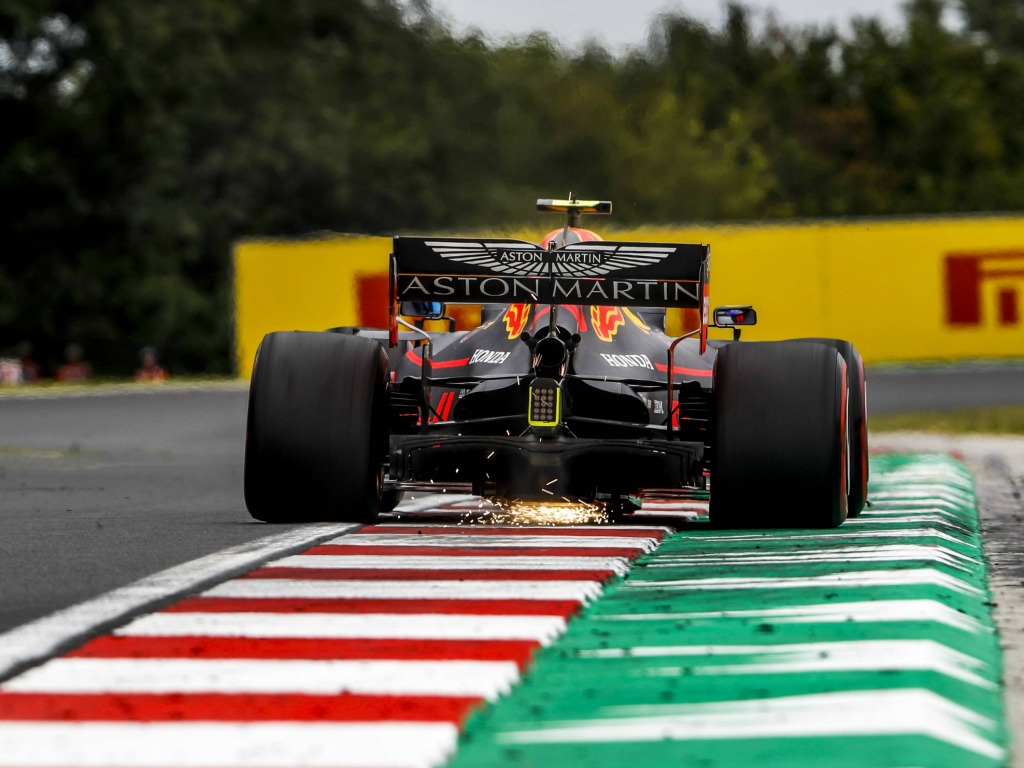 Red Bull's Pierre Gasly topped a frustrating afternoon practice session in Hungary where light rain led to limited dry tyre running at the Hungaroring.
It allowed Gasly to pick up a rare P1 spot with a 1:17.854, 0.055 seconds faster than team-mate Max Verstappen. Gasly's best time was set on the quickest soft tyres, while Verstappen was on the mediums.
Lewis Hamilton rounded off the top three, a tenth off the pace on hard tyres.
Valtteri Bottas was P4 as he tried to make up for time lost in FP1 due to an unscheduled power unit change, but there was another exit in the form of Alex Albon in FP2 as he got it all wrong at Turn 14.
Ferrari duo Charles Leclerc and Sebastian Vettel were P7 and P13 respectively in tricky conditions.
Light drizzle greeted the drivers as the green light was given for the start of FP2, but the track was dry enough for some more slick tyre running.
However, the session was red flagged after just four minutes when Alex Albon misjudged Turn 14 by running ever so slightly onto the grass and spinning out of control. A hefty shunt into the barrier followed but thankfully he was ok.
RED FLAG: A nightmare start to FP2 for Alex Albon 🔴

He is off after losing control on Turn 14 #F1 #HungarianGP 🇭🇺 pic.twitter.com/UQoZiaDiWU

— Formula 1 (@F1) August 2, 2019
After a brief stoppage, another mad dash ensued out of the garage as drivers and teams attempted to gather as much dry tyre data as possible.
But the track was officially declared wet soon after, prompting everyone to head back to the pits for a quick check over and a swap to the intermediates.
It left a rather jumbled up top six with an hour left on the session clock; Gasly, Verstappen, Hamilton, Bottas, Ricciardo and Raikkonen all on different tyres.
Bottas was the first venture back out on inters but was immediately told to box as it proved the track was too wet for slicks but too dry for inters.
A distinct lack of track action followed as a result, with the odd car here and there swapping between slicks and inters for cautious exploratory laps.
With 20 minutes of the session left, the rain became heavier, which at least brought a few more drivers and cars out from the comfort of the garage to test out the inters properly.
For those who did brave the conditions, it was all about survival. Bar a brief off by George Russell, everyone got through unscathed.
FP2 timesheet
1 Pierre Gasly Red Bull 1:17.854 16 (S)
2 Max Verstappen Red Bull 0.055s 12 (M)
3 Lewis Hamilton Mercedes 0.141s 14 (H)
4 Valtteri Bottas Mercedes 0.330s 18 (M)
5 Daniel Ricciardo Renault 0.743s 13 (S)
6 Kimi Raikkonen Alfa Romeo Racing 0.828s 25 (S)
7 Charles Leclerc Ferrari 0.998s 21 (M)
8 Nico Hulkenberg Renault 1.038s 14 (S)
9 Antonio Giovinazzi Alfa Romeo Racing 1.055s 24 (S)
10 Daniil Kvyat Toro Rosso 1.103s 21 (S)
11 Romain Grosjean Haas 1.295s 19 (M)
12 Kevin Magnussen Haas 1.324s 21 (H)
13 Sebastian Vettel Ferrari 1.400s 23 (H)
14 Carlos Sainz McLaren 1.544s 19 (M)
15 Sergio Perez Racing Point 1.867s 13 (H)
16 Lance Stroll Racing Point 1.920s 14 (H)
17 George Russell Williams 2.035s 14 (S)
18 Lando Norris McLaren 2.547s 6 (M)
19 Robert Kubica Williams 2.585s 15 (S)
20 Alex Albon Toro Rosso no time set
Follow all the action from the Hungarian Grand Prix with the PlanetF1 live centre