FP2: Verstappen top, but crashes out late on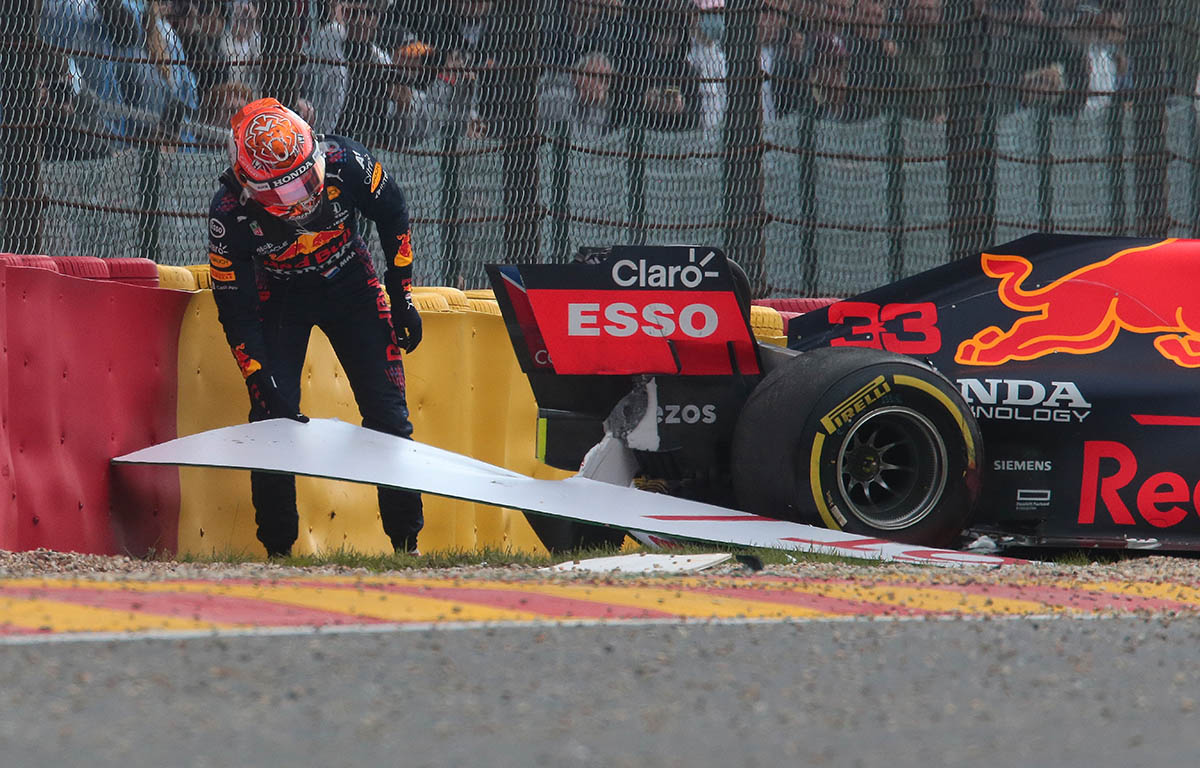 Max Verstappen went fastest of anyone in FP2 at Spa on Friday, with both Valtteri Bottas and Lewis Hamilton less than a tenth slower on medium tyres.
The session was interrupted when Charles Leclerc crashed into the barriers after suffering oversteer out of Les Combes, which interrupted the drivers as they practiced long runs. After the Ferrari driver's troubles, the session was fully ended when the Red Bull of Verstappen spun out at the exit of Malmady and damaged his suspension by hitting the wall.
On one-lap pace, however, Fernando Alonso, Pierre Gasly and Lance Stroll all showed flashes of speed to put themselves into the top six, while both Ferraris finished outside the top 10.
The start of FP2 came hot on the heels of Red Bull confirming that Sergio Perez will be staying with the team next season, but it was quickly back to business when the lights went green at Spa.
Like first practice, a damp track greeted the cars at the start, but the switch to slicks didn't take long – as Bottas and Lando Norris took to the radio and confirmed he would change to dry tyres after his install lap.
The McLaren driver was left trundling around on his own early on in the session, setting a first timed lap of a 1:48.219, after a hefty lock-up when he hit a wet patch heading towards La Source – a mistake which George Russell copied a few minutes later on his first flying run.
Gradually, the field crept out of their garages to clock their first runs in FP2, and lap times quickly began to tumble. After going top in FP1, Bottas followed up his time by going around Spa in a 1:44.513, just 0.031s ahead of team-mate Hamilton – with both Mercedes drivers running on medium tyres.
Oh my god! Helmet cam in #F1 🙌🏻 pic.twitter.com/ipa3gZyys0

— PlanetF1 (@Planet_F1) August 27, 2021
F1 TV Pro is half price for two months! In order to claim this fantastic discount, click the following link and use the promo code SPA50 at checkout!*
*Offer expires at 23:59 on Sunday, August 29. Offer only available on Pro. Customers will need to take out a monthly subscription and this offer can only be redeemed on web. Offer not available in NL, FR or NZ.
An unexpected surprise for fans watching on TV came when Alonso took us around a lap of Spa from his view, with a helmet cam installed and run with the Alpine driver.
Alonso went quickly after switching to soft tyres too, putting himself P4 and 0.440s off Bottas at the top of the timesheets. The majority of the field then began to run qualifying simulations as the sun emerged in the Ardennes.
Daniel Ricciardo's quickest run was hampered as he had to take evasive action to avoid Nikita Mazepin heading into Stavelot, as the Haas driver tried to get out of the way of the McLaren, as Norris opened up the gap and went 0.732s ahead of his team-mate after his flying lap.
Bottas was then dethroned at the top of the leaderboard as Verstappen nudged ahead of the Finn while running on softs, as the Red Bull and both Mercedes drivers all lapped within a tenth of each other – albeit on different compounds.
But other drivers then saw their qualifying runs interrupted after Esteban Ocon lost control of the rear of his car and skidded sideways out of Fagnes, which briefly brought out the yellow flags. But that would soon be upgraded to a red flag after Leclerc lost rear grip out of Les Combes, which led to a snap of oversteer, and he then scraped along the barriers and halted the session.
The marshals were able to clear the stricken Ferrari away in reasonable time, however, which led to a scramble among the drivers to get on track for the final 10 minutes of the session, to log as much data as possible on their long-run pace.
However, Verstappen's accident brought FP2 to a premature end and, while he finished top of the timesheets, he was left frustrated when the session finished.
Times
(All fastest times on soft tyres, unless stated)
1 Max Verstappen Red Bull 1:44.472 12 laps
2 Valtteri Bottas Mercedes 0.041s 14 laps (Medium tyres)
3 Lewis Hamilton Mercedes 0.072s 13 laps (Medium tyres)
4 Fernando Alonso Alpine 0.481s 15 laps
5 Pierre Gasly AlphaTauri 0.493s 17 laps
6 Lance Stroll Aston Martin 0.708s 14 laps
7 Esteban Ocon Alpine 0.830s 15 laps
8 Sebastian Vettel Aston Martin 0.864s 16 laps
9 Lando Norris McLaren 0.914s 18 laps
10 Sergio Perez Red Bull 0.932s 13 laps (Medium tyres)
11 Carlos Sainz Ferrari 1.045s 14 laps
12 Yuki Tsunoda AlphaTauri 1.286s 17 laps
13 Antonio Giovinazzi Alfa Romeo Racing 1.317s 16 laps
14 Kimi Raikkonen Alfa Romeo Racing 1.495s 18 laps
15 Daniel Ricciardo McLaren 1.646s 14 laps
16 Nicholas Latifi Williams 1.726s 17 laps (Medium tyres)
17 George Russell Williams 2.193s 14 laps
18 Charles Leclerc Ferrari 2.364s 13 laps (Medium tyres)
19 Nikita Mazepin Haas 2.863s 14 laps
20 Mick Schumacher Haas 3.057s 15 laps