FP2: Max tops surprisingly busy parc ferme practice
Max Verstappen set the pace in the second and final practice for the British GP, a session in which instead of going for the fastest time possible, the teams ran varying fuel loads.
With the cars in parc ferme conditions, Formula 1 took to the Silverstone circuit for FP2 with the teams unable to change their cars' set-up, only a few bits and pieces like the wing angle or the brake pads.
Surprisingly that did little to dampen the action.
An early problem for Carlos Sainz – "a lot of air coming into my helmet" – saw him heading back to the pits after a single lap for an adjustment to his visor.
With the cars carrying heavy fuel loads, only two 'races' left in the mix, the early lap times were some five seconds slower than qualifying with Esteban Ocon leading the early running with a 1:31.9.
Sergio Perez overhauled him before Verstappen, running the medium tyres, went purple, purple, purple to cross the line with a 1:30.4.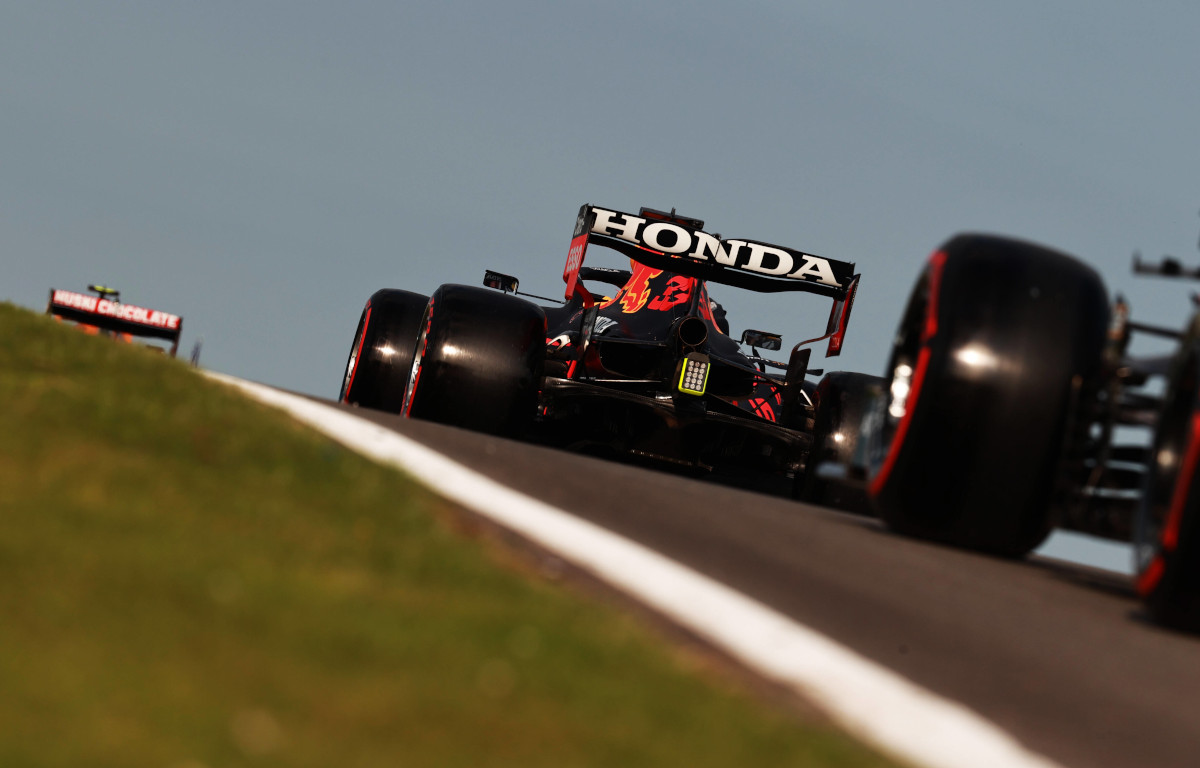 Bet on Lewis Hamilton to win the British Grand Prix with Planet Sport Bet!
Lewis Hamilton on the hard tyres was P5 as he twitched his way to a 1:32 while Mercedes informed Valtteri Bottas that he had "possible damage" on his rear reflector. The team went onto warn Hamilton to stay off the kerbs.
Later, however, they realised it was a "tear-off" that was causing Bottas' issues, not a kerb-mounting moment.
Nine laps into his medium tyre run, Perez's front right was showing graining. The Mexican reported that the windy conditions were buffering his RB16B. Pierre Gasly and Yuki Tsunoda made it a Honda 1-2-3-4 30 minutes into the 60-minute session with Nicholas Latifi up to fifth.
putting on the softer compounds @PierreGASLY jumps into P3 while @yukitsunoda07 moves to P4 💪 pic.twitter.com/UpA8ko4yTm

— Scuderia AlphaTauri (@AlphaTauriF1) July 17, 2021
Lando Norris broke Honda's stranglehold, up into third place before Daniel Ricciardo climbed to fourth with Bottas and Hamilton also on the move.
As the track continued to rubber in, Ferrari was another team finding some pace as Charles Leclerc climbed to second ahead of Carlos Sainz. Leclerc was running the mediums to his team-mate's soft tyres.
The session ended with Verstappen lowering the benchmark to a 1:29.0, finishing 0.375 seconds ahead of Leclerc with Sainz in third place.
But don't read too much into this one…
Times
1 Max Verstappen Red Bull 1:29.902 (hard)
2 Charles Leclerc Ferrari 0.375s 27 (medium)
3 Carlos Sainz Ferrari 0.605s 26 (soft)
4 Esteban Ocon Alpine 0.805s (medium)
5 Sergio Perez Red Bull 0.898s(medium)
6 Lando Norris McLaren 1.128s (mediums)
7 Daniel Ricciardo McLaren 1.132s (mediums)
8 Lewis Hamilton Mercedes 1.229s (soft)
9 Valtteri Bottas Mercedes 1.278s (hard)
10 George Russell Williams 1.335s (soft)
11 Antonio Giovinazzi Alfa Romeo Racing 1.361s (medium)
12 Fernando Alonso Alpine 1.387s (medium)
13 Pierre Gasly AlphaTauri 1.584s (soft)
14 Nicholas Latifi Williams 1.435s (soft)
15 Sebastian Vettel Aston Martin 1.691s (soft)
16 Yuki Tsunoda AlphaTauri 1.740s (medium)
17 Kimi Raikkonen Alfa Romeo Racing 1.805s (medium)
18 Lance Stroll Aston Martin 2.139s (medium)
19 Nikita Mazepin Haas 2.572s (medium)
20 Mick Schumacher Haas 4.115s (medium)
Follow us on Twitter @Planet_F1 and like our Facebook page.