FP2: Verstappen makes it a Friday double in Canada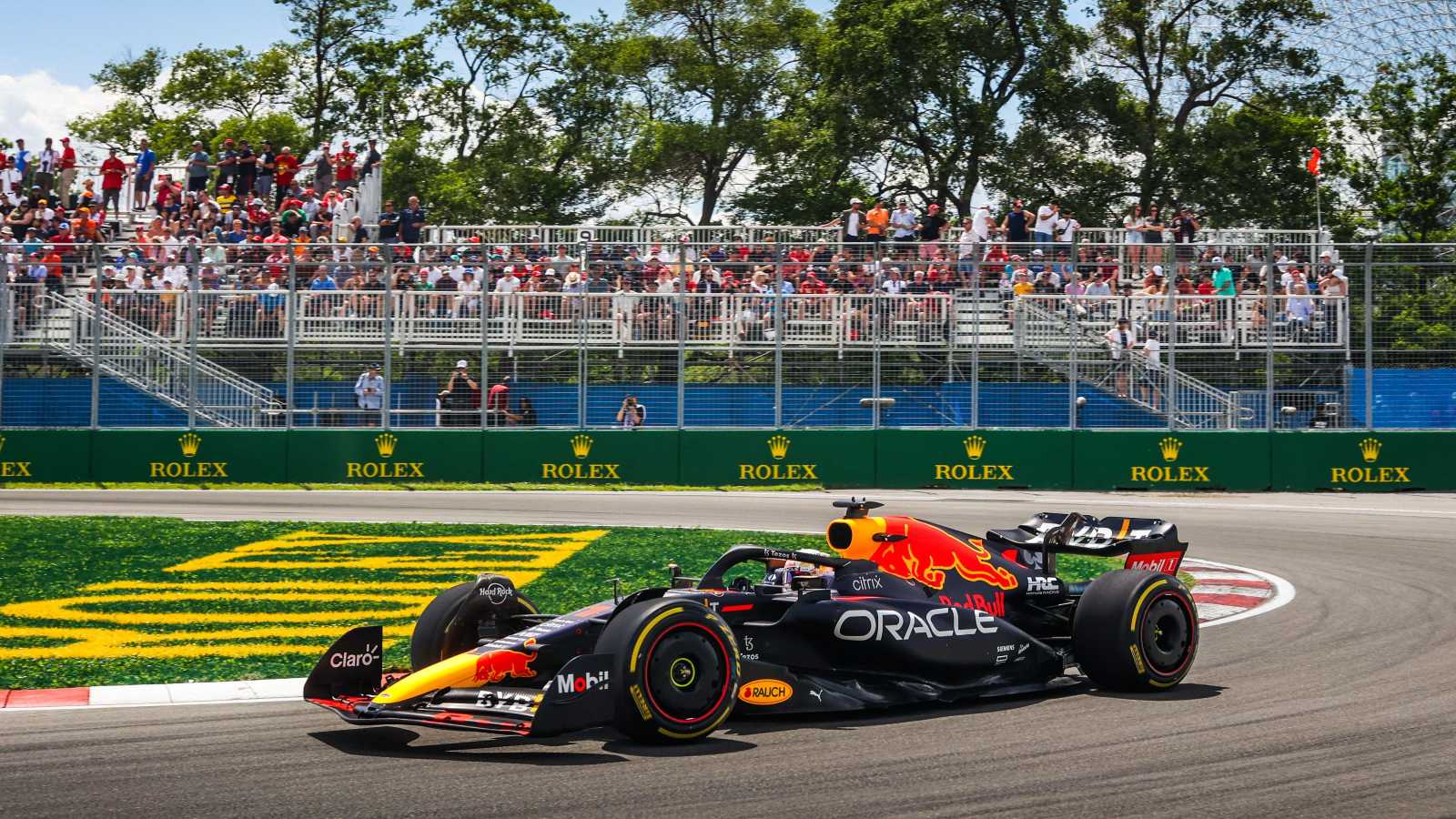 Max Verstappen completed the clean sweep in Montreal on Friday, topping FP2 to follow on from his FP1 success.
Verstappen's 1:14.1 proved to be the benchmark which the chasing pack could not answer to, and though Ferrari looked to still be in the mix, Charles Leclerc within a tenth of the Red Bull driver's time, the confirmation of Leclerc's 10-place grid drop for Sunday's race has complicated matters greatly.
Sebastian Vettel and Fernando Alonso, meanwhile, teased a strong weekend ahead with their performances, both former winners here looking for further success.
P4 for Seb in FP2! 👏#CanadianGP #F1 pic.twitter.com/ue4R9PhWVX

— Formula 1 (@F1) June 17, 2022
After a busy FP1 in anticipation of rain, the track remained bone dry as the lights went green for FP2.
Extensive work continued though at the Mercedes garage, with "lots of changes" being made to the W13s. Valtteri Bottas was also going nowhere in a hurry, an electronic issue seemingly hampering his Alfa Romeo.
Vettel was quickly noted for an unsafe release as he was waved out into the path of Haas' Kevin Magnussen, the Dane calling that incident "absolutely crazy" with a post-session investigation quickly confirmed.
Verstappen picked up where he left off, a 1:15.6 on the medium tyres taking him into P1 early on, the Red Bull driver quickly taking half a second off that time before moving into the 1:14s with 10 minutes gone in the session.
Leclerc, meanwhile, had his focus on performing burnouts in the pit lane, Ferrari asking for two, but the F1-75 was not in the mood to allow him to complete even one. In the other Ferrari, Carlos Sainz was reporting the "bottoming and bouncing is worse than FP1…bouncing is very bad, guys".
He was not alone. "Massive hopping through Turn 9," Mercedes' George Russell reported.
An FP1 standout on the medium rubber, Alpine's Alonso continued to look competitive as he switched to the C5 soft tyres, his opening run bettering the two Ferraris by a tenth and a half before Sainz struck back on the medium C4.
Leclerc was soon into the 1:14s and up to P2 as his soft-tyre run began to deliver the goods.
Vettel had a slide which saw him miss Turn 1, but a potentially more costly one for Gasly followed as he failed to follow the bollard when returning to the track after skipping the final chicane.
Gasly's AlphaTauri team had already picked up a 300 euros fine after he was caught speeding in the pit lane in FP1. Now a fresh investigation was announced to follow the conclusion of FP2 to look at that infringement.
With 20 minutes of the one-hour session gone, Bottas ventured out onto the track but quickly returned to the garage, the issue with his Alfa Romeo not solved, while the Virtual Safety Car was briefly deployed to allow a marshal to retrieve a stray tin can.
Verstappen was now onto the soft rubber, finding four tenths as Leclerc emerged from the Ferrari garage in search of a response. Sergio Perez was first to take a shot at team-mate Verstappen but fell a second short.
Alonso's effort could not topple Verstappen but was enough to pip Perez. Russell, meanwhile, put his rebuilt W13 to use to go P3. Lewis Hamilton was some six positions behind.
While Leclerc was bringing the action out on the track, he coming closest of all in that flurry of laps to usurping Verstappen, falling less than a tenth short, Sainz and Lando Norris were entertaining in the pit lane, Sainz released into Norris' path.
Vettel caught the attention of the stewards again, noted for allegedly driving unnecessarily slowly. Jumping up to P4, he continued to show the pace was there in the Aston Martin while Norris and his McLaren team-mate Daniel Ricciardo moved into the top 10.
Friday practice comes to an end. Both drivers finish FP2 in the top 10, we're ready for tomorrow. 👊#CanadianGP 🇨🇦 pic.twitter.com/3v3996Osef

— McLaren (@McLarenF1) June 17, 2022
Vettel was soon back into the pits though, reporting "something is loose", while on the circuit Sainz improved to P3, two tenths down on Verstappen but reaffirming Ferrari are in the fight.
Eighteen minutes remained in the session and heavy rain was on its way in 30 minutes' time according to Red Bull, although they had not quite ruled it a non-factor for the remainder of the session as there was a chance of light drops in the closing stages.
That then triggered a swift switch to race simulations for the drivers, not including Bottas who remained stranded in the garage as Alfa Romeo struggled to figure out a way to fix the anti-stall system.
Offs at the final chicane for Leclerc and Nicholas Latifi were unwelcome hiccups in their respective runs.
Russell and Alonso were looking fairly evenly matched on race pace, even troubling Leclerc's lap times on a few occasions. Russell was also managing to keep close to the back of his former team-mate Latifi, overtaking into the Turn 12-13 chicane in a positive sign for the racing action come Sunday.
It was not so positive on the other side of the Mercedes garage, Hamilton saying "this car is now undriveable", suggesting another set-up shift awaits.
Back to the garage it was then for Hamilton as the clock hit zero, Verstappen completing a clean sweep of Friday practice.
FP2 standings:
1 Max Verstappen Red Bull 1:14.127 33 laps C5
2 Charles Leclerc Ferrari 0.081s 32 C5
3 Carlos Sainz Ferrari 0.225s 32 C5
4 Sebastian Vettel Aston Martin 0.315s 35 C5
5 Fernando Alonso Alpine 0.416s 24 C5
6 Pierre Gasly AlphaTauri 0.752s 34 C5
7 George Russell Mercedes 0.844s 31 C5
8 Lando Norris McLaren 0.860s 30 C5
9 Daniel Ricciardo McLaren 0.906s 31 C5
10 Esteban Ocon Alpine 0.992s 32 C5
11 Sergio Perez Red Bull 1.040s 29 C5
12 Lance Stroll Aston Martin 1.269s 34 C5
13 Lewis Hamilton Mercedes 1.294s 25 C5
14 Kevin Magnussen Haas 1.372s 34 C5
15 Mick Schumacher Haas 1.389s 35 C5
16 Guanyu Zhou Alfa Romeo Racing 1.399s 31 C5
17 Yuki Tsunoda AlphaTauri 1.440s 37 C5
18 Alex Albon Williams 2.044s 30 C5
19 Nicholas Latifi Williams 2.382s 27 C5
20 Valtteri Bottas Alfa Romeo Racing 3 C5