FP2: Vettel edges out Leclerc in Ferrari 1-2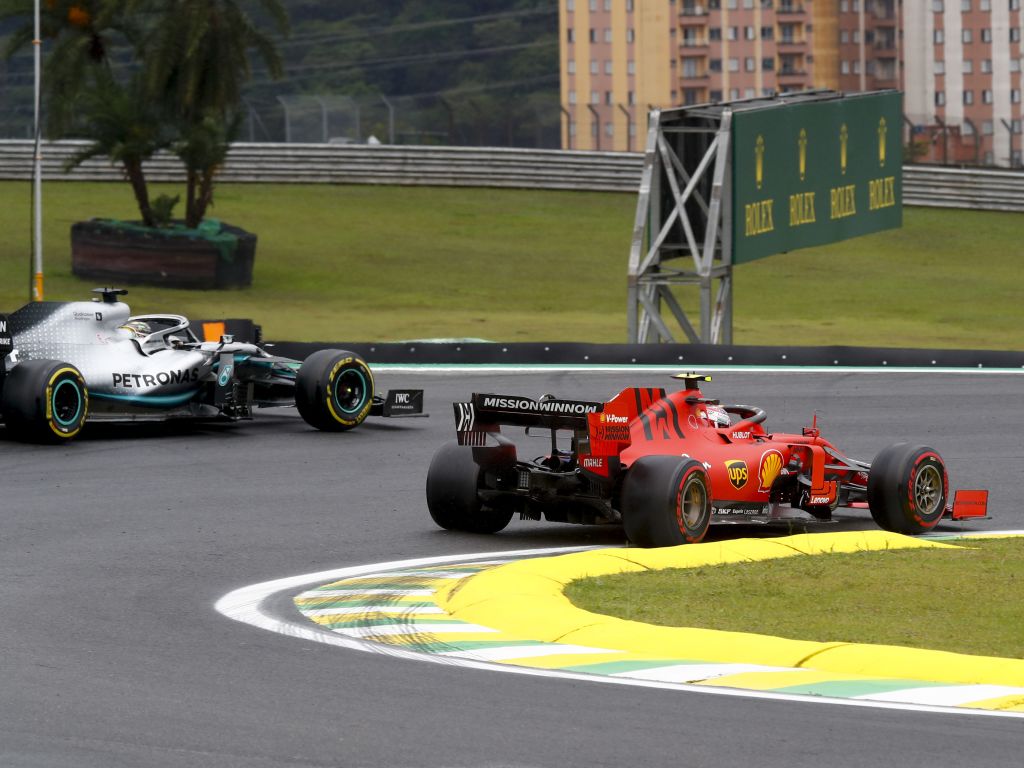 Ferrari's Sebastian Vettel pipped Charles Leclerc in second practice ahead of the penultimate race of the season at the Brazilian Grand Prix.
Vettel pumped in a 1:09.127 to take top spot by 0.021s, while the top four were separated by just one tenth on this short, iconic circuit. Lewis Hamilton, who had a close shave with Valtteri Bottas during his qualifying sim run, was a tenth further back in P5.
Williams' Robert Kubica was an early exit from the session after seemingly getting caught out by a wet kerb before heading into the barrier.
After a very wet FP1, the drivers thankfully had a dry track to work with on Friday afternoon at Interlagos for the first time.
However, just a few minutes into the session, Kubica produced an early red flag as his car snapped away from him through the Senna esses and went crashing into the wall. He was ok, but his car wasn't, putting more strain on a team that has struggled for spare parts throughout the season.
🚩 RED FLAG 🚩

Robert Kubica into the barriers#BrazilGP 🇧🇷 #F1 pic.twitter.com/lAbPGbfPme

— Formula 1 (@F1) November 15, 2019
After a brief cleaning up operation, the green light returned and so did the rain, but only a few spits and spots.
Top of the standings after the first 30 minutes were Ferrari, with Vettel's 1:09.570 two tenths quicker than Leclerc. Hamilton and Verstappen were the nearest challengers, three and four tenths off the initial pace respectively.
There was some early drama in the qualifying simulation runs as Hamilton was forced to suddenly abort his first hot lap due to an idling driver ahead – his team-mate Bottas of all people.
"Valtteri was just sitting there!" Hamilton complained on team radio.
Hamilton's mood would have not got any better as his second attempt at a hot lap was stopped at the first corner due to more traffic, while Bottas also ruined Vettel's lap just a corner on from his incident with Hamilton.
Vettel did manage to find an extra three tenths on his previous best with his next attempt; Verstappen went quickest of anyone through the technical middle sector but the flat-out dash to the start-finish line saw him a tenth behind overall. Sandwiched in between in P2 was Leclerc, 0.021s down on his team-mate.
Hamilton eventually found improvement, but only good enough for P5 and two tenths off Vettel's best.
The race simulation programmes were mostly dominated by the Honda engine. Verstappen was not happy with the engine braking in the RB15, while Pierre Gasly's power unit went up in smoke in the last 20 minutes of the session.
Daniil Kvyat suffered a similar fate in the last five minutes with his engine suddenly shutting down mid-corner and he subsequently went sliding into the wall. A quick escape was needed as a fire began to develop at the rear of his car.
Soft tyre averages during the race sim runs:  Hamilton 1:13.3 (8 laps), Verstappen 1:13.5 (7 laps), Vettel 1:13.6 (9 laps), Bottas 1:13.9 (6 laps).
FP2 timesheet
1 Sebastian Vettel Ferrari 1:09.217
2 Charles Leclerc Ferrari 0.021s
3 Max Verstappen Red Bull 0.134s
4 Valtteri Bottas Mercedes 0.156s
5 Lewis Hamilton Mercedes 0.223s
6 Kevin Magnussen Haas 0.926s
7 Daniel Ricciardo Renault 0.977s
8 Kimi Raikkonen Alfa Romeo Racing 0.993s
9 Alex Albon Red Bull 1.058s
10 Carlos Sainz McLaren 1.093s
11 Nico Hulkenberg Renault 1.108s
12 Pierre Gasly Toro Rosso 1.135s
13 Antonio Giovinazzi Alfa Romeo Racing 1.202s
14 Daniil Kvyat Toro Rosso 1.207s
15 Sergio Perez Racing Point 1.226s
16 Romain Grosjean Haas 1.287s
17 Lance Stroll Racing Point 1.351s
18 Lando Norris McLaren 1.483s
19 George Russell Williams 2.601s
20 Robert Kubica Williams
Follow all the action from the Brazilian Grand Prix with the PlanetF1 live centre