Sebastian Vettel edged out Max Verstappen in FP2 ahead of the Hungarian Grand Prix as Ferrari and Red Bull continued to set the standard in Budapest.
Vettel posted a 1.16.834 on his qualifying simulation run to head the Friday afternoon session, with Max Verstappen 0.074 seconds behind after initially setting the pace in the early stages of FP2.
Ricciardo and Raikkonen completed the top four, two and three tenths behind respectively.
Hamilton, P5, and Bottas, P6, fell down the timesheet after both drivers failed to put a clean run together on their one and only qualifying sim hot laps.
Romain Grosjean, Carlos Sainz, Pierre Gasly and Esteban Ocon rounded off the top 10, while Williams' Sergey Sirotkin propped up the timesheet.
Track temperatures rocketed up by 14 degrees from FP1 to FP2 and, with the threat of thunderstorms hovering above, the drivers wasted little time getting stuck into their Friday afternoon programmes.
Red Bull continued to show good pace on the soft tyres, just like they did in FP1, with Verstappen topping the timesheet after 30 minutes into the session with a 1:17.509.
Hamilton, looking a little more comfortable after a morning of instability with his twitchy W09, was just 0.078 seconds behind.
Closer still was Ricciardo who, with the same soft tyres strapped on, moved to within 0.047 seconds of his team-mate.
Bottas and Hamilton were the first to switch to the ultrasoft tyres and qualifying sim runs, yet neither could dislodge Verstappen on their opening hot laps after both failed to put a clean run together.
Vettel had no such trouble, keeping it nice and tidy on his first ultrasoft run to find an extra six tenths on Verstappen and set a new benchmark – a 1.16.834.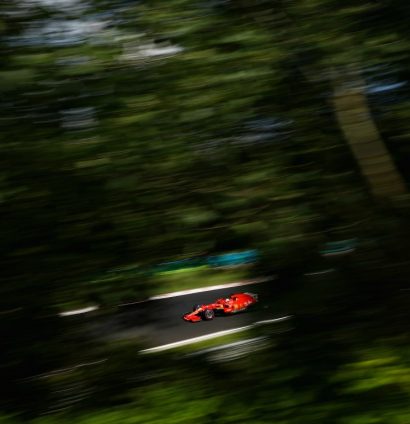 It was not all plain sailing for the Ferrari-powered cars, though, as Kevin Magnussen reported cut-outs from his new, upgraded Ferrari power unit at Turns 1 and 2.
Verstappen then bolted on the ultras and consequently narrowed the gap to Vettel to 0.074 seconds.
Ricciardo found himself two tenths behind on his qualy sim run and Raikkonen closed to within three tenths after starting the session on the medium compound.
Hamilton and Bottas slipped down behind Ferrari and Red Bull as neither driver prepared for a second qualifying run on the ultrasofts.
It's gone very dark… brollies at the ready! #HungarianGP 🇭🇺 #F1 pic.twitter.com/I9FMjjbwIz

— Formula 1 (@F1) July 27, 2018
Spots of rain began to drop on the Hungaroring and a brewing thunderstorm loomed ominiously in the background as attentions turned to the race simulation programmes.
But thankfully the rain just about stayed away for teams to continue their running uninterrupted all the way to the chequered flag.
Other flashpoints of the session included another spin for Marcus Ericsson before then being unsafely released by the Sauber pit crew later in the session.
There was also a close shave for Stoffel Vandoorne who also went spinning around, while Vettel complained on team radio about being held up by Renault's Carlos Sainz.
FP2 timesheet:
1 Sebastian Vettel Ferrari 1:16.834 45 laps (US)
2 Max Verstappen Red Bull 0.074s 35 laps (US)
3 Daniel Ricciardo Red Bull 0.227s 35 laps (US)
4 Kimi Raikkonen Ferrari 0.319s 40 laps (US)
5 Lewis Hamilton Mercedes 0.753s 43 laps (S)
6 Valtteri Bottas Mercedes 1.034s 46 laps (S)
7 Romain Grosjean Haas 1.231s 38 laps (US)
8 Carlos Sainz Renault 1.661s 37 laps (US)
9 Pierre Gasly Toro Rosso 1.684s 42 laps (US)
10 Esteban Ocon Force India 1.927s 40  laps (US)
11 Sergio Perez Force India 2.016s 42  laps (US)
12 Fernando Alonso McLaren 2.023s 37  laps (US)
13 Kevin Magnussen Haas 2.046s 34  laps (US)
14 Nico Hulkenberg Renault 2.079s 22 laps (US)
15 Brendon Hartley Toro Rosso 2.082s 41  laps (US)
16 Marcus Ericsson Sauber 2.209s 41  laps (US)
17 Charles Leclerc Sauber 2.303s 38  laps (US)
18 Lance Stroll Williams 2.811s 44  laps (US)
19 Stoffel Vandoorne McLaren 2.878s 37  laps (S)
20 Sergey Sirotkin Williams 2.936s 44  laps (US)