Sebastian Vettel topped the timesheet in FP2 at Silverstone, while Max Verstappen's day went from bad to worse after crashing out at Luffield.
Vettel's 1:27.552 remained unbeaten during the qualifying simulation programmes; Lewis Hamilton emerged as his nearest rival in P2 with a 0.187 gap.
Valtteri Bottas and Kimi Raikkonen were down in P3 and P4 but, Daniel Ricciardo, in P5, was the only Red Bull running due to an early crash by Verstappen.
Prior to FP2 getting underway, Romain Grosjean confirmed via Twitter that he would not be able to take part in the afternoon session as his Haas car, which he crashed in the new DRS zone during FP1, required a new chassis.
That left 19 drivers to whizz around the iconic Silverstone circuit in the baking hot sun, with track temperatures up to 51 degrees.
19 soon became 18 when Verstappen caused a red flag incident by getting a snap of oversteer at Luffield and making contact with the wall. The Dutchman had already seen his FP1 session get interrupted due to a gearbox issue.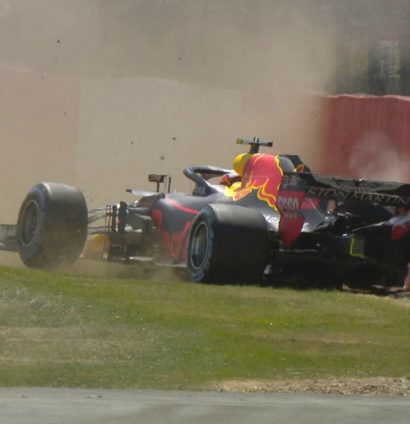 The session resumed with just over one hour left on the clock, with Raikkonen topping the timesheet with a 1:28.591 on medium tyres. Mercedes duo Bottas and Hamilton had still yet to complete a timed lap.
Ahead of the qualifying simulation runs, less than a tenth separated Raikkonen and Hamilton, who posted a 1:28.6 on his opening stint.
Vettel replaced his team-mate at the top of the leaderboard after finding a 1.3 second improvement from mediums to soft tyres on his first qualifying hot lap. A 1:27.552 the new benchmark set by the four-time World Champion.
A scruffy lap from Hamilton left him unable to improve on his best and fell to half a second off the pace and down in P4, with Bottas the nearest contender to Vettel by being three tenths down.
Hamilton did find improvement on his second attacking lap, though, moving up to P2 and narrowing the gap to Vettel to one tenth.
With 30 minutes of the session remaining, race simulation programmes became the main focus – but not for Pierre Gasly as he was the next driver to finish early after experiencing more issues with his Honda engine.
Honda attempted to ease concerns by stating that Gasly was using a hile-mileage engine and was due to be replaced on Friday evening anyway.
A Power Unit related issue saw Pierre pull up trackside – It is a high mileage Friday PU, due to be changed tonight anyway #BritishGP 🇬🇧 #F1 pic.twitter.com/Zb4IcGC2cV

— Honda Racing F1 (@HondaRacingF1) July 6, 2018
Elsewhere, Williams could be forced to cough up for an unsafe pit release after Kimi Raikkonen had to slam on his brakes to avoid crashing into Lance Stroll.
FP2 timesheet:
1 Sebastian Vettel Ferrari 1:27.552 34 laps
2 Lewis Hamilton Mercedes 0.187s 30 laps
3 Valtteri Bottas Mercedes 0.357s 28 laps
4 Kimi Raikkonen Ferrari 0.493s 32 laps
5 Daniel Ricciardo Red Bull 0.856s 29 laps
6 Fernando Alonso McLaren 1.754s 29 laps
7 Nico Hulkenberg Renault 1.802s 33 laps
8 Esteban Ocon Force India 1.915s 31 laps
9 Sergio Perez Force India 1.97s 30 laps
10 Charles Leclerc Sauber 2.005s 28 laps
11 Carlos Sainz Renault 2.011s 34 laps
12 Kevin Magnussen Haas 2.065s 31 laps
13 Pierre Gasly Toro Rosso 2.279s 16 laps
14 Marcus Ericsson Sauber 2.494s 30 laps
15 Lance Stroll Williams 2.517s 32 laps
16 Sergey Sirotkin Williams 2.551s 34 laps
17 Stoffel Vandoorne McLaren 2.569s 29 laps
18 Brendon Hartley Toro Rosso 2.852s 34 laps
19 Max Verstappen Red Bull no time set 2 laps
20 Romain Grosjean Haas no time set 0 laps
All quickest times set on soft tyres