Sebastian Vettel was fastest in a dramatic FP2 session at Monza where Marcus Ericsson suffered a big crash at Turn 1.
The Sauber driver went somersaulting through the air several times just two minutes into the session due to a combination of a damp patch on track and an issue with his DRS flap on entry into the corner.
Ericsson was given the all-clear by the medical team soon after, but another lengthy delay meant the others were seriously making up for lost time after a wet FP1.
What a big shunt! Oh my God! #F1 #ItalianGP Ericsson is OK! pic.twitter.com/L97P5tLBUE

— F1Writers™ (@f1writers) August 31, 2018
After Force India's Sergio Perez topped the Friday morning session, it was a more familiar name at the top in Vettel who set a 1:21.105 on the supersofts, but not without a spin at Parabolica where the rear of the car picked up some slight damage.
Ferrari team-mate Kimi Raikkonen and title rival Lewis Hamilton rounded off the top three, just two tenths behind.
But before that three-way duel, there was the scary start to the session to process as Ericsson suffered a huge crash at Turn 1, flipping over on multiple occasions before thankfully coming to a stop the right way up.
On first viewing, it appeared the Swede was caught out by a damp patch lingering on from Friday morning's heavy downpours, but it soon became apparent that Ericsson's DRS flap also did not shut heading into the first corner which sent him violently off course.
Thankfully he was able to get out of the car by himself before heading to the medical centre for a check-over.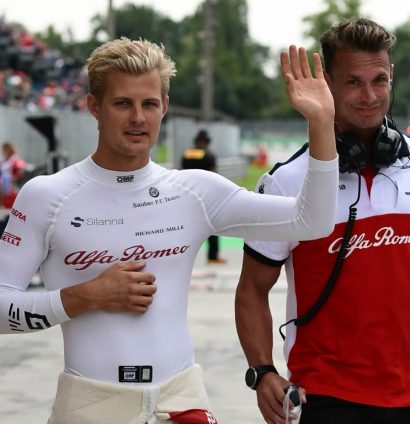 After a 20-minute clean-up operation, which included repairing the broken barriers, the green lights were back on for the session to resume.
Vettel, Raikkonen and Hamilton were trading blows at the top of the timesheet on their opening stints, with the former setting a 1:21.716 on supersoft tyres to dictate the early pace.
Raikkonen and Hamilton, on the slower soft tyres, were just one and two tenths down respectively with half of the FP2 session gone.
Vettel tried to lower the benchmark with some fresh supersofts strapped on, but went wide on his first two hot laps through Parabolica.
It was a case of third time lucky for the German, who finally found an extra three tenths on his next attempt.
He did not last much longer at the top, though, as Raikkonen shaved off 0.093 seconds after also switching to the supersofts for a qualifying simulation run.
Vettel then responded with a 1:21.105 to open up a two-tenth gap to Raikkonen and Hamilton, who had also found some notable improvement.
Then, just as it looked like Vettel was going to go even quicker, he spun out of control at Parabolica with the rear tapping the barrier.
A huge cheer arose from the grandstand as Vettel was able to get going again and head back to the pits – but he would lose time in getting his long-run programme underway while his car was given a thorough checking over.
But, it would remain advantage Ferrari heading into qualifying day on Saturday.
FP2 timesheet:
1 Sebastian Vettel Ferrari 1:21.105 26 laps
2 Kimi Raikkonen Ferrari 0.270s 30 laps
3 Lewis Hamilton Mercedes 0.287s 30 laps
4 Valtteri Bottas Mercedes 0.698s 34 laps
5 Max Verstappen Red Bull 1.049s 27 laps
6 Daniel Ricciardo Red Bull 1.191s 27 laps
7 Esteban Ocon Force India 1.825s 29 laps
8 Sergio Perez Force India 1.837s 31 laps
9 Charles Leclerc Sauber 1.86s 20 laps
10 Nico Hulkenberg Renault 1.958s 30 laps
11 Romain Grosjean Haas 1.972s 31 laps
12 Carlos Sainz Renault 2.088s 31 laps
13 Kevin Magnussen Haas 2.128s 27 laps
14 Pierre Gasly Toro Rosso 2.297s 33 laps
15 Sergey Sirotkin Williams 2.409s 28 laps
16 Brendon Hartley Toro Rosso 2.426s 16 laps
17 Lance Stroll Williams 2.461s 28 laps
18 Fernando Alonso McLaren 2.636s 22 laps
19 Stoffel Vandoorne McLaren 2.979s 29 laps
20 Marcus Ericsson Sauber No time set 2 laps
Follow live timing and commentary from the Italian Grand Prix with the PlanetF1 race hub.