Ferrari continued to set the pace ahead of qualifying in Bahrain as Charles Leclerc sealed a practice hat-trick for the Scuderia.
Leclerc posted a 1:29.569 on a fresh set of soft tyres to edge out team-mate Sebastian Vettel by a tenth. Lewis Hamilton rounded off the top three, but was a distant seven tenths off the pace.
Valtteri Bottas was a tenth further back in P4, with representatives from Renault, Haas, McLaren, Red Bull and Toro Rosso making a rather bunched up and mixed top 10.
Warm, blustery conditions and a very hot track awaited the drivers in FP3, not representative whatsoever of the cooler, floodlit conditions that they will face in qualifying and the race itself.
Whilst Williams' George Russell reported problems with his DRS during his install lap, Ferrari were first out of the blocks with the timed laps as Vettel and Leclerc headed out on used softs.  Vettel's opening effort was a 1:31.617, a tenth better than his team-mate's first attempt.
Vettel, Leclerc and Giovinazzi all suffered from early slides due to the strong headwind and those shots were probably why only five drivers had timed laps on the board in the first 20 minutes of the session.
But then Mercedes came out to play with Bottas lowering the benchmark to a 1:32.169, but Hamilton was forced to abort his first run after experiencing some traffic problems.
Vettel's second attempt was some seven tenths slower than his previous best, while Bottas found another second to bring the  session best down to a 1:31.169.
A cleaner run for Hamilton resulted in knocking Bottas off top spot halfway into the FP3 session, but only by a mere 0.095 seconds.
Verstappen, one of session's later starters, was straight on the pace with his first hot lap, shaving 0.057s off Hamilton's best to become the first driver to drop into the 1:30 bracket.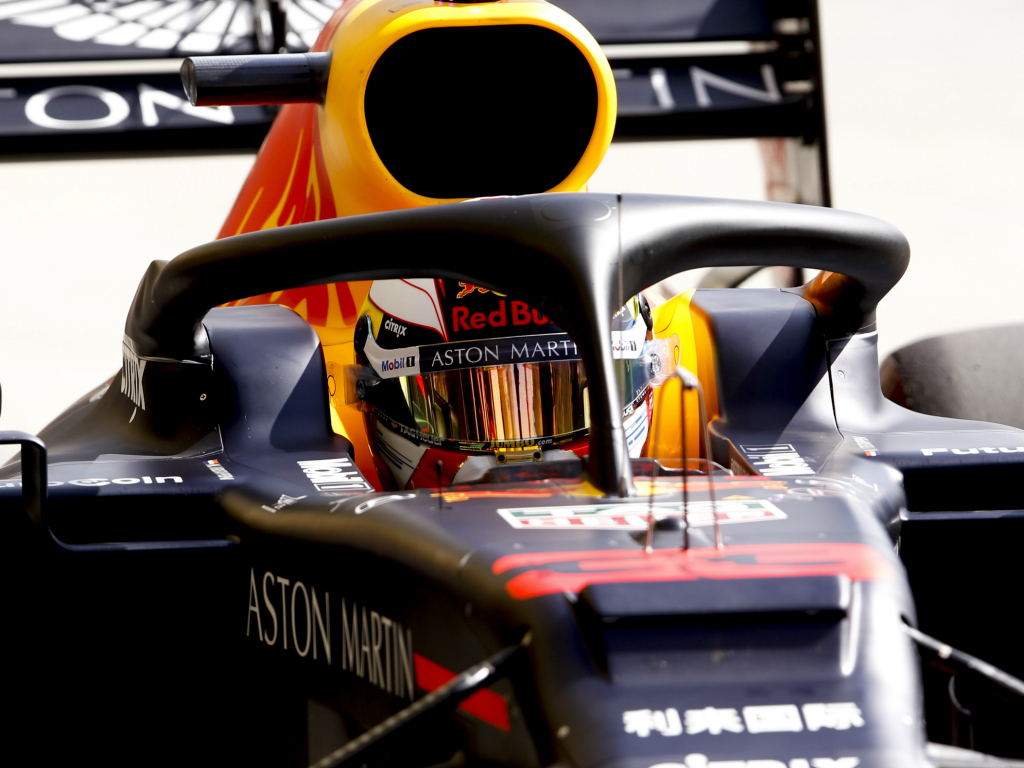 Then, with 20 minutes left on the clock, Ferrari upped the ante with some fresh soft tyres as Leclerc took a huge 1.3 second chunk out of Verstappen.
A 1:29.569 became the new time to beat, which Vettel could not do on his next lap as he ended up a tenth off the pace.
Mercedes left their response until the final five minutes of the session, but a scruffy lap from Bottas ensured he could only narrow the gap to Ferrari to eight tenths.
In the final few moments, Hamilton found an extra tenth on Bottas to climb to P3, but the gap to Ferrari heading into qualifying is still a sizeable one.
FP3 timesheet
1 Charles Leclerc Ferrari 1:29.569 15 laps
2 Sebastian Vettel Ferrari 0.169s 16
3 Lewis Hamilton Mercedes 0.765s 10
4 Valtteri Bottas Mercedes 0.820s 12
5 Romain Grosjean Haas 1.249s 14
6 Nico Hulkenberg Renault 1.341s 12
7 Lando Norris McLaren 1.386s 15
8 Max Verstappen Red Bull 1.390s 10
9 Carlos Sainz McLaren 1.396s 14
10 Daniil Kvyat Toro Rosso 1.604s 17
11 Kimi Raikkonen Alfa Romeo Racing 1.764s 21
12 Pierre Gasly Red Bull 1.823s 13
13 Kevin Magnussen Haas 1.971s 13
14 Lance Stroll Racing Point 2.049s 16
15 Sergio Perez Racing Point 2.069s 9
16 Daniel Ricciardo Renault 2.074s 11
17 Alex Albon Toro Rosso 2.110s 17
18 Antonio Giovinazzi Alfa Romeo Racing 2.563s 21
19 George Russell Williams 3.818s 14
20 Robert Kubica Williams 3.956s 13
Follow all the action from the Bahrain Grand Prix with the PlanetF1 live centre