FP3: P1 for Vettel, problems for Hamilton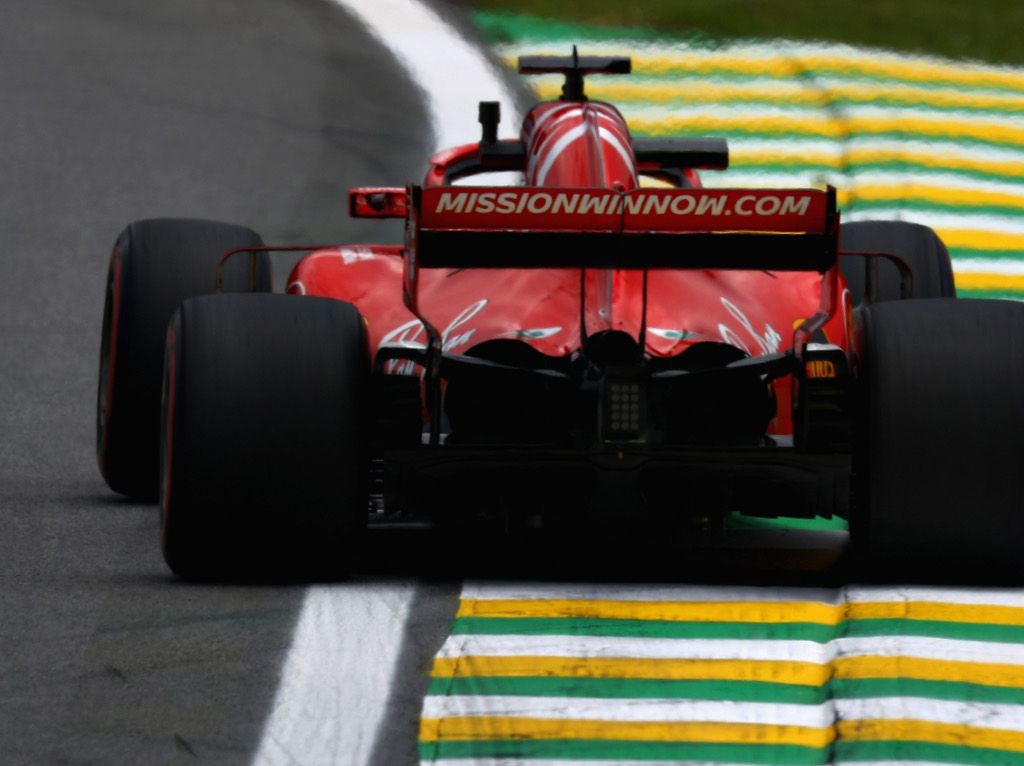 Sebastian Vettel clocked a new lap record in final practice at the Interlagos circuit on Saturday while Lewis Hamilton had a smoky start to his session.
The sun broke through the clouds as final practice, the last opportunity for the teams to tweak their cars ahead of qualifying, got underway when the clock struck 12 at the Interlagos circuit on Saturday.
Charles Leclerc was the first man out of the pits with the start of FP3 co-inciding with the end of a rather public meeting between the team principals and Liberty's hierarchy.
A 1:09.424 was the session's first time, set by Ferrari driver Kimi Raikkonen.
#Kimi7 back to the garage #FP3 #BrazilGP pic.twitter.com/XeN99ceeNm

— Scuderia Ferrari (@ScuderiaFerrari) November 10, 2018
As Vettel took over at the front, Lewis Hamilton – the man who beat him to the World title last time out in Mexico – ventured out only to pit after a single lap.
Hamilton: "Do I drive normally?"
Mercedes: "I suggest you drive back at a normal pace."
Once in the Mercedes garage, the engine cover of the W09 was removed while smoke belched from the car and the Mercedes personnel formed a wall between the garage and the ever-present pit lane cameras.
Absolutely nothing to see here… nada… zilch… 😉 #BrazilGP 🇧🇷 #F1 pic.twitter.com/ADekQ0vRu8

— Formula 1 (@F1) November 10, 2018
Hamilton was back out on track halfway through the session with Mercedes reporting "a quick check-up for Lewis' car and we've got the all clear. A breather pipe was dislodged."
He went P2 on his first gambit and then fastest, a 1:08.762, while the Red Bull drivers of Daniel Ricciardo and Max Verstappen were the final two to post times, P5 and 6.
Ferrari put on new supersoft tyres and Raikkonen went quickest only to be beaten by Vettel. A 1:07.948 for the German was a new track record, and it was a whopping half a second faster than Raikkonen's best.
#Seb5 scores 1:07.948 P1 #FP3 #BrazilGP pic.twitter.com/HloYHyIQ81

— Scuderia Ferrari (@ScuderiaFerrari) November 10, 2018
Hamilton returned to the track for another run but could only climb as high as P2, 0.217s down on Vettel.
His team-mate Valtteri Bottas was a further three-tenths off the pace while Raikkonen fell to fourth ahead of the Red Bulls of Verstappen and Ricciardo.
Ferrari engines dominated the top ten with the Haas cars of Kevin Magnussen and Romain Grosjean next in line ahead of Pierre Gasly while Charles Leclerc in his Ferrari-powered Sauber completed the top ten.
Times
1 Sebastian Vettel Ferrari 1:07.948
2 Lewis Hamilton Mercedes 0.217s
3 Valtteri Bottas Mercedes 0.517s
4 Kimi Raikkonen Ferrari 0.542s
5 Max Verstappen Red Bull 0.785s
6 Daniel Ricciardo Red Bull 0.84s
7 Kevin Magnussen Haas 1.198s
8 Romain Grosjean Haas 1.309s
9 Pierre Gasly Toro Rosso 1.454s
10 Charles Leclerc Sauber 1.500s
11 Nico Hulkenberg Renault 1.513s
12 Esteban Ocon Force India 1.640s
13 Marcus Ericsson Sauber 1.860s
14 Carlos Sainz Renault 1.916s
15 Sergey Sirotkin Williams 1.937s
16 Brendon Hartley Toro Rosso 2.037s
17 Lance Stroll Williams 2.053s
18 Fernando Alonso McLaren 2.072s
19 Sergio Perez Force India 2.168s
20 Stoffel Vandoorne McLaren 2.341s