FP3: Charles Leclerc goes fastest; Mercedes and Red Bull could also fight for pole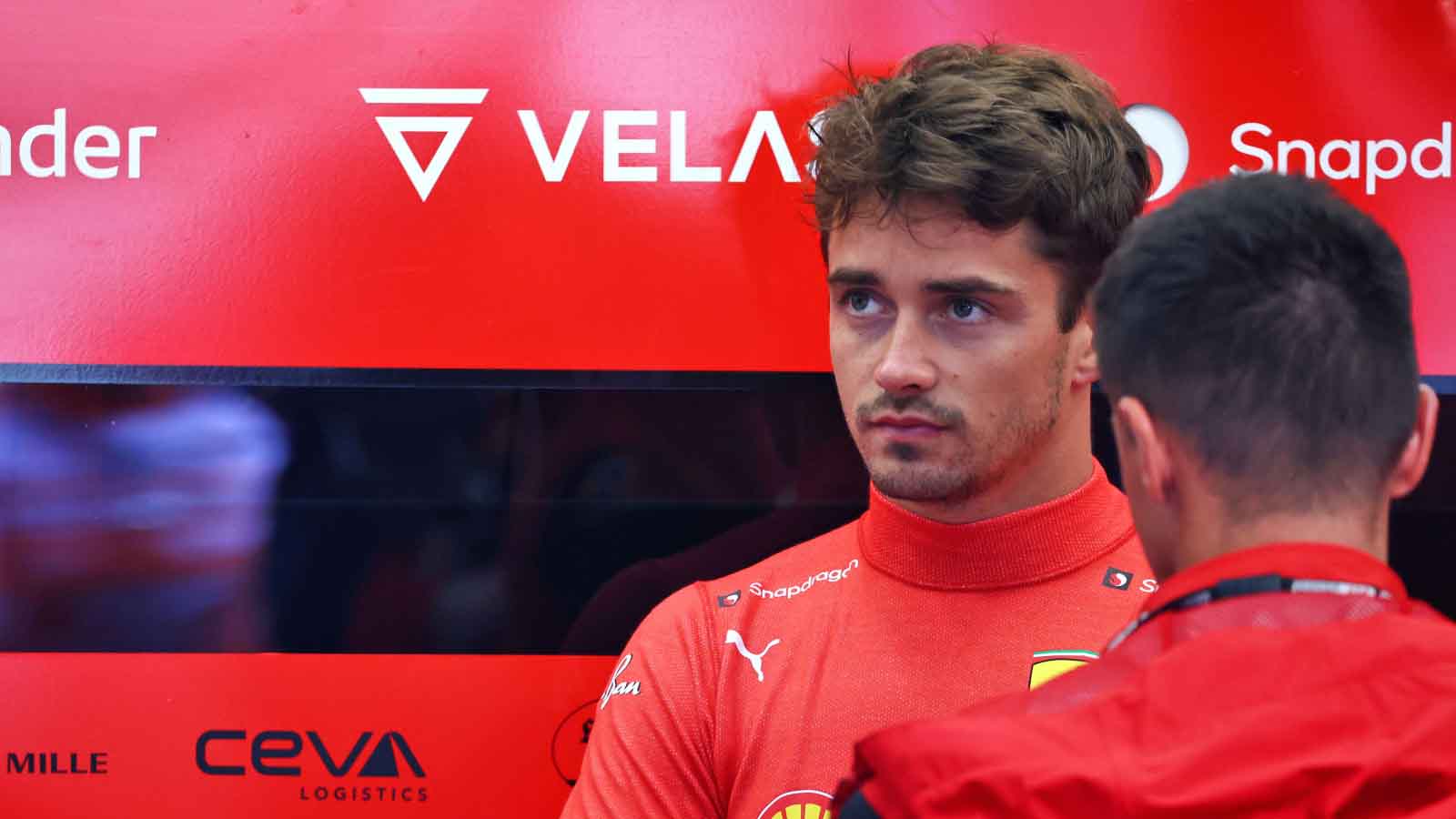 Charles Leclerc went fastest in FP3 for the Dutch Grand Prix, with the times suggesting a three-team fight for pole position could be on the cards in qualifying.
Leclerc pipped the Mercedes of George Russell into second place by six hundredths of a second, while the Red Bull of Max Verstappen appeared to have fought back after their FP1 and FP2 struggles to get himself in the mix at the front.
The sister cars of Carlos Sainz, Lewis Hamilton and Sergio Perez all rounded out the top six in what could set up an intriguing and competitive qualifying session on Saturday afternoon.
Fernando Alonso, Sebastian Vettel, Mick Schumacher and Lando Norris filled the rest of the top 10, albeit with a gap to bridge to the top three teams.
After Red Bull struggled for pace on Friday, Sergio Perez was seen wrestling his RB18 once again in his first foray on track, feeding back that "the rear was quite a lot worse this time around, into the medium-speed [corners]."
He was the only driver to set a flying at a sunny Zandvoort in the first 10 minutes, but once Verstappen got out on track, the reigning World Champion pumped in a 1:12.309, pipping Leclerc's quickest time from FP2 and going around 1.3s faster than his team-mate, in a sign that Red Bull have perhaps recovered from their Friday issues.
However, he was quick to say the grip on the soft tyre dropped off after only one flying lap, which is a likely sign that nailing their laps on the first attempt will be crucial for the drivers in qualifying.
But there was another issue facing the drivers, with George Russell reporting that pigeons had placed themselves on the apex of the fast Turn 7, an obstacle he and others would perhaps have not expected this weekend.
Back on track, Verstappen improved his time by a further tenth and no-one could get to within half a second of the Red Bull driver in their initial qualifying simulations, but there was still time for things to change.
There was a hairy moment for Hamilton as he flew over the blind crest towards Turn 7, but had to take evasive action with the slow-moving Yuki Tsunoda on the apex of the corner.
Ferrari team principal Mattia Binotto reported that both his drivers had been reporting understeer on the car as they were tweaking their setups, with the biggest chunk of Leclerc's deficit to Verstappen coming in the technical, twisty second sector.
But Sainz was able to find more time as the drivers headed out for another attempt at a qualifying simulation on fresh soft tyres.
Sainz became the first driver to dip below the 1:12 mark of the weekend, two tenths ahead of Verstappen at the top, as times began to improve across the board.
Russell was able to get to within a tenth of Leclerc's pace-setting time after he went faster than Sainz, with Verstappen slotting in 0.161s down, despite a slide on the exit of Turn 3, to set up what should be a three-team fight for pole position in qualifying.
FP3 classification
1 Charles Leclerc Ferrari 1:11.632 19 laps
2 George Russell Mercedes + 0.066 23 laps
3 Max Verstappen Red Bull + 0.161 22 laps
4 Carlos Sainz Ferrari + 0.339 16 laps
5 Lewis Hamilton Mercedes + 0.524 24 laps
6 Sergio Perez Red Bull + 0.544 28 laps
7 Fernando Alonso Alpine + 0.695 15 laps
8 Sebastian Vettel Aston Martin + 0.859 24 laps
9 Mick Schumacher Haas + 0.926 14 laps
10 Lando Norris McLaren + 0.959 17 laps
11 Kevin Magnussen Haas + 0.974 14 laps
12 Lance Stroll Aston Martin + 1.141 17 laps
13 Alex Albon Williams + 1.143 17 laps
14 Esteban Ocon Alpine + 1.371 19 laps
15 Pierre Gasly AlphaTauri + 1.414 21 laps
16 Yuki Tsunoda AlphaTauri + 1.624 21 laps
17 Daniel Ricciardo McLaren + 1.667 18 laps
18 Valtteri Bottas Alfa Romeo Racing + 1.727 13 laps
19 Guanyu Zhou Alfa Romeo Racing + 1.789 13 laps
20 Nicholas Latifi Williams + 1.993 21 laps