FP3: Hamilton's turn to be on top, Mick in the barrier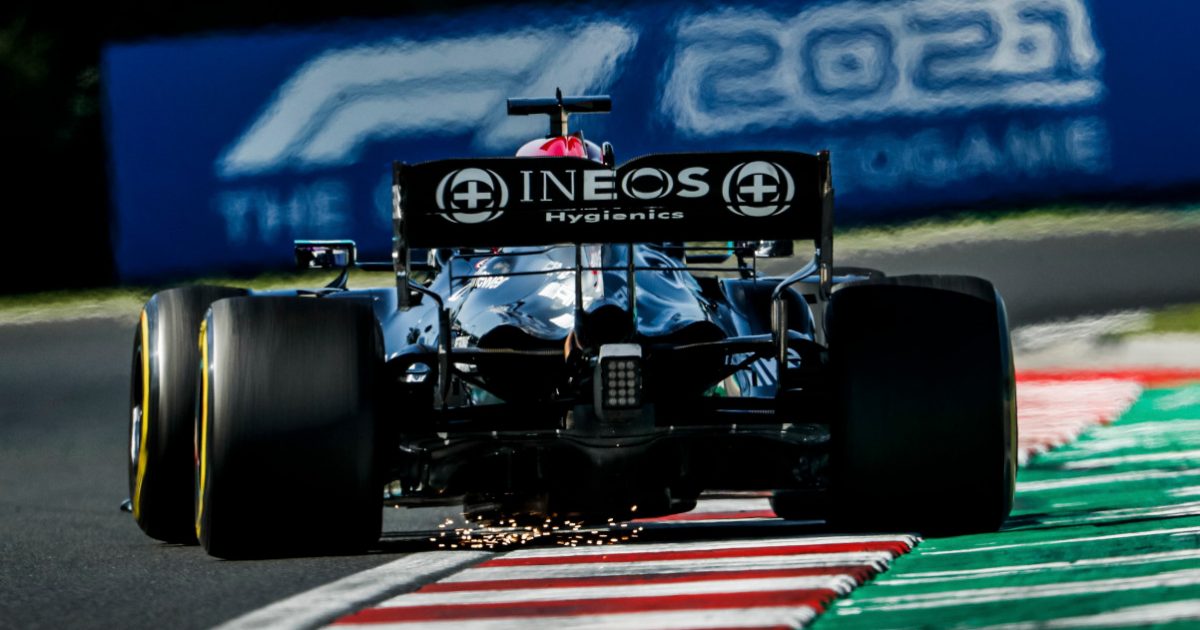 After Max Verstappen and Valtteri Bottas topped Friday's sessions, it was Lewis Hamilton who finished fastest of all in Saturday's final practice for the Hungarian GP.
He clocked a 1:16.289 in a session where once again a rookie brought out the red flags, this time it was Mick Schumacher.
Saturday's final practice at the Hungaroring saw the drivers back in the hot seat, literally, with the track temperature above 50'C and rising.
Yuki Tsunoda, who crashed his AlphaTauri on Friday morning, was one of the first out, the Japanese rookie looking to make up for lost track time having missed most of the second session as a result.
He was joined by Carlos Sainz, the Spaniard's SF21 fitted with a new engine overnight with Ferrari stating that "some parameters did not satisfy" in the data.
He put in a 1:19.443 on the medium Pirellis to lead the way after the opening 10 minutes. Sainz, reporting that his brakes were a "bit bad", upped his pace to a 1:18.832.
Speedy Sainz puts it in P1! 👊

The @ScuderiaFerrari driver does a time of 1:19.43 ⏱#HungarianGP 🇭🇺 #F1 pic.twitter.com/WxUHmK0KYd

— Formula 1 (@F1) July 31, 2021
Bet on Valtteri Bottas to be on pole for the Hungarian Grand Prix with Planet Sport Bet!
He was overhauled by Lewis Hamilton, the Mercedes driver, chasing a ninth Hungarian GP win, clocking a 1:18.587 on the soft tyres.
He headed back into the pits after one hot lap, reporting that "there's a pin on my right tyre". His mechanics pulled that out and sent him back out, the Brit shaving almost four-tenths off his previous best.
Max Verstappen ventured out earlier this Red Bull's usual Saturday run, easily quickest on the soft tyres with a 1:17.510. He wasn't P1 for long, Valtteri Bottas crossing the line with a 1:17.428 to lead the way.
Sergio Perez slotted into fourth place behind Hamilton with Pierre Gasly the fastest driver not racing for Mercedes or Red Bull driver, the AlphaTauri driver ahead of the Ferraris.
Nicholas Latifi was up to eighth place midway through the session, although he did have a small problem with Williams letting him know that his left-side mirror was cracked.
A cracked mirror is a big issue, you might need to look into it 😉🪞 #HungarianGP 🇭🇺 #F1 pic.twitter.com/UxziHyHjeB

— Formula 1 (@F1) July 31, 2021
With Ferrari looking to do a bit of aero testing, Charles Leclerc admitted he made a mistake – "it's actually me who is stupid, I don't know the corner numbers" – as he was told to do constant speed in certain corners but did it in the wrong ones.
As the track temperature rose to 57'C, Lando Norris bolted on a fresh set of soft tyres and jumped up to third place. Hamilton also left the pits but headed back in without doing a hot lap as Mick Schumacher brought out the red flags.
The Haas rookie lost it at the fast Turn 11 right-hander, slamming into the barrier with the left side of his car. He sounded winded but otherwise okay. "I know what that means" he added, the driver likely out of qualifying.
There's heavy damage to the left-hand side of Mick's car and it'll be a race against time to get it ready for qualifying. #HaasF1 #HungarianGP #FP3 pic.twitter.com/bZLa2nHnFD

— Haas F1 Team (@HaasF1Team) July 31, 2021
The action resumed with nine minutes on the clock, the track temperature down to 51'C, and a flurry of soft tyre runs in preparation for qualifying.
Verstappen went quickest, and then Hamilton went even quicker. A 1:16.826 for the Mercedes driver, 0.088s up on his title rival. Bottas was third, 0.229s down.
Alfa Romeo and Antonio Giovinazzi will be in trouble with the stewards, the driver released into the path of Lance Stroll with the Alfa's wing making contract with the Aston Martin's rear right tyre.
Times
1 Lewis Hamilton Mercedes 1:16.826 20 laps (s)
2 Max Verstappen Red Bull 0.088s 12 laps (s)
3 Valtteri Bottas Mercedes 0.229s 15 laps (s)
4 Carlos Sainz Ferrari 0.671s 20 laps (s)
5 Charles Leclerc Ferrari 0.694s 16 laps (s)
6 Lando Norris McLaren 0.946s 12 laps (s)
7 Sergio Perez Red Bull 1.091s 12 laps (s)
8 Daniel Ricciardo McLaren 1.116s 15 laps (s)
9 Fernando Alonso Alpine 1.166s 15 laps (s)
10 Lance Stroll Aston Martin 1.224s 16 laps (s)
11 Pierre Gasly AlphaTauri 1.289s 17 laps (s)
12 Esteban Ocon Alpine 1.348s 15 laps (s)
13 Sebastian Vettel Aston Martin 1.409s 15 laps (s)
14 Yuki Tsunoda AlphaTauri 1.635s 24 laps (s)
15 Kimi Raikkonen Alfa Romeo Racing 1.857s 21 laps (s)
16 George Russell Williams 1.968s 13 laps (s)
17 Nicholas Latifi Williams 1.995s 15 laps (s)
18 Antonio Giovinazzi Alfa Romeo Racing 2.287s 14 laps (s)
19 Mick Schumacher Haas 2.580s 15 laps (s)
20 Nikita Mazepin Haas 3.107s 16 laps (s)